For this installment of our "Meet the Pro" series, we are delighted to introduce you to one of our master makers, Colleen Bell.  You might know her as
The Embroiderist
, but we know her as a mega-talented maker with a giving heart. Colleen has a generous spirit that is as big as her talent. Presently, she is in Haiti, delivering handmade hospital gowns, loveies, and other hand-sewn items to children in need. She puts her heart into her projects.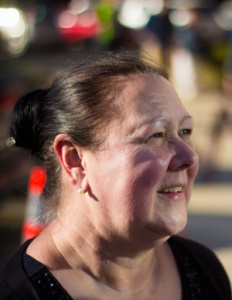 Colleen shares her craft both here at our Fairfield World site and on her own website,
www.The-Embroiderist.com
. You can find her on social media
HERE
. Colleen Bell is a multi-talented crafter and a mother of nine. She brings over a half-century of hand embroidery and sewing skills to each piece that she creates. Colleen was kind enough to give us a glimpse into her world.  She shared what inspires her, and we are confident she will inspire you, too.
 If you have a favorite Fairfield World product, we'd love to know which one it is and why you like it.
Recently, I have designed several projects for Fairfield World that use solarize. I am in love with this product. It is amazing how it can keep food cold or warm. I had so much fun putting it to the test with ice cubes. But my favorite part was when I made mittens lined with Solarize (soon on the blog) for a cutie pie and her hands started sweating. I wish I had this product for all my nine children when they were growing up. I would have lined all their outdoor clothes with Solarize and used Shield as the moisture barrier. This is so revolutionary.
What is your favorite project or tutorial and why?
Fairfield World has so many exciting projects that it is hard to choose just one favorite, so I will choose a series. The "Fairfield World Team" made these amazing Bohemian projects. I am so in love with those vibrant colors. Everyone one of those projects just calls me to make them, but to be honest, I am a traditional person and would never make them even though inside I am dying to do that. They also made an indigo series with an Alfresco Tassel Cover that is so "me". I would do my whole house in indigo. Their dyeing method for the yarn was so creative!
What would be a perfect crafternoon for you?
Any day sewing something spontaneously with NO interruptions or looming obligations, would be a glorious crafternoon.
If you could invite any makers to dinner, who would you choose and why?
Martha Pullen is such a wonderfully gifted woman and loves sharing all her knowledge of sewing. Her story is amazing and inspirational. She has accomplished so much. However, I would not invite her to my house for dinner because I would have to clean too much, but I would love to relax and take her out to dinner. I know she would never stop talking and we would not need anyone else.
Can you share one quote or saying, you love?
Do what you love and do it with all your heart.
If you could replay one moment in your career, what would you choose?
Who would guess that a cat started my whole sewing/blogging career? He is a gorgeous spotted Ocicat that has an affinity for chewing wires. Our oldest son was earning his drone pilot wings and he asked me to fly to Arizona and pin them on his chest; of course, a new outfit for the occasion was needed. A lovely cashmere fabric was ordered and cut out, only to be disappointed by no working sewing machine. The repairman said it was cheaper to buy a new machine than to fix the chewed foot pedal wire. To my surprise, my sweet husband not only agreed to replace my 1976 $100 Janome wedding gift from him but to upgrade it the then top-of-the-line Baby Lock embroidery machine. After such an investment, I knew I had to use her full capabilities and thus began "The Embroiderist."
What would you try if you knew you couldn't fail?
Fine lace knitting is so exquisite. I own several books and know how to knit simple things. I even purchased a Craftsy class, but I have not taken the plunge. I keep saying that I do not have the time. Someday!
Describe your blog or your creative style in ten words or less.
[HUH! Seriously! If we were talking in person, yeah, ten words, but writing – no way! That is going to take me the whole time. Okay – I really worked hard and did it!!!]
A blog with a machine embroidery heart, adorned with sewing.
Isn't Colleen delightful?  Be sure to keep checking our Inspiration Page as well as her website to stay up to date with all of Colleen Bell's newest project ideas and tutorials!
Click here to take a look at some of colleens projects for Fairfield.