We have had a lot of fun seeing what our design team has made to share with you this month.  From snow globes to door stops, and even Christmas tree farms!
Speaking of Christmas tree farms, let's dive into that one.
Laura, with Me and My Inklings, brings this bright and cheerful Christmas tree farm to life.  With our favorite Poly-fil® and a little felt, you can make as many of these trees that your heart desires.  Use them as neighbor gifts, table decor, and if you are mailing gifts this year, use these instead of bows so you don't have to worry about your bows getting smushed in transport.
You can get the templates and the instructions here.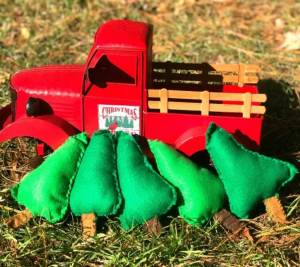 Beth, from Creatively Beth, shares a snow globe idea that is simply delightful.  She shares that you can make these treats in under 15 minutes using our Poly-Pellets®.  Whether you use them as ornaments or as a shelf sitter, these will be a fun addition to your home this year.  You can also take it a step further and make these fun neighbor gifts!
You can see exactly how to make these with her great tutorial here on her blog.
Morena takes the ugly Christmas sweater to a whole other level with this one!!  What a fun treat this would be to wear to a holiday party – virtual or in person!  Who else but one of our Design Team members would dream up mixing a snow globe with an ugly sweater using our fun Poly-Fil® Micro Beads.  You can see all the details here.
Meg, with Makeable Crafts, created an adorable door-stop that won't kill your toes when you accidentally kick it.  She uses Poly-Pellets® as they are weighted but not heavy.  You can decorate one side, as she did, for the holidays and leave the other side blank to use year-round.  We love practical items for the home that are made to match the style of the home, where style meets function!  See for yourself how easy this project is here.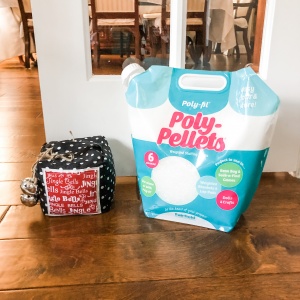 Be sure to keep checking back on our blog for more ideas and inspiration!  And remember, you can make anything with our Fairfield World products.  We've been making them for 80 years and we aren't slowing down!