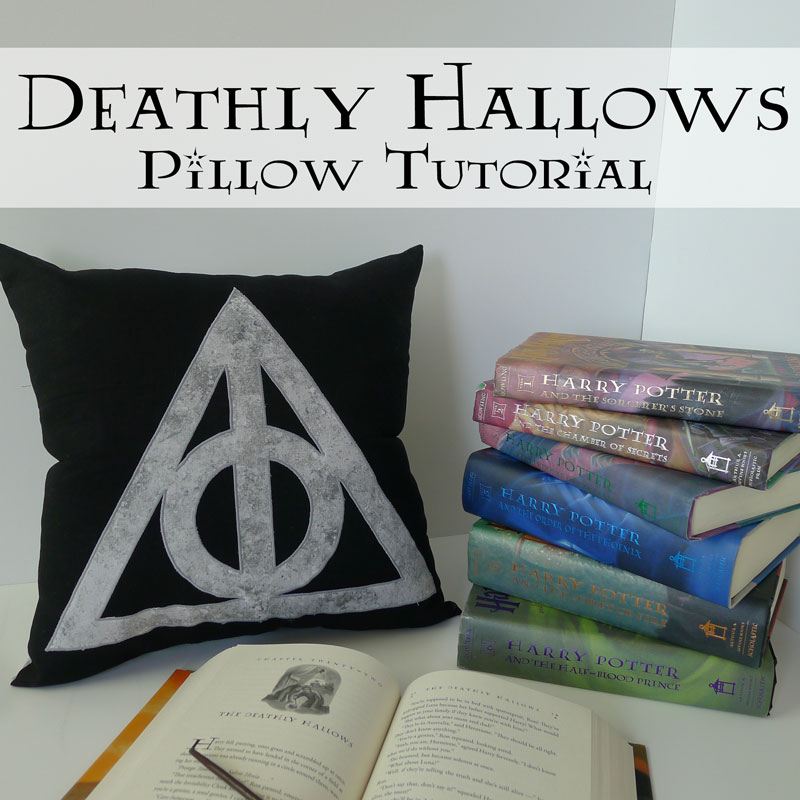 Harry Potter Deathly Hallows Pillow Tutorial – Now that the 4th of July is over, it's time to celebrate the other big day in July…Harry Potter's birthday of course.  If you've read my regular blog at Pieces by Polly, you'll know that our family members are big Harry Potter fans, so I'm excited to do this guest post for Fairfield World to participate in the big Happy Harry Potter celebration going on at Raegun Ramblings right now.

Lots of bloggers will be sharing new Harry Potter themed projects everyday for the next week and a half at Raegun Ramblings, so you'll want to be sure to check back.
Even if you're not a Harry Potter fan yourself, you likely know a lot of people who are.  The Deathly Hallows symbols represents the joining of three powerfully magical objects (the Elder Wand, the Resurrection Stone, and Death's invisibility cloak) which together make one master over death and ultimately allow Harry Potter to defeat Voldemort at the end of the final book.  It's a symbol any true Harry Potter fan will recognized instantly.  And because I couldn't just make one pillow, I made a coordinating Always pillow with a Doe Patronus.  You can find the pattern for that pillow at Pieces by Polly here.
And the Deathly Hallows Pillow is really easy to make.
Materials for One Harry Potter Deathly Hallows Pillow Tutorial:
1 fat quarter light grey/silver, white, or gold quilting fabric for applique
1 package paper-backed fusible web.  (You'll have lots left over.)
1/2 yard Kona black cotton quilting fabric if you're making both sides black.  1 fat quarter if you're just making the front black
16″ square piece of Smooth Fusible Fleece Interfacing
Grey/silver thread to match applique fabric
Optional if you're doing a patchwork backing.  My back is in the Slytherin House colors of Green and Silver.  Gryffindor is Red and Gold.  Hufflepuff is Yellow and Black, and Ravenclaw is Blue and Silver (movie colors) or Blue and Bronze (book colors.):

4 – 4 1/2″ squares from various green quilting fabric scraps
4 – 4 1/2″ squares from various grey/silver quilting fabric scraps
4 – 4 1/2″ x 8 1/2″ rectangles from various green quilting fabric scraps
Directions:
Cut out a 16 1/2″ square from Kona Black cotton quilting fabric.
Start by tracing your design onto paper-backed fusible web.  Get the Template here.
Cut out the outside of your design.  Iron onto the BACK SIDE if your fabric according to manufacturer's instructions.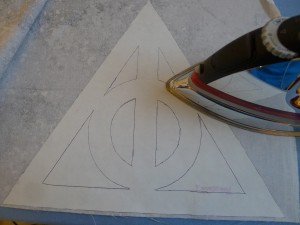 Cut out completely.
Peel off paper backing.
Arrange your Deathly Hallows symbol so that the bottom is approximately 2 5/8″ from the bottom of your pillow.  A ruler is helpful in getting it straight.
Iron it well so that the edges are sealed, but do not over-iron.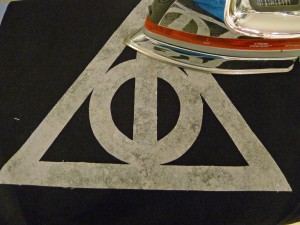 Cut 15 1/2″ piece of Smooth Fusible Fleece Interfacing.  Apply to the back of your pillow top.  This will give your pillow a quilted look and also keep your design from bunching when you sew your applique.
Using a satin stitch or tight zigzag stitch on your sewing machine, stitch around all edges of your appliques.  You want the stitch length set just above zero.  Do NOT backstitch and leave your thread tails long.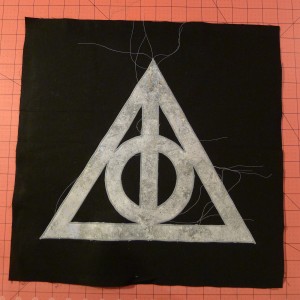 Pull your threads through to the back and tie a secure knot.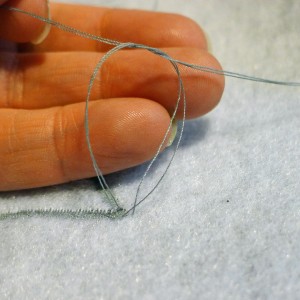 And your top should look something like this on the front and back.
If you're using patchwork on the back, now is the time to get it ready.  Sew your green and grey scraps together into blocks with 1 green squares, 1 grey square, and 1 green rectangle in each block.  Use a 1/4 inch seam allowance.  Then sew them into a large square.
Once your back is sewn together, you're ready to finish your pillow.  Layer your pillow pieces with RIGHT SIDES together and pin.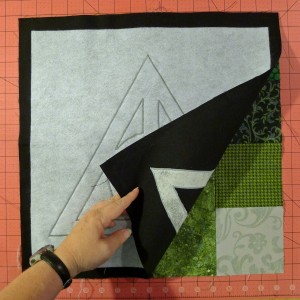 Stitch around your pillow with a 1/2″ seam allowance, leaving an opening to stuff your pillow.  Clip corners.
Turn right side out, being sure corners are pointy.  Stuff with plenty of Poly-Fil® and stitch closed
And because you can't make just one pillow…you may want to make a matched set.  Check out the Harry Potter Always Pillow Tutorial on my own blog today.
And if you're interested in more Harry Potter DIY's, then you may want to check out the Harry Potter page with links to all of my Harry Potter DIY projects.
And finally, be sure to enter the Happy Harry Potter Giveaway.  There are lots of fun ways to enter.
Prizes include: