Halloween Project Ideas Perfect for Every Maker
Our Design Team has been hard at work created projects to get you in the Halloween mood and we can't wait to share these with you!
Let's dive in…
Got old jeans?  See what Beth created with Poly-Fil® and Poly-Pellets®.  Hands-down, this adorable project is super cute and super easy to make.  See the project here.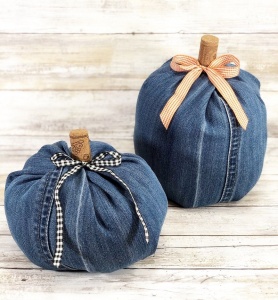 Debra started out with some Halloween fabric and our Poly-Fil® Premier Ultra Plush Pillow Insert and made an envelope style pillow case complete with witches boots.  It's for sure a project you won't want to miss!  We carry pillow inserts in all different sizes, you can easily customize your pillows with the size that's perfect for you home.  See the project here.
Morena took one of our core products that we usually see on the inside of a project and making it the star on the outside.  Poly-Fil® is such a versatile product and we love seeing it used in all different ways.   Poly-Fil® can be ordered in many different sizes here and have it delivered right to your door.
For all the project details, you can view them on Morena's Corner here.
Meg went the cute route with easy, quick sew Halloween pillows.  With a little fabric, pom-pom trim, and our beloved Poly-Fil®, follow her pattern shared here to create these for yourself.
Bianca with Creativities Galore took our Poly-Fil Glasslets® to add bling to wood cut outs in framed art.  You can add Poly-Fil Glasslets® to any project to add 3D accents with fun sparkle.
Erin went with fun home decor with these adorable fall gnomes! Using a handful of supplies, Poly-Fil®, and Poly-Fil Pellets®, you can make these too.  Follow her instructions here.
Our products are fun, unique – and versatile!  You can make anything with Poly-Fil®, try these projects yourself.  See all our products here.
Be sure to check back to our blog for more creative projects.