Every Dress up box needs a princess Tiara… or maybe two.  This DIY tutorial will help you to make sure that you always have a Tiara on hand. Great for dress-up, costumes, or princess parties. A different color tiara for every princess.
This is a simple project that even your little prince or princess can help with.
Supplies needed:
Structure 2 Interlining – Fairfield 
oly*fun in 3 colors – Fairfield
White Felt – National Non-Wovens
Low Temp Glue Gun – AdTech
Heart Dies – Spellbinders
Buttons – Buttons Galore & More
Scraps of Ribbon & Tulle
1. To begin, cut a piece of Structure 2 Interlining 2″ x 24″. Cut a strip of Jelly oly*fun 5″x 26″. Fold the oly*fun ends in and then fold the oly*fun around the strip of Structure 2 & use an iron to press and adhere the oly*fun to the strip of Structure 2.
2. Cut a strip of white felt 1.75″ x 23.5″ and use a low temp hot glue gun to adhere it over the edges of the oly*fun.
3. Cut a strip of .5″ x 2.5″ velcro. Use the glue gun again to adhere the hook side to the outside of the crown band. Press the velcro fully on and hold until well cooled.
4. Place the loopy part of the velcro over the hook part, add hot glue to the top of that and align the other end of the crown band atop the glue, as shown here. Hold and press tightly until the glue is fully cooled.
5. Use the iron again to press and adhere a few scraps of oly*fun to some scraps of Structure 2 interlining. Use some heart dies to die cut through the layers. (Here's where I would have then added glitter around the edges of the hearts – something I ended up doing at the last minute and it would have been better and easier to have done it here at this step!) Embellish the hearts with glitter or other fun trinkets and sparkly items. 🙂
6. Embellish the top layer end of the crown band to create a train down the back. Here you can see I used a very wide grosgrain ribbon, tulle scraps and some coordinating buttons. But feel free to use whatever you have on hand.
7. Finally, adhere the three hearts to the front of the crown band. I added glitter at this step and realized it would have been far easier to have done it in step 5!
Here's the back view of the finished crown.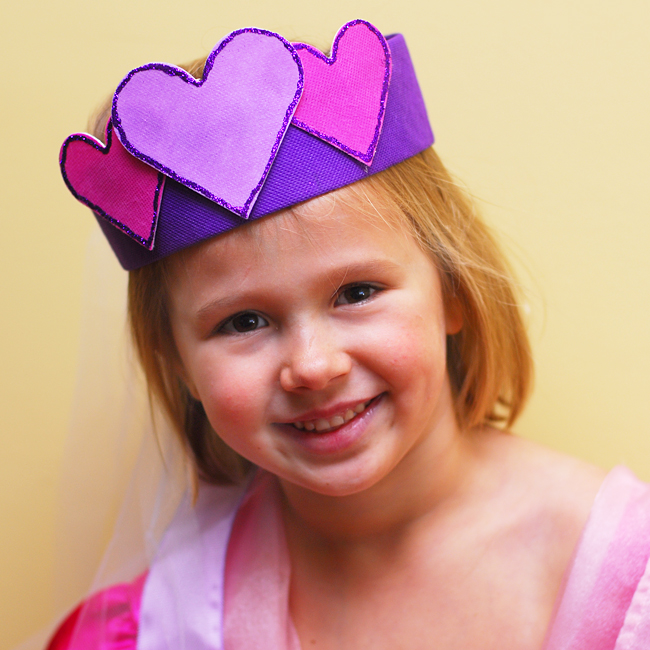 And the front view of the finished crown!
I would love to see your version of this super fun kid's craft! Share a link and I will be sure to hop over to see how you take this idea of mine and make it yours!!!
PS – My little princess has worn this crown day in and day out since I made it…time well spent indeed!