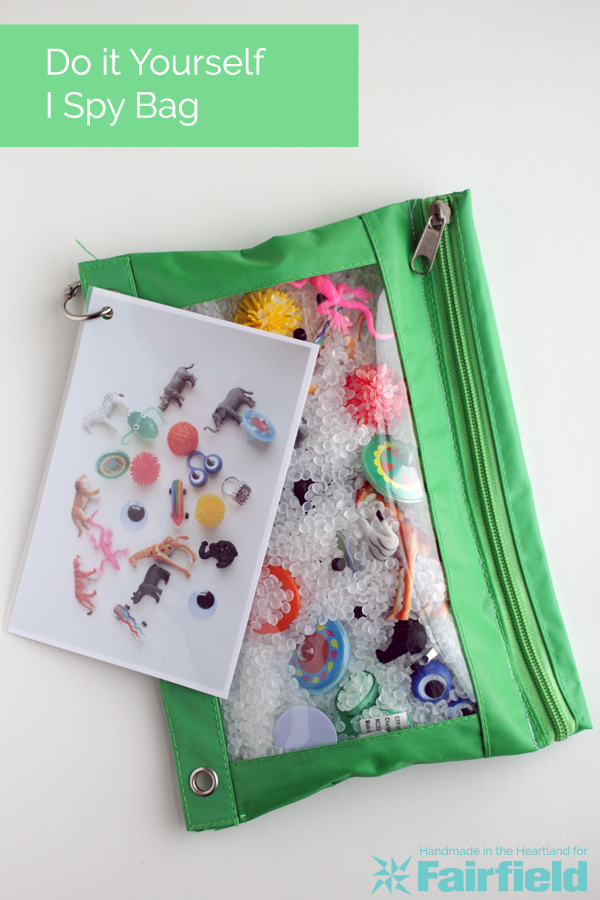 Today I've got a super simple and fun project for you, have you ever seen an I spy bag? Its a fun little quiet toy for kids to play with and its easy to make.  We have one in our church bag and its surprising how long my two year old will sit and play with it.  This is one of those projects where it's just as easy to make 4 or 5 as it is to make 1 and then you can have some birthday gifts for kids.  The idea is to put lots of little items into a clear bag or a bag with a clear window and then fill it with our poly-pellets to create a hide and seek affect for the little items inside.  I like to add a laminated photo of the items inside so the kids can see what they need to find.
DIY I Spy Bag
Supplies:
Pencil Case with clear view window
1″ Book Ring
1-2 dozen little items to put inside (I purchased mine in the party favor aisle at party city)
Camera & Printer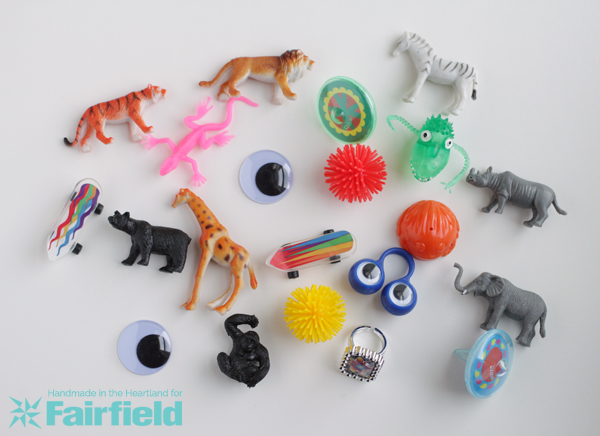 Above is the photo I took of all the small items that were going in the bag.  I placed them on a white sheet of cardboard and photographed them in the light of a window to get the most clear image.  Then I printed out the photo in color on my home printer- I sized it to 4×6.  I laminated the photo and then punched a whole and attached it with a book ring into one of the 3 ring binder holes on the pencil case.  I did that step (attaching the ring to the pencil case) last, after stitching it closed.
You might have been thinking to yourself  "that looks like a huge mess waiting to happen, my three year old will unzip that thing first thing!" and that is exactly why you sew it closed so its not even a remote possibility!  So after you've photographed your little items, pour them into your pencil case and then fill it with the poly-pellets.  Zip it closed and take it over to your sewing machine and sew right next to the zipper so that its not able to be opened up.
Clip on your ring with the photo and you are done! How easy was that?