Fall is right around the corner.  The crisp fall weather couldn't be more perfect to sneak in some more camping projects before the cold winter sets in and after reading the blog post yesterday about Eileen Hulls adventure in Scotty I thought why not share camping in style.  Here are six of my favorite DIY Glamping projects.
Sheskindacrafty.com sews up an adorable envelope style pillow using Anne Kelle fabrics. Add some books and maybe a map or flashlight to the pocket and you're ready to roll! Complete instructions can be found on her blog. Check out the adorable sidewalk chalk apron while your there!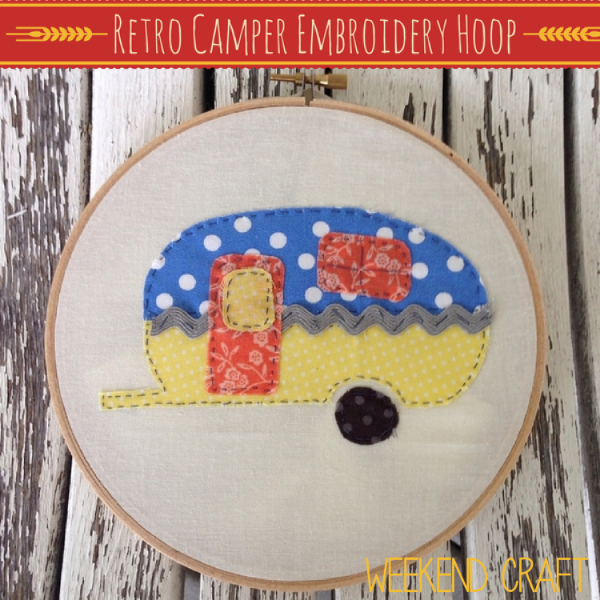 This stitched Retro Camper embroidery hoop project is a perfect beginner level sewing project for those who might want to spruce up the decor of a travel trailer. Michelle from Weekend Craft cut out the fabric shapes from fat quarters and pieced them together. She uses a simple running stitch to hand applique the pieces to the background. To create an outdoor version, use a plastic embroidery hoop and oly*fun   which is weather resistant. One or more of these will look sweet on the outside of your travel trailer or RV.
Speaking of outdoor decorations, this tutorial from Little Vintage Trailer is super simple. Quilt binding is used to attach the triangles to make a cute fabric pennant banner.
If you are anything like me, you don't hesitate to take your WIPs (Works in Progress) along on your trips. How sweet is this vintage camper inspired pin cushion? Carolyn Letter shares the complete instructions here.  You'll need cotton fabric, buttons, ric rac and poly-fil to complete this project.
This is a cool project a man would love. This firewood tote sews up super fast, and will make carrying wood to your campsite– just a bit easier. 
Here's another one for the boyz. Heather over at 733 shares this really clever tutorial for making a camping tioletries bag for boys. Switch up the motifs and fabric to make a big boy or big or little girl version. According to Heather, "Were are not quite glamping yet but have definitely moved in the right direction.  Our trailer does not have a washroom so we are still at the mercy of our campground facilities.  A place to store and carry toiletries is a must have for us…this way if we all head to the showers at the same time, we all have our stuff." 
Do you have a DIY glamping project? Share it with us!
Live Life Creatively,
Mel