I made a DIY autumn leaves curtain with Oly*Fun to decorate my front porch. I've started decorating a bit early this year, as the cool weather always gets me into the spirit of the season.  I enjoy the colorful leaves that fall here in Virginia. I wanted to bring that to my front porch in a long lasting way. This is a project that even a sewing machine beginner could do. It's straight stitching to connect fabric leaves into columns. I hand drew and cut all of the leaves, but if you had a die or digital cutting machine with leaves, you could use that too. I'd likely use a digital cutting machine, if I had one, so the designs would be my own. If you kept the shapes simple, this is likely something kids could help with hand cutting too. I chose Autumn leaves as my theme, but you could certainly use other designs. I scaled this to fit my doorside window. The same concept could be used for larger window, a door way, or a long garland.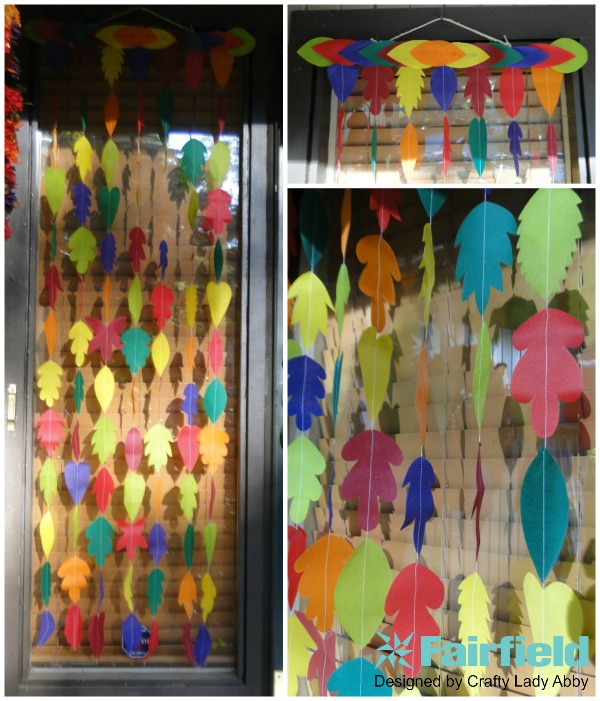 SUPPLIES:
7 Colors of Oly*Fun – I used Grab & Go packs in Brick, Cherry Pop, Orange Crush, Lemon Drop, Kiwi, Clover, and Jelly
1 Spool of White Thread
A sewing machine – This could be done by hand too, but that takes much longer
Scissors
A long ruler – I used my great aunt's small quilting ruler
A tape measure – To measure the area you are making the curtain for
A calculator, pencil, and paper – To work out the math for how many leaves, rows, and columns you need for your curtain
1 light and 1 dark colored pencils – For drawing out the leaves before cutting
A yard stick – These are about $1 at a home improvement store. Great thin sturdy wood for this project
A hand saw
A drill – I use a Dremel two speed cordless rotary tool, a 3/32″ drill bit,  a 1/8″ drill bit, and coordinating collets
Twine
A hot glue gun and glue sticks
INSTRUCTIONS:
1) First you need to measure your space you want to hang the curtain. I measured the width and height of my window area. I had a general idea of how big I wanted to make each leaf…about 3″ wide by 5″ long. I divided my window width 21″ by the leaf width 3″, and got 7 for the amount of columns I'd need. For the rows , I divided my window length 65″ by the leaf length 5″ and got 13 leaves per column. 7 leaves across by 13 leaves long means I needed to cut out 91 leaves. I cut 13 leaves from each of the 7 fabric colors, to make the curtain part. I cut a couple extras from each color, to decorate hide the yardstick. Once you have the leaf amount calculated, you can start making the leaves.
2) The Grab & Go packs are 20 inches wide by 3 yards. You won't need much fabric for this project. Use the long ruler to measure out 2 strips 20″ by 5″ tall. Mark the height measurement with a colored pencil. Use the scissors to cut your strips. Do this for each color of fabric. There were 14 strips when I was done. The two strips per color are enough fabric to make all the leaves I needed. If you are making a bigger curtain, cut enough strips for your project needs.
3) With the colored pencils (light for dark colors and dark for light colors), I drew my leaves, using leaf images as a reference. Mine were about 3″ wide, but I might slightly larger and smaller ones just for variation.
4) Using the scissors, cut out your drawn leaves. Sort and stack them by color.
5) On a large table or the floor, arrange your leaves as desired. Make sure you have the correct amount of leaves per column. Set any extra aside, as you arrange your leaves. Stack each column from bottom to top, and keep the stacks in order from left to right, for easy sewing assembly.
6) Load your sewing machine with the white thread. Make sure your bobbin is full. Refill as needed, while sewing. Set your stitch length a couple setting longer. You aren't sewing a seam, so it doesn't need to be tight, but you don't want it so long that it could easily gather.
7) Pull your bobbin and lead thread long. This will be how you tie the leaf columns to the yard stick later. Back stitch the beginning of your 1st leaf. Straight stitch down the vertical center of your 1st leaf. When you get to the end, make 3-5 free stitches. This will make a space of thread in between the 1st and 2nd leaf. Stitch down the vertical center of the 2nd leaf. Make 3-5 free stitches again. Repeat until you reach the end of the last leaf of that column. Backstitch at the end. Cut the thread. Fold up your stitched column and sit it aside.
Repeat Step 7 with each column of leaves. Stack them in order, as each one is finished.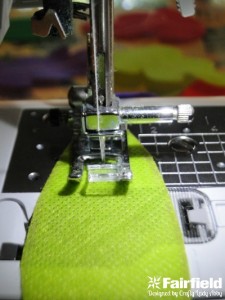 8) With a pencil, mark on your yardstick, the width of your space the curtain will hang. Mine was my window's width.
9) Using your hand saw, carefully cut straight across the yardstick at that mark. Nicely, the yardstick is a measuring tool, so it's easy to remember where the mark is. I suggest doing this outside.
10) Lay the cut yardstick down. With a pencil, mark two holes along the top edge. These will be to attach the twine later, to hang the curtain, so they need to be even. Mine are about 4″ in from each end.
11) With the pencil, along the bottom edge, mark out evenly spaced holes to hang the leaf columns from.
11) Using the 1/8″ drill bit, drill the two top holes, where the marks are. I held the yardstick off to the side of the table, so I was drilling down through air and not my table. Alternatively, you can put a thick magazine under the yardstick, and drill through to that.
12) Using the 3/32″ drill bit, drill the bottom holes, where those marks are. Dust off the yardstick.
Ignore this being purple. I decided later, painting it didn't matter, because covering it with leaves looked better.
13) Slip one end of your twine through a top hole. Knot it tightly. Figure out how long you want it to be, so it will hang nicely and you can knot the other end. Cut the twine. Slip the other end through the other top hole and knot tightly.
14) Time to add the leaves. Going from left to right, in order of arrangement, tie leaf columns onto the yardstick. Slip one end of long thread through the coordinating hole. Pull the leaf up till it meets the hole. Tie the two threads together several time. Trim the excess thread, about 1/2″ from the knots.
15) Warm up the hot glue gun, making sure it has a glue stick in it. While it's warming, lay out the extra leaves along the top of the yardstick. This will hide the writing on the stick. I arranged them overlapping from outward in, with one leaf centered. Glue the leaves along the yardstick, overlapping them as you go. Use a pencil to smooth the glue, for a cleaner application.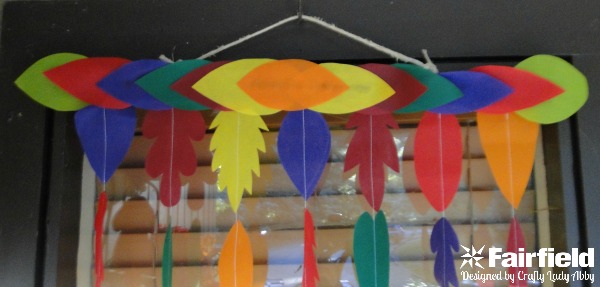 16) Hang up your curtain. I already had a hook outside for it. If you don't have a hook, you will need to add one with a hammer and nail or drill and hook or screw.
That's all for this tutorial. You can use this concept for many other designs and needs. Oly*Fun doesn't need to be hemmed, as it doesn't fray. It will fade over time, with constant exposure to direct light, so keep this in mind when choosing where to use it. My porch is covered, which prevents it from getting wet. Oly*Fun is water resistant, but not water proof. If you are worried about the long columns tangling, you can weight down the ends by sewing on beads, coins, or washers to the bottom leaves. Have fun and get creative with this project! Happy Makery, Crafty Lady Abby.