With the holidays approaching quickly, I'm working on fun decorative holiday projects that are quick to make but still look luxe.  I think plush cuddle fabric is a great way to achieve a "wow" finish with little effort.  The fabric is so beautiful to look at and so soft to the touch!  I used two beautiful pieces of fabric to quickly make this happy holiday tree decor.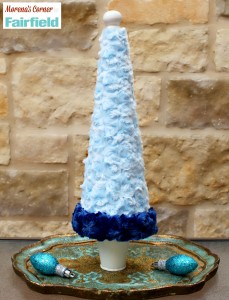 Supplies for Christmas Cone Tree:
Styrofoam Cone
Pins
Wood Knob
Dowel
Small Pail

Step one:  Cut pieces of the cuddle fabric to fit the cone.  Pin the fabric onto the styrofoam.  The pinheads are hidden nicely by the plush fabric.
Step two:  Cut a strip of contrasting color cuddle fabric to fit the base of the cone.  Sew the side together to make a tube, and fill with Poly-Fil.  Pin the piece to the cone.
Step three:  Gently insert the dowel rod into the cone, and hot glue it into the pail.
Step four:  Glue the knob onto the top of the tree.
I can't wait to make more of these!  With all the different cuddle fabric to choose from it will be easy to make a set that complements each other but doesn't all look exactly the same.  My 5 year old liked this project so much that she took my scraps of cuddle fabric and a mini styrofoam cone to make a tiny Christmas tree for her doll house!  What are you waiting for?  Have fun crafting and creating!