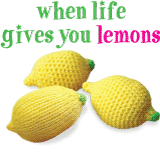 Fairfield is so excited to announce our co-sponsorship of the Big Apple Lemon Drive.
The "Lemon Drive" is where people around the country will be knitting and crocheting stuffed lemons.  The lemons will then be used to "lemon bomb" a park in New York City.  There will be thousands of handmade lemons passed out in lower Manhattan on Tax Day April 2016.   What are the odds that April is also National Stress Awareness month?   The CYC (Craft Yarn Council) plans to hand out thousands of knitted and crocheted lemon stress balls.  Attached to each stress ball will be important information about the stress-reducing benefits of crafting. Hopefully New Yorkers will be inspired to take up knitting or crocheting and experience the health benefits themselves.  At the very least, they'll be able to squeeze away some stress at work or home.
We here at Fairfield, love to be at the heart of your project.  So, we are donating the Poly-Fil® that goes inside the lemons.  For an added bonus, "When Life Gives You Lemons" Lemon Stress Ball is a FREE pattern from Twinkie Chan, perfect for stitching squeezing away stress
Well, this lemon is a win-win, because you can stitch away stress while you're making it and then squeeze away stress as often as you need after it's done! How great is that?! Oh, and don't forget to show off your lovely lemon when you're done! Post a pic of it along with the hashtag #StitchAwayStress and #lemonstressball, #attheheartofmyproject on Instagram, Twitter and Facebook!
THE FREE LEMON STRESS BALL PATTERN
A little History about the event:
-The lemon stress balls made their debut in April 2015 as part of the Craft Yarn Council's Stitch Away Stress interactive social media campaign
-April is National Stress Awareness month and as part of its global health initiative to draw awareness about the health benefits of knitting and crochet, the CYC provided 30 Days of Creative Ways to relax, relieve stress and boost mood with knitting and crochet
-People from all over knitted and crocheted lemons and shared photos of them on social media with the hashtag #stitchawaystress and stories about how they de-stress with knitting and crochet.  You can view the patterns and more information about the CYC's health initiative and Stitch Away Stress campaign via this page:http://craftyarncouncil.com/health
Health Benefits of Knitting and Crochet Stats
85% of 3,100+ people recently surveyed by CYC reported reduced stress from knitting and crochet
90% of 4,000+ people recently surveyed by Wool and the Gang reported decreased anxiety from knitting
Needlecrafting is recognized by major news outlets likeYahoo! as an effective alternative therapy to prescription drugs

…and WIN SOME CASH while you're at it!
Want to be part of making history and have lots of fun doing it? Want to promote your guild or group and win some money for it? Join the Craft Yarn Council in its Big Apple Lemon Drive to draw awareness about the stress-busting benefits of knitting and crochet!
With the help of your guild or group, the Council plans to hand out thousands of knitted and crocheted lemon stress balls with a message about the stress-reducing benefits of these crafts to taxpayers on the busy streets of New York City. Hopefully, they will be inspired to take up knitting or crochet and experience the health benefits themselves!
Here's how your guild or group
can get involved and enter the contest…
The registration deadline is October 31st. If your guild or groups commits to completing one of three quantities of lemons (50, 125 or 250), while supplies last, the Council will ship the necessary bright yellow and green yarn plus fiberfill for the lemons. OPEN ONLY TO U.S. GUILDS OR GROUPS AND ONLY ONE YARN ORDER PER GUILD OR GROUP PLEASE.Participants are encouraged to continue to make lemon stress balls using yellow and green yarns from their stash!
For crochet and knit lemon patterns: download the PDFs on this page or visit: http://www.craftyarncouncil.com/health
Contest and Prize…
Registered Guilds will be entered into one of two categories:
Guilds 50 members and fewer
Guilds 50 members and over
The guild in each category completing the most number of lemons by December 31st will receive a $250 cash prize. The runner-up guild in each category will receive $100 cash prize.
All lemon stress balls must be shipped to the Council by December 31st to be entered in the cash prize contest:
Craft Yarn Council
ATTN: Big Apple Lemon Contest
3740 North Josey Lane Suite 102
Carrollton, TX 75007
Thanks and good luck!
Special thanks to our Co-sponsors: