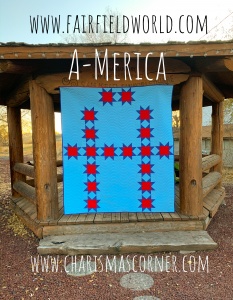 Hi Everybody!
It's been so long since I last posted here. I wanted to share a new project that I have designed.
I come from a family with a long history of military men and my husband has also served our country. I design and make patriotic quilts regularly. I also contribute many quilts to Quilts of Valor (QOV).
So I wanted to share a patriotic design that I created that can be used as a QOV or as a patriotic quilt that you can keep and use to stay warm & cozy.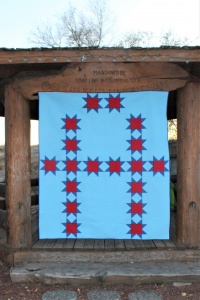 This was made with solids. However, you could use scraps, change up the colors and really personalize it. This is has a touch of tradition with the star and the colors but it's set in a more modern setting. So this has appeal to many. This could also be a special quilt for someone with a monogram of "A".
This is a quick easy project that can be made over a weekend. You can download the pattern here:  A For America
I quilted this with Fairfield's Warm and Toasty batting and also a layer of Fairfield's poly batting. Yes! 2 layers for extra warmth and a great way to showcase the quilting designs. That negative space around the "A" is a perfect way to highlight some great custom designs or use an edge-to-edge design as I did in this sample. I used wavy lines to mimic a waving flag.
Speaking of a wavy flag….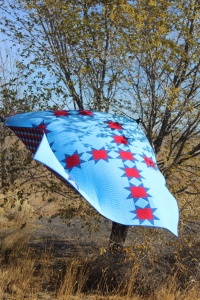 I live in the Columbia Basin of WA  and the wind here is CRAZY! So while I was trying to get pictures of this quilt I had a particularly difficult time as you can see. LOL!
Sometimes even if it is windy you can still get a good picture if you time it right.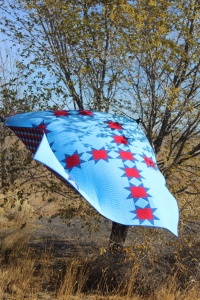 But apparently not on this day. OH well! I used a great flannel for the back so that even on those cold windy days this will be even a little more cozy!
If you have any questions please ask. We would also love it if you would share your projects with us! #fairfieldworld and #charismascorner
Thanks so much!
Charisma