DIY Woodland Fairy Halloween Costumes for couples is an easy sew idea that you can wear to a costume party or ay event where a costume is needed.  Oly*Fun can be washed so you can reuse the costumes if needed.
Woodland Fairies Supplies and Tools:
Oly-Fun: 2 yards Pine & Hot Fudge, 6 12"x12" sheets Clover, 1 craft pack in Kiwi
Tape measure
Scissors
Fabric Glue
Green paint
Paint Brush
Jute cording
Pencil or marker
Sewing machine and coordinating thread.
Hook and loop tape – 3" in dark  or coordinating color
DIRECTIONS for Woodland Fairies:
Cut approximately 200 Kiwi leafs, 100 Clover leaves, 75 Pine leave, 25 Hot Fudge leaves
Skirt Woodland Fairy Halloween Costume-
1. Trace a 60" circle on Hot Fudge fabric (round table top was used).  Cut out circle. Cut a circle out of the center to fit the waist  of the wearer.  Save scraps to use as leaves. Cut a slit down one side of the skirt. Place the leaves in random order and sew on in rows.  Start the rows at the bottom.  If you have extra fabric you can create an extra log layer in the back.
2. Place the leaves in a random order as you sew the leaves on one row at a time.
3. Sew in hook and loop tape to close and open the skirt.
Top for Female Woodland Fairy Halloween Costume-
4.  Cut two diamonds to form the top. (use a tank top as a pattern if needed) Sew two points together to form the top.  Sew leaves on the shoulder piece as shown.
5. Sew jute the sides to tie the shirt together.
Tunic for Male Woodland Fairy Halloween Costume
1. Cut the base for tunic in Pine, two inches wider than shoulders of the wearer.  Cut an opening for head.  Sew in in Hot Fudge fabric to look like a layered shirt.
2.  Cut 8" of Hot Fudge for the bottom of front and back.  Sew on to tunic.  Sew on leaves to bottom of tunic and around neck opening in random order.
3.  Sew on leaves to for a belt loop for jute cording.
4.  Cut jute to wrap around  waist like a belt.
Skill Level:
Some experience necessary
Approximate Crafting Time:  Varies
2-3 hours  including dry time for paint
Check out all the other great costume ideas in the really awesome Halloween Costume Hop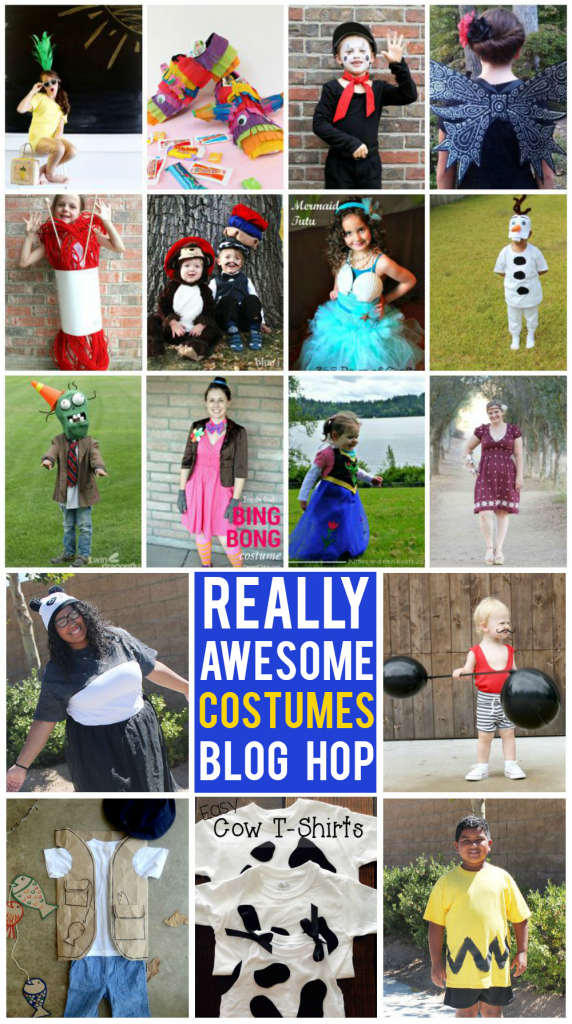 DIY Pineapple – Sugar Bee Crafts
Pinata Shoes – Morena's Corner
Easy Mime – Ginger Snap Crafts
Skein of Yarn – Dukes and Duchesses
No Sew Mermaid Tutu – 365 Days of Crafts
Disney Frozen – Foster2Forever
Plants v. Zombies – Twin Dragonfly Designs
Inside Out Bing Bong – Desert Chica
Princess Anna Apron – Ruffles and Rainboots
Modern Mother Earth – BumbleBree Blog
Easy DIY Cow T-Shirts – Wait Til Your Father Gets Home
Panda Costume for Teens – Three Mint Balloons
10 Minute Charlie Brown with Football Treat Bag – Just JP