Hi, I'm Heather from The Sewing Loft. Normally, you can find me stitching up a storm and sharing easy tips to help improve your everyday sewing but today, I'm excited to kick off our new Block of the Month series.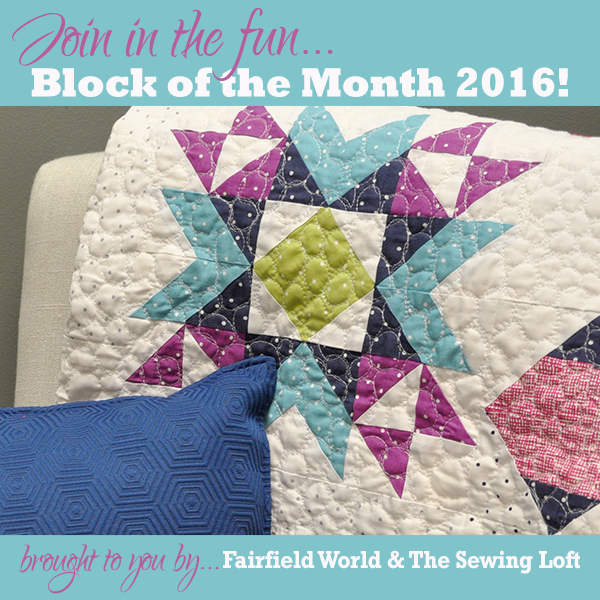 Once a month, I'll be stopping by to share a new block and a few sewing tips with you. At the end, we'll put them altogether and create this lap size quilt.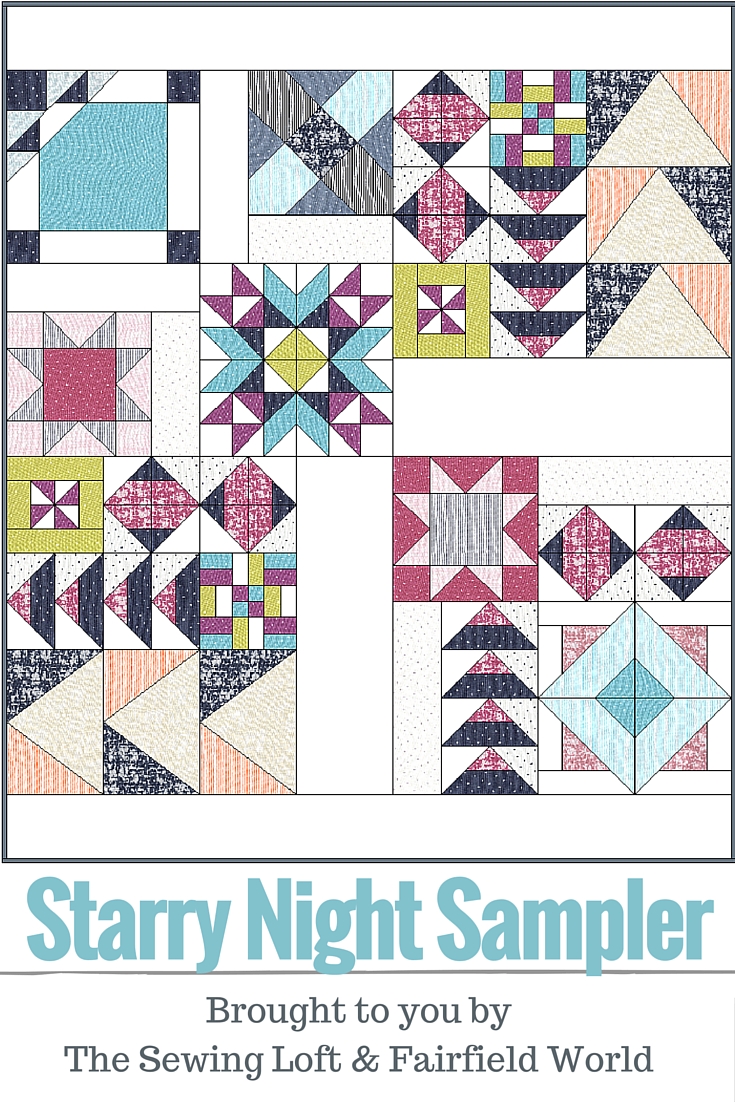 To get started you will need a few basic sewing supplies and materials. To make it easy, I have created a printable download that you can get here. Printable pattern.
These additional tools will be helpful in creating your quilt.
standard sewing machine
iron/ironing board
rotary cuter, quilting ruler and self healing mat are helpful
*Note the white fabric is mixed in throughout the quilt blocks and also used as the borders & sashing. Backing fabric is not included on the supply list. The Starry Night Quilt finishes 45″ x 54″.
The first block we are creating is called a 9 patch. Not only is the 9 patch quilt block a very basic block but it can help your build your skills in so many ways. It allows you to practice your stitching lines, seam alignment and nesting. This is one of those blocks you want to master! In the Starry Night Quilt, we are taking the standard 9 patch a step further by mixing things up with an extra color stripe in each section. Let's take a look.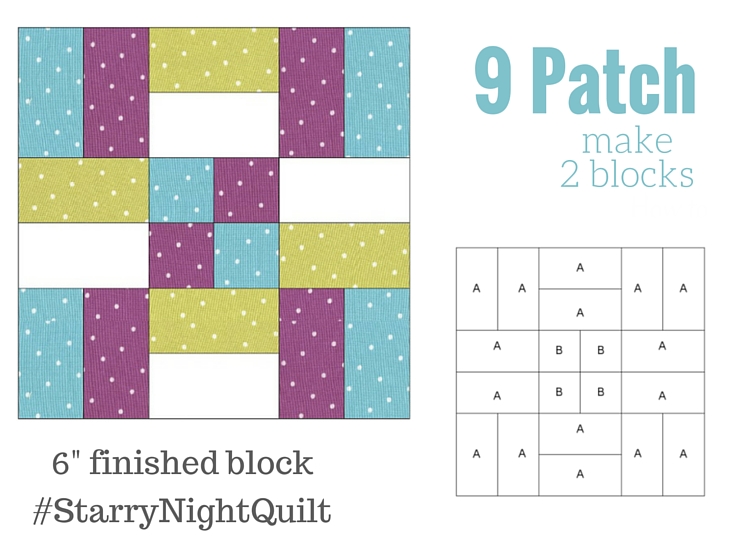 Cutting Instructions for 9 patch:
Cut 8 Sky Polka Dot 2 1/2″ x 1 1/2″
Cut 8 Lawn Polka Dot 2 1/2″ x 1 1/2″
Cut 8 Iris Polka Dot 2 1/2″ x 1 1/2″
Cut 8 White 2 1/2″ x 1 1/2″
Cut 4 Sky Polka Dot 1 1/2″ x 1 1/2″
Cut 4 Iris Polka Dot 1 1/2″ x 1 1/2″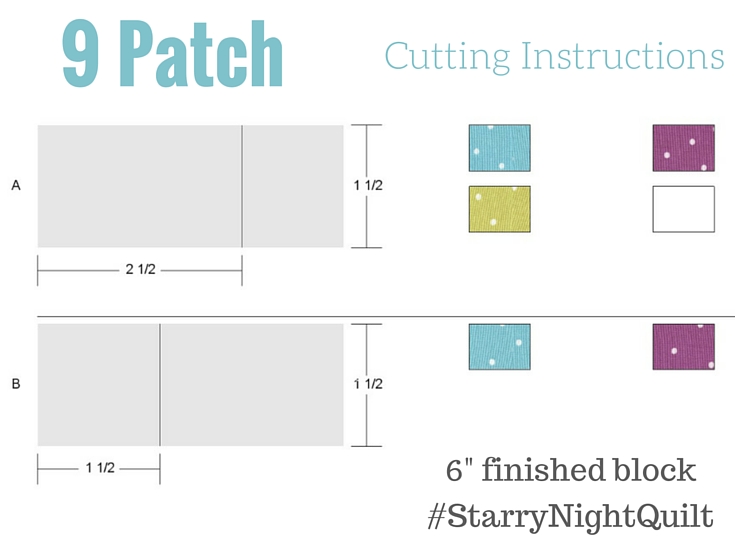 Sewing Assembly: 
Following color key, place 2 1/2″ x 1 1/2″ rectangles right sides together and stitch using 1/4″ seam allowance to create a 2 1/2″ square. Press and repeat to create 16 units.  
Repeat step 1 with square units to create the center squares.
Alternate and turn square sections to create pattern; join 3 squares together to create a strip using 1/4″ seam allowance.

Join each strip together to create 6″ finished block (6 1/2″ including outer seam allowance).
Now, for those of you that are seasoned quilters this block will be a breeze but if this is your first block of the month series have no fear, I'm here to help you through it. To help you achieve success with our first block, I've put together a few of my favorite tips here.
Remember, you will need 2 finished 9 Patch blocks to complete the Starry Night Quilt Sampler.
Well, that's it for now. Don't forget that I'll be back next month with a next block in the Starry Night Quilt Block of the Month series. In the meantime, be sure to come find me on social media and share a few pictures of your finished block using #StarryNightQuilt as a tag, I want to see your blocks stitched together!