Hello, Hello My Stitching Friends!
Heather here from The Sewing Loft back for our monthly sit & sew.
Wow, time flies when you are having fun and I can not believe that it has been 6 months since we started our little adventure together. It's so exciting that so many of you are stitching along with me to make the Starry Night Quilt Sampler.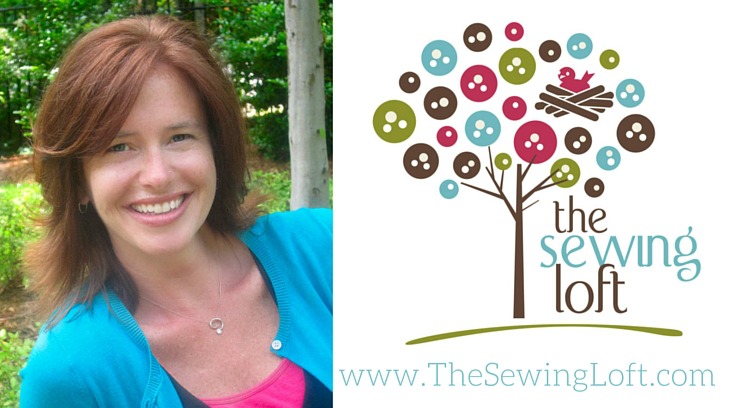 **For those of you just joining the party, be sure to check out block 1 and see the basic supplies and material list. To make it easy, I have also created a printable download that you can get here.
These additional tools will be helpful in creating your quilt.
standard sewing machine
iron/ironing board
rotary cuter, quilting ruler and self healing mat are helpful
*Note: The white fabric is mixed in throughout the quilt blocks, borders & sashing so don't be surprised when you see the yardage. Backing fabric is not included on the supply list. The Starry Night Quilt finishes 45″ x 54″.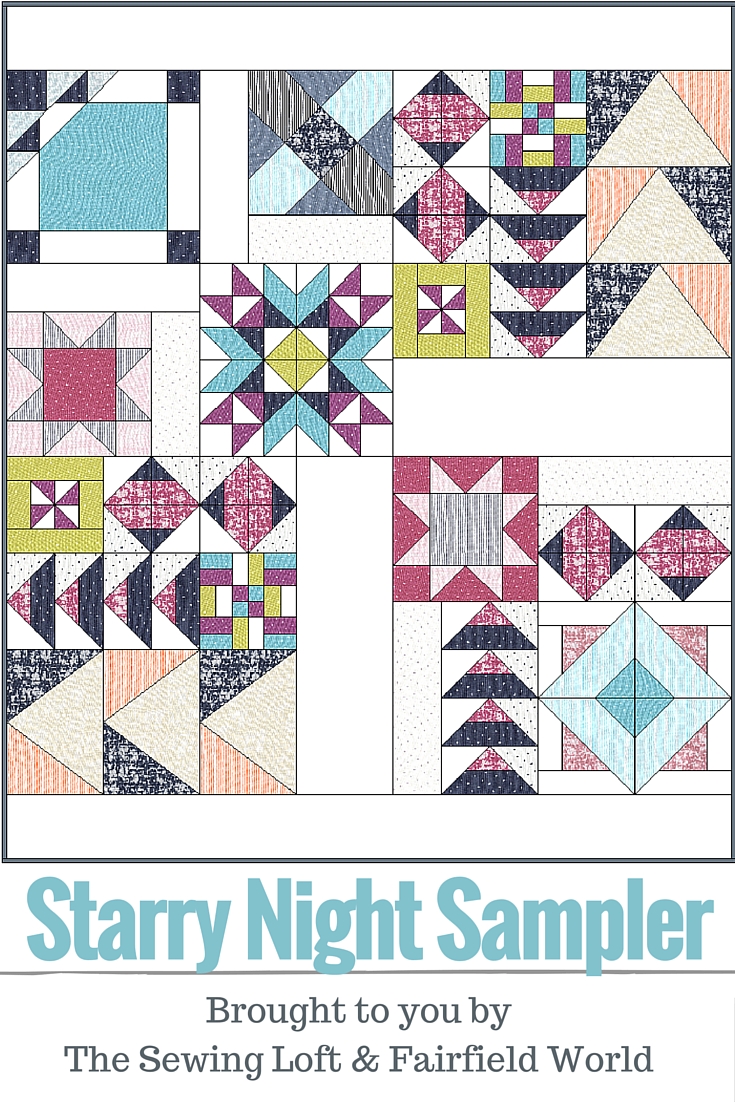 Each block in this sampler is special but there is something about today's block, the Diamond Sky that I just love! I'm not sure why, maybe it's the color pallet, the mixture of small prints or the clean lines but it is my favorite.
CLICK HERE FOR PRINTABLE INSTRUCTIONS
Cutting Instructions:
Cut 4 Solid White  7″ x  2″ sub cut 45° angles as below to create (a) (b)
Cut 4 Solid White 5 1/2″ x 2″ sub cut 45° angles as below to create (c) (d)
Cut 4 Mint Net 9 3/4″ x 3″ sub cut 45° angles at each end to create (e)
Cut 2 Sky Polka Dot 3 1/2″ x 3 1/2″  sub cut into 4 triangles (f)
Cut 2 Primrose Net 4″ x 4″ sub cut into 4 triangles (g)
Sub Cutting:
*Quick Tip- a quilting ruler with the 45° angle clearly marked will come in handy when cutting

Sewing Assembly: 
Align and attach rectangle (c) to triangle (g) with right sides together using a 1/4″ seam allowance; press. Join rectangle (b) and press. Repeat with rectangles (a) & (d). Make 4 units and set aside. *Note: triangle will extend 1/4″ past rectangles. This seam allowance will be turned back during pressing. 
Using a 1/4″ seam allowance join triangle (f) to rectangle (e) right sides together to create a large triangle. Press seam allowance and repeat to create 4 units.
Being careful to align seams, alternate and turn unit square sections to create pattern; join 2 squares together to create a strip using 1/4″ seam allowance; repeat to make 2 units. 
Join each unit together to create 12″ finished block (12 1/2″ including outer seam allowance).
Now, for those of you that are seasoned quilters this block was a breeze but if this is your first sampler series have no fear, I'm here to help you through it. To help you achieve success with the Diamond Sky block, I've put together a few of my favorite tips here.
Let's take a quick look back at the blocks so far: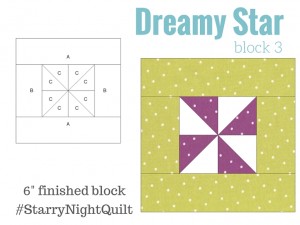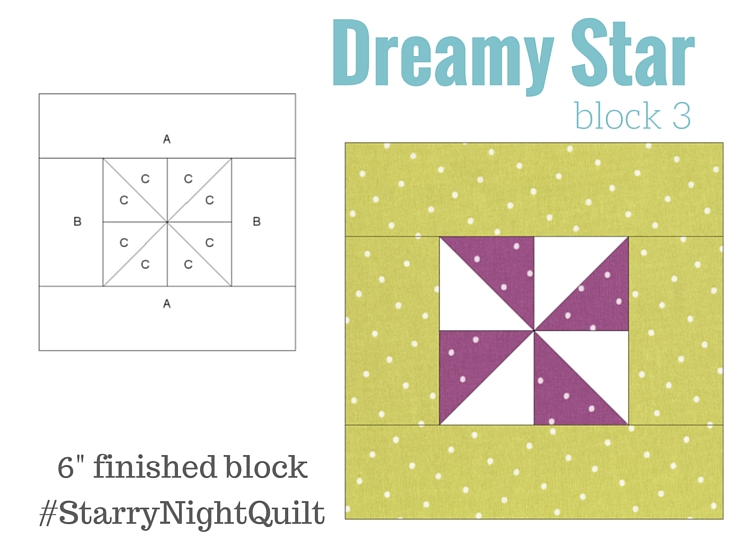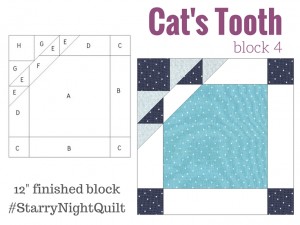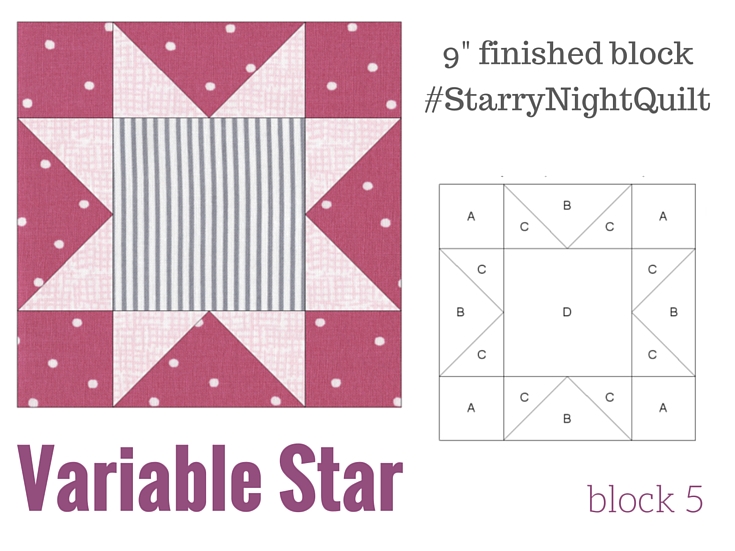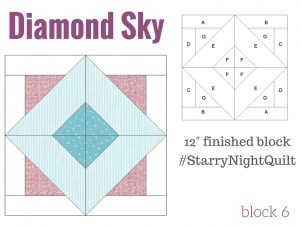 Well, that's it for now. Don't forget that I'll be back next month with a next block in the Starry Night Quilt Block of the Month series. In the meantime, be sure to come find me on social media and share a few pictures of your finished block using #StarryNightQuilt as a tag, I want to see your blocks stitched together!