Hi, I'm Heather from The Sewing Loft and normally, you can find me stitching up a storm or sharing easy tips to help improve your everyday sewing but today, I'm excited to kick off the next block in the Starry Night Sampler series.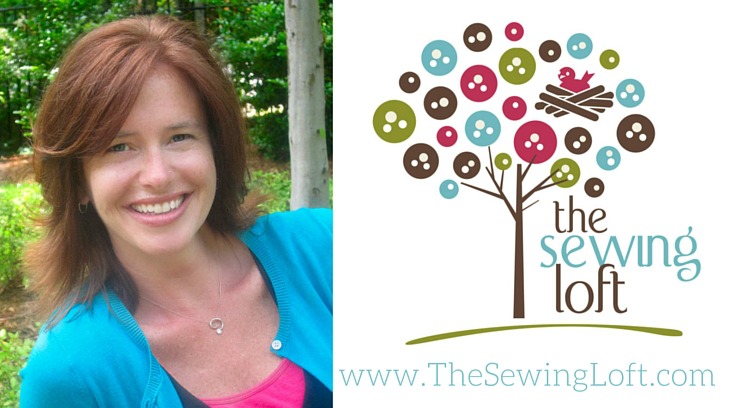 One of my favorite parts of this series, is that each month I get to visit my you at Fairfield and sew a new block. Then at the end of the year, we will put them altogether and create this lap size quilt. I designed each block and the overall design to showcase traditional quilt blocks with a modern twist and I am so excited to see your quilt blocks come together.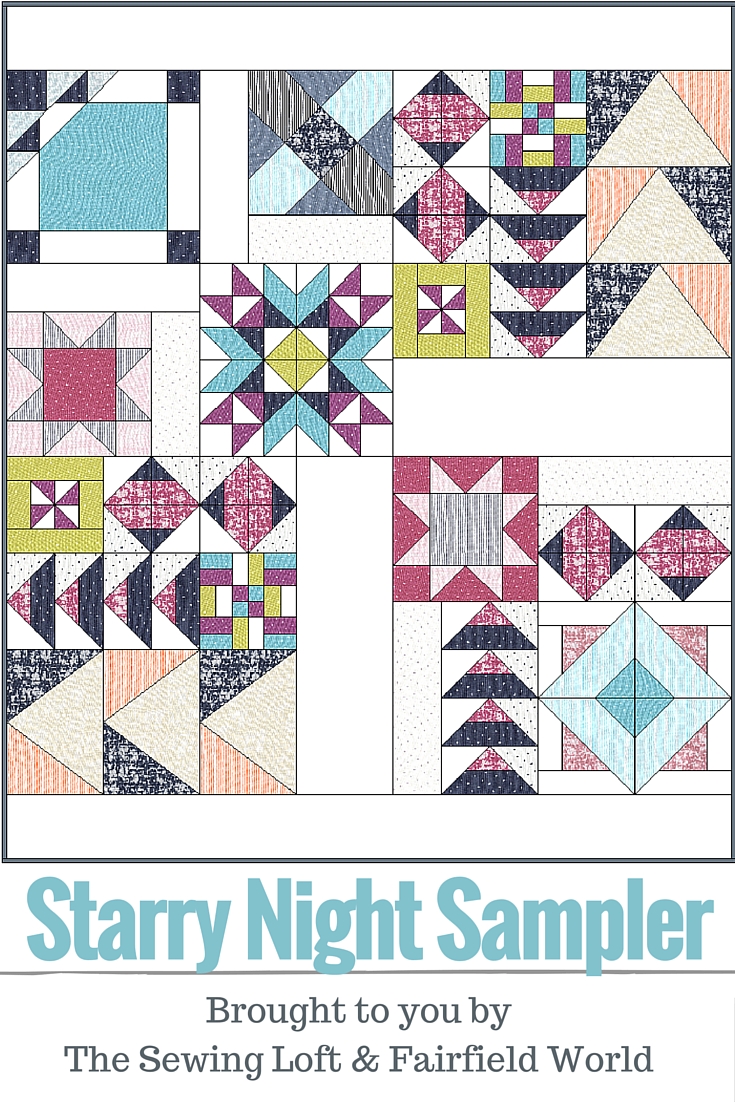 Today's block is the variable star. When finished it will measures 9″ and for our quilt, you will need to make 2. Okay, let's take a look and get stitching.
**Please note that if you are just joining us, be sure to click here for the material list and first block. Don't worry about being behind; you can jump in at anytime.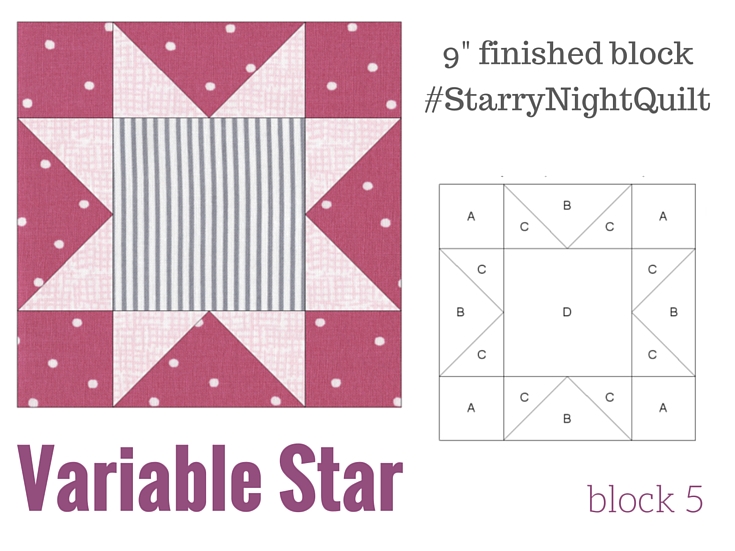 Cutting Instructions for the variable star:
Cut 4 Peony Polka Dot 2 3/4″ x 2 3/4″ (a)
Cut 4 Blush Net 2 3/4″ x 2 3/4″ (a)
Cut 4 Peony Polka Dot 5″ x 2 3/4″ (b)
Cut 4 Blush Net 5″ x 2 3/4″ (b)
Cut 4 Blush Net 2 3/4″ x 2 3/4″ (c)
Cut 4 Smoke Dress Stripe 2 3/4″ x 2 3/4″ (c)
Cut 1 Peony Polka Dot 5″ x 5″ (d)
Cut 1 Smoke Dress Stripe 5″ x 5″ (d)
**Cutting instructions yields 2 blocks in the reverse color way.
Sewing Assembly: 
Following color key, lightly draw a diagonal line from 1 corner to opposite corner on wrong side of (C) 2 3/4″ squares. Align square; right sides together, with rectangle B. Sew directly along line; trim seam allowance to 1/4″. Press open and repeat to opposite corner. These are called Flying Geese. Repeat to create 4 units for each block.
Attach (A) 2 3/4″ squares to each end of the flying geese as diagram for each block. 
Join each unit together per final assembly diagram.
4. Stitch balance of units to create a 9″ finished block (9 1/2″ including outer seam allowance). Create 2 blocks for quilt layout.
Now, for those seasoned quilter's stitching along, flying geese may be a breeze but if you are just getting started you may find these additional tips helpful.  Flying geese are considered a traditional block basic and we will be working with them again later to create additional blocks in our quilt layout.
Remember, you will need 2 finished Variable Star blocks to complete the Starry Night Quilt Sampler. I made mine in the reverse fabrics for contrast.
Well, that's it for now. Don't forget that I'll be back next month with block 6 in the Starry Night Quilt Block of the Month series. That means we are almost halfway there and at the end, you'll have a cozy lap size quilt to snuggle under and watch tv or read your favorite book. In the meantime, be sure to come find me on social media here or here and share a few pictures of your finished block using #StarryNightQuilt as a tag, I want to see your blocks stitched together!