Hello, Hello My Fairfield Friends!
Heather here from The Sewing Loft and not only am I here to share our next block in the Starry Night Sampler series but I want to remind you that September is National Sewing Month. So, it's a great time to give your machine a quick clean and try something new.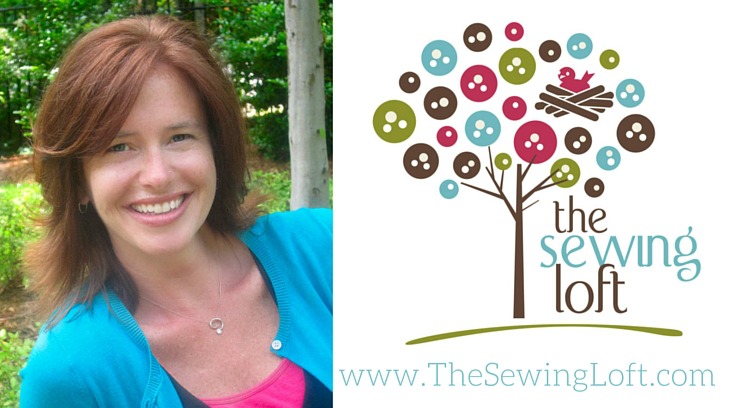 With the cooler night soon on the horizon, I'm starting to dream of spending cozy nights curled up on the couch with my finished Starry Night Quilt Sampler. We are getting so close that I am getting excited.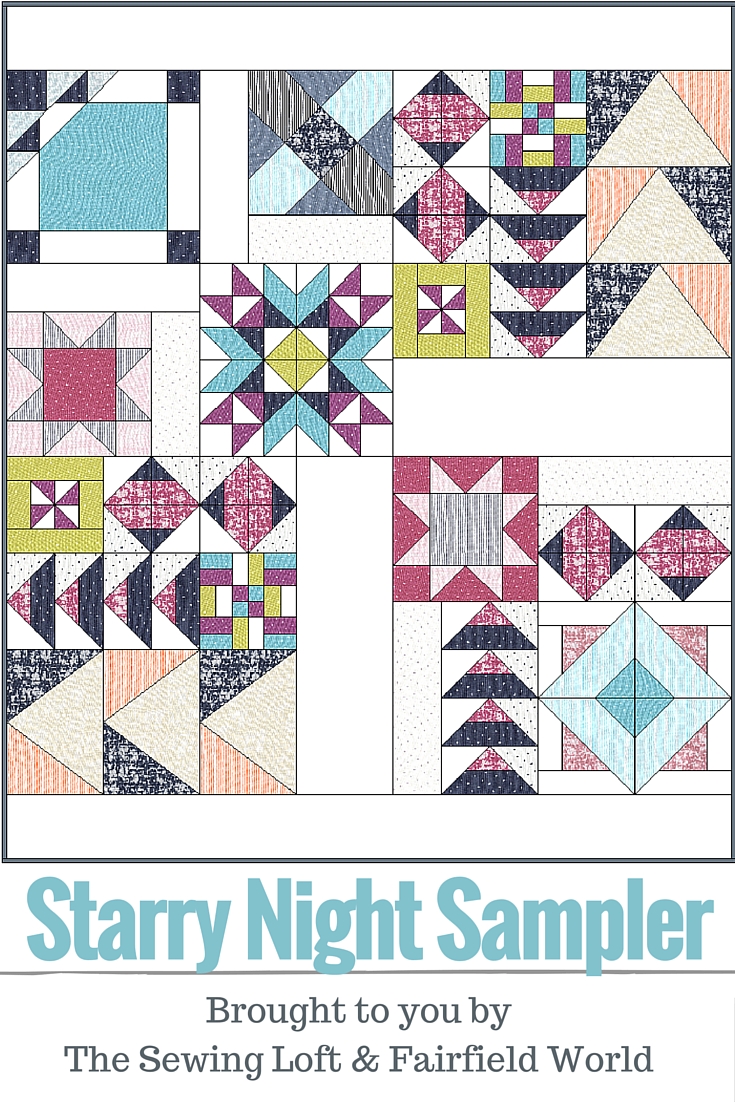 Block 8 is called Wild Goose Chase. Think of this block as a big brother to the traditional flying geese that we learned in block 5. Since this bad boy is beefed up the standard flying geese construction will not due. Instead, we will be creating this block with paper piecing. To finish the Starry Night sampler quilt you will need to make 2 full blocks of these bad boys.
For those of you just joining us, please be sure to check out the full supply list and materials list before starting. To make it easy, I have created a printable download that you can get here.
Now, let's take a closer look at today's block, Wild Goose Chase, and get started.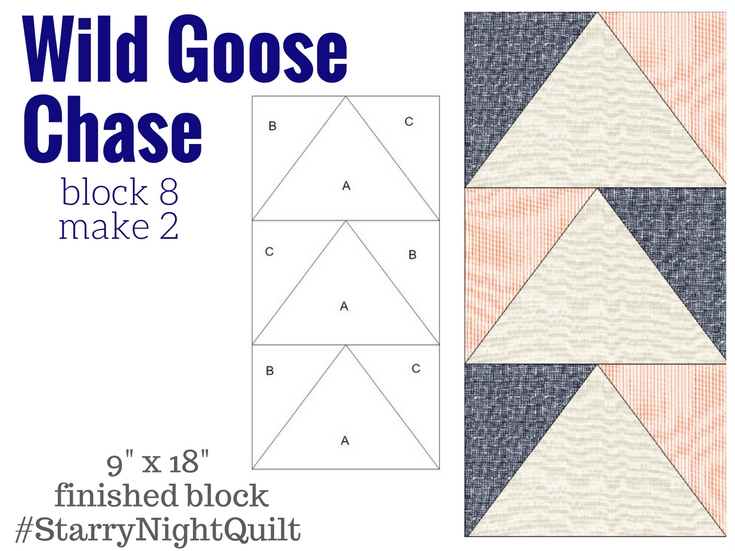 Before we dive right into cutting I wanted to share a few tips and thoughts on block construction. This block might look extremely simple but it has tricky angles for cutting. To help keep our lines straight we will use a technique called paper piecing. Paper piecing can also be called foundation piecing.  Using this method of construction will allow you to create perfect angles every time. Since the angles are tricky, it is best to gauge your comfort level when selecting directional fabrics or placement of fussy cutting.
Tips for Paper Piecing- 
Use an all purpose cotton thread.
Reduce your stitch length. I like to use between 1.5-2mm length.
If paper piecing is new to you, cut your fabric pieces slightly larger.
Fold the paper and trim as you go. Make sure to use a clear quilters ruler and cut 1/4″ seam allowance.
Cutting Instructions for Wild Goose Chase:
Cut 6 Beige Net 9 1/2″ x 6 1/2″ Rectangles (a)
Cut 6 Navy Net 7″ x 6 1/4″ Rectangles (b)
Cut 6 Orange Dress Stripe 7″ x 6 1/4″ Rectangles (c)
*I can not stress enough, when paper piecing it is better to cut your pieces larger than required. Yes, there will be waste but rest assured that I have allowed for it in your fabric requirements.
**Cutting instructions yields 2 blocks.
CLICK HERE FOR PRINTABLE INSTRUCTIONS
Sewing Assembly for Wild Goose Chase:
Print out 6 copies of the Wild Goose Chase template provided in the printable instructions. *Note there is no need to make any adjustments to your printer, it should print to size.
Position your template face down and position fabric (A) right side up on the back side of template; extending past the sew lines. Align your second piece of fabric (B) over top of the stitch line right sides together.  *It is important to fold fabric up along the stitch line to ensure coverage. Think of this as a test before stitching in place.  Once happy with placement, pin through the paper and fabric to secure. Since our pieces are large, I used 2 pins. One along the top and one along the bottom. Do not pin near the stitch line. These pins are just to secure fabric in position. 
Turn your template right side up and straight stitch directly over the solid line on template. After stitching, fold paper along the stitch line onto itself (paper to paper) to expose excess fabric. Using a rotary cutter, quilters ruler and self healing mat, trim away excess fabric leaving a 1/4″ seam allowance. Turn fabric right side up; press and trim to paper template.
Alternating fabric positions, repeat to make 3 units for each block and 6 units total. Being careful not to pull the fabric too hard, carefully remove paper template from each unit. This step can also be done after final block assembly.
Finally, it's time for block assembly. Alternating patterns join 3 units together to create a 9″ x 18″ finished block (9 1/2″ x 18 1/2″ including outer seam allowance). Repeat to make 2 complete blocks.
Do you see what I mean by beefed up? It truly is a flying geese block pumped up and I love it! Now, if this is your first experience with paper piecing I want to suggest that you small allover print instead of a directional design.
For those of you trying paper piecing for the first time my best advice is take your time. I still get confused sometimes when using directional fabrics. You can find more easy tips here to help you achieve block success.
Remember, you will need 2 finished Wild Goose Chase blocks to complete the Starry Night Quilt Sampler.
Well, that's it for now. Don't forget that I'll be back next month with a next block in the Starry Night Quilt Block of the Month series. In the meantime, be sure to come find me on social media and share a few pictures of your finished block using #StarryNightQuilt as a tag, I want to see your blocks stitched together!