The next sleepover you host will be anything but a snore with these fun slumber party DIYs! Set the stage for an unforgettable night of fun by creating a cozy, comfy setting for your guests. Whether it's a birthday party or young family members visiting, these projects will have your overnight guests feeling pampered!
Move over sleeping bags, there's something much better for slumber parties! You can make one for your child to take to slumber parties, or make several to keep for sleepovers hosted at your home. These are quick to make and easy to store, so you can tuck them away and have them ready any time. Why are these so much better than a sleeping bag? Because these sleepover rolls cushion and cradle little bodies by using Project Foam. This long lasting foam cushion delivers lots of comfort without the bulk.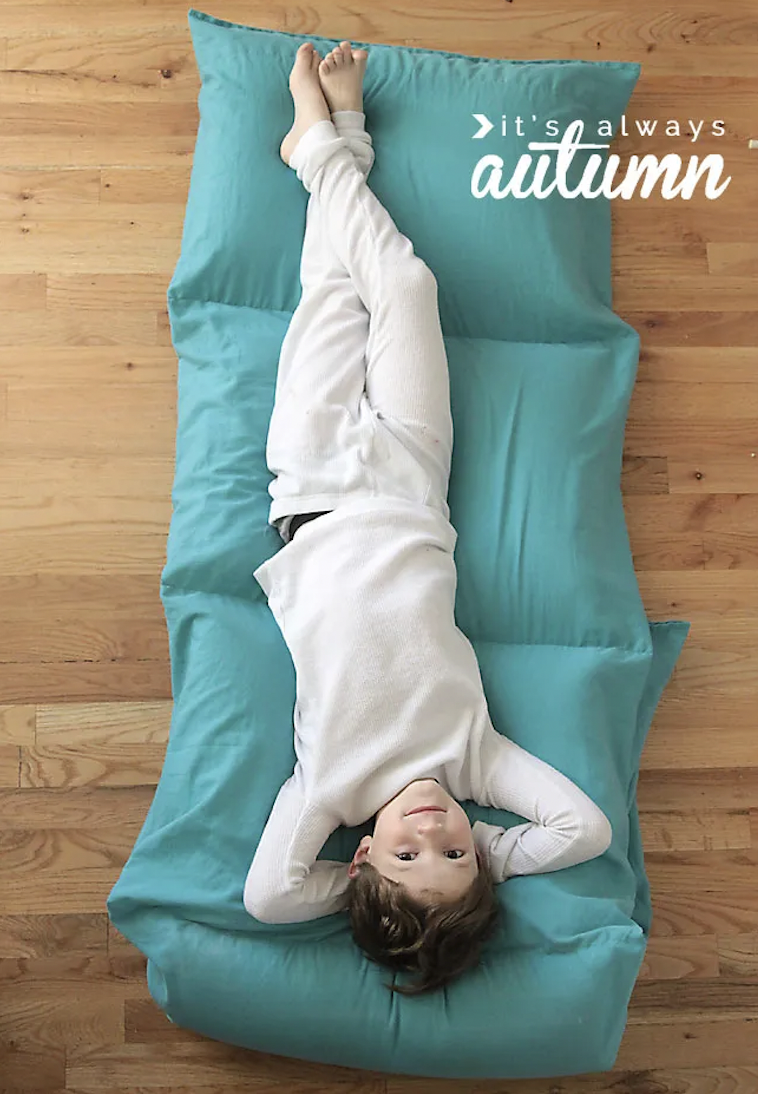 I can just imagine my nieces and nephews giggling with delight if they saw these waiting for them at our next sleepover! Create a cozy bed that can also be folded into a chair! Your guests can lounge on pillowy seats while the watch movies and hang out. When it's time for lights out the pillow chair is laid out to make a cozy bed! This tutorial uses a flat sheet instead of multiple pillow cases, so after you're done sewing you'll just need to add some pillow inserts to complete this slumber party DIY! Classic bed pillows, like a Feather-Fill Pillow, are perfect for this project.
Create instant mini beds by combining duvet covers with cushion foam. Outdoor cushion foam is perfect for kids to sleep on, as it's made to withstand the rugged outdoors! If it can survive a summer it can easily withstand a couple of active kids!
Here's a more detailed tutorial for how to make a slumber party bed using cushion foam. I made this project several years ago and it is STILL going strong! I had to make a second one since my two youngest kids love to watch movies and sleep over in my bedroom. These lounger/beds are easy for kids to move from room to room, and they fold up for easy storage. Four inch thick cushion foam feels as cozy as any mattress!
This smaller mat is perfect for preschoolers and younger kids. Combine a Soft Support Foam Tuffet  with Project Foam to make an adorable AND cozy mat to sleep on! This penguin mat is perfect for an animal themed party. Madagascar, anyone? Those penguins are hilarious, and you can easily set the stage for a fun night with a few of these cute DIY mats for kids to sleep on.
Sleep masks are a great item to make for your slumber party guests! Use the masks to decorate the room with, or tuck them into goody bags for party goers. Fill a popcorn bucket with an eye mask, snacks, fuzzy socks, and maybe even a little nightlight! Party goers will enjoy the treats at the party and then have a fun reminder of the event when they go home. Support Soft Foam Stabilizer is a great interfacing to use on this project, especially if you want to quilt or embroider the DIY sleeping eye masks!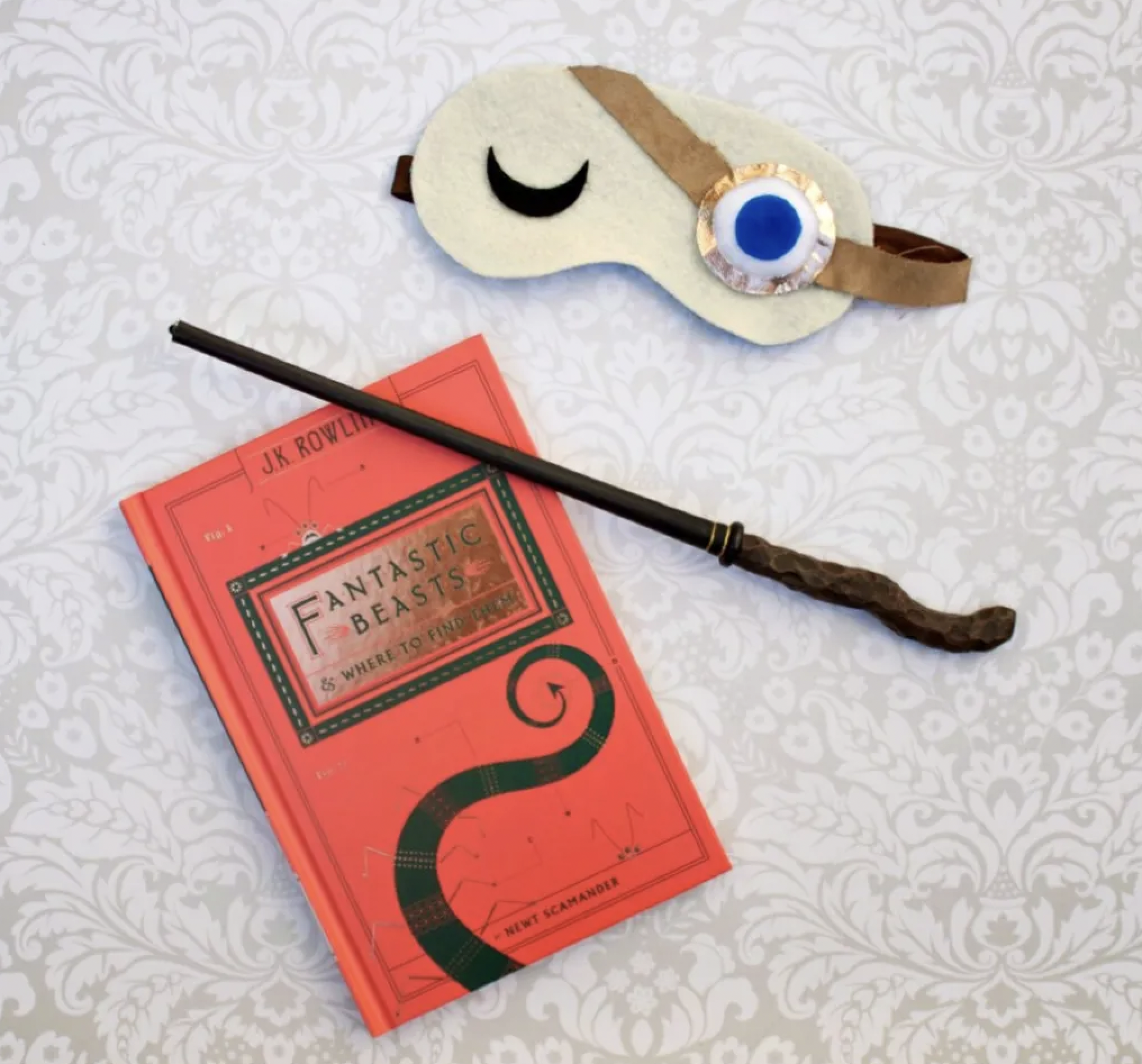 Hosting a magical muggle sleepover? Delight your wannabe wizards with a Mad Eye Moody sleep mask! This quick project uses just a bit of Poly-Fil Fiber Fill to give the eye mask the right amount of cushioning. You can easily adapt this idea to create house masks and other Harry Potter themed sleep masks!
Sleepover Party Craft: Fleece Tied Pillows
If you're looking for slumber party DIYs that guests can make, you can't go wrong with a no-sew fleece pillow! This is a party favorite in my experience! Provide your guests with pillow inserts and fleece fabric, and show them how to create their own pillows to use for the sleepover. Precut the fabric for younger kids, otherwise let the kids learn how to cut fabric under supervision. This craft will keep your guests busy AND double as a party favor.
Make any sleepover party even more magical by decorating with enchanting unicorn pillows! Choose your preferred pillow insert and then follow this tutorial to whip up a bunch of cute pillows for your slumber party guests. These handmade pillows will look so cute on their sleep mats!
This is a project I made for my daughter's movie night sleepover party and it was a huge hit! If we'd added tents I think the kids would have slept outside because the pillows were so cozy! Weather Soft Indoor/Outdoor Pillow Inserts are a great choice for this slumber party DIY because these pillow inserts have a water repellent shell that keeps the inner 100% polyester fiberfill protected from spills, and that's important when you combine kids with food and drink! The kids lounge on the pillows while watching the movie, then move the pillows to their sleep mats when it's time for lights out!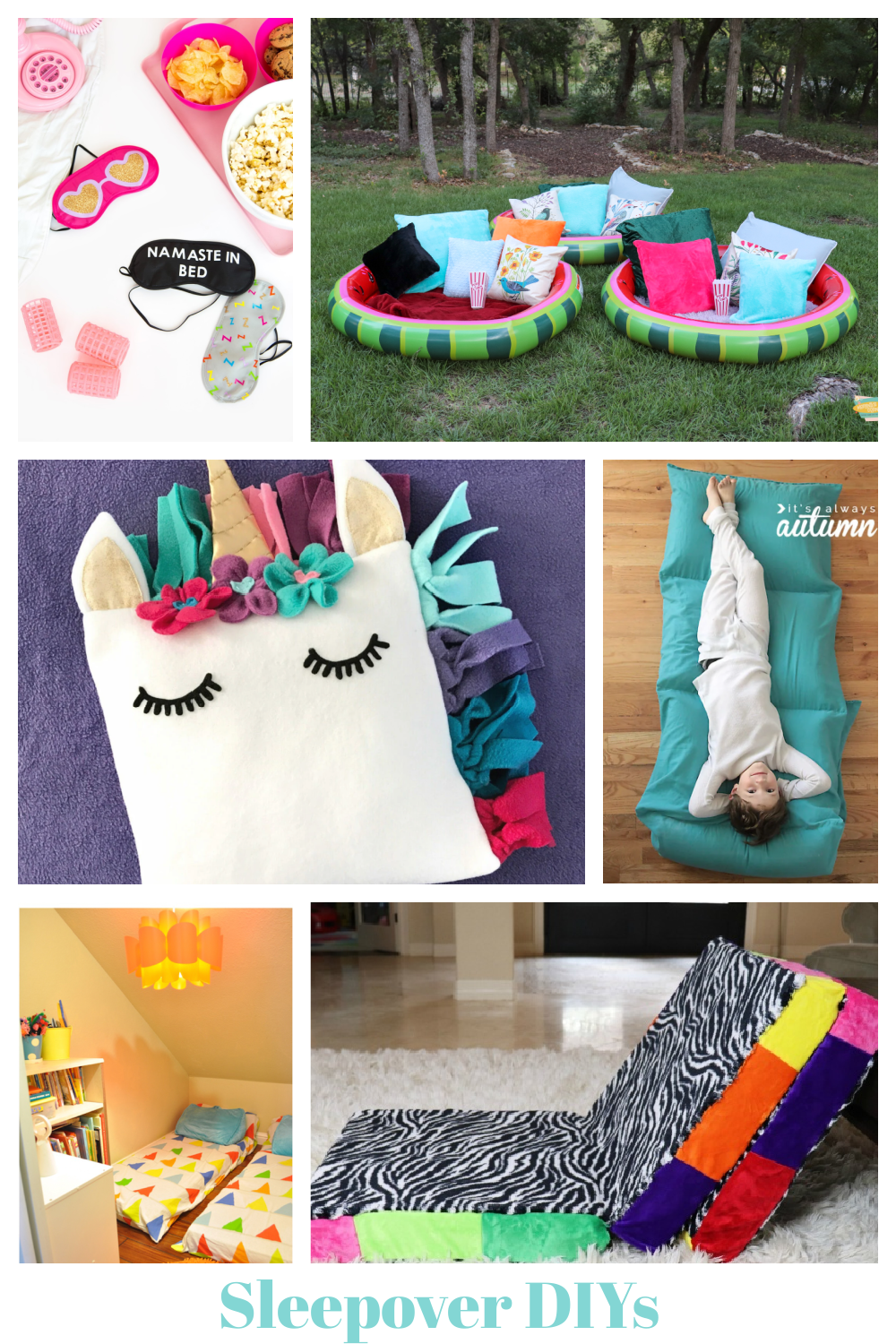 We hope these slumber party DIYs have inspired you to create something magical for your next sleepover! For more fun project ideas check out the Fairfield World Instagram page!