Are you looking for a easy-to-make, silly, homemade costume for you or your kid? Have I got the project for you! Just follow this simple tutorial on how to make your own rain cloud, put on your favorite rain coat, and you're good to go!  This rain cloud costume with bring a little sunshine to those around.
How To Make A Rain Cloud
Material:
Small Umbrella
Hot Glue Gun/Sticks
White Thread or Fishing Wire
Double-sided Tape
Step 1. First, remove the fabric by snipping the connective threads with some sharp scissors. Depending on the size of your umbrella, you may have to do a little dis-assembly. I bought a micro-umbrella for about 5 bucks and even though it was really small, I still had to remove two sections from each arm.
Step 2. Apply a bit of hot glue along each arm of the umbrella and attach a handful of Poly-Fil. Add a bit more of glue to the bottom to get it really secure. Repeat until each arm is covered.
Step 3. Fill in the empty spaces with large clumps of the filling attached with more hot glue. Don't skimp on the glue, it's the only thing keeping your cloud together!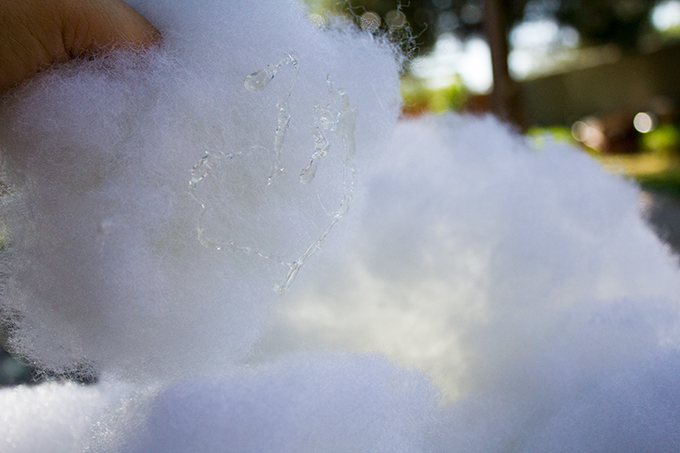 Step 4. Cut a pair of rain drops out of the Sky Blue Oly*Fun. Sandwich a piece of thread between the rain drops with the double-sided tape and tie in place over one of the umbrella arms. Repeat until you're with the look.
All done!
Now all you have to do is put on a cute rain coat and galoshes, grab your new rain cloud, and you're ready to go! Of course, you can always customize this costume with either a rainbow outfit or even a flower costume. I'm sure you guys can think of tons of fun ideas to do with this Rain Cloud Halloween Costume!
TO ENTER A GIVEAWAY FOR AN ASSORTMENT OF OLYFUN 
Hope you enjoyed this tutorial and have a great Halloween!
Vanessa
Tried & True