This raccoon mask for Halloween is made with Oly-Fun and is very easy to make. The mask is a part of two different events. Fairfield blog is participating in a Halloween Blog Bash and in a Creative Costume Hop.
October is the start of our busy season here at Fairfield. So many of our products go into making costumes for Halloween and then as soon as Halloween costume making and decorating is over we are into fall, autumn and harvest decorations which transition into Thanksgiving. Don't worry we will have lots of decorating ideas for them too. And you know what come after Thanksgiving – High Season for handmade holiday gifts and decorating.
I hand drew my mask, you can find a printable version here.  You will need to customize it to the size your your child.
Supplies for Raccoon Mask from Oly-Fun:
Olyfun in slate, black, white and bubblegum
Sewing machine ( or you could hand sew it)
Needle, thread, pen and paper
Elastic cording
Eyelet and setter
I hand drew this one so it is a little different from the printable.
Trace the mask onto the oly-fun.  I used two layers so that it would be extra durable.  My pre-schooler is far from gentle.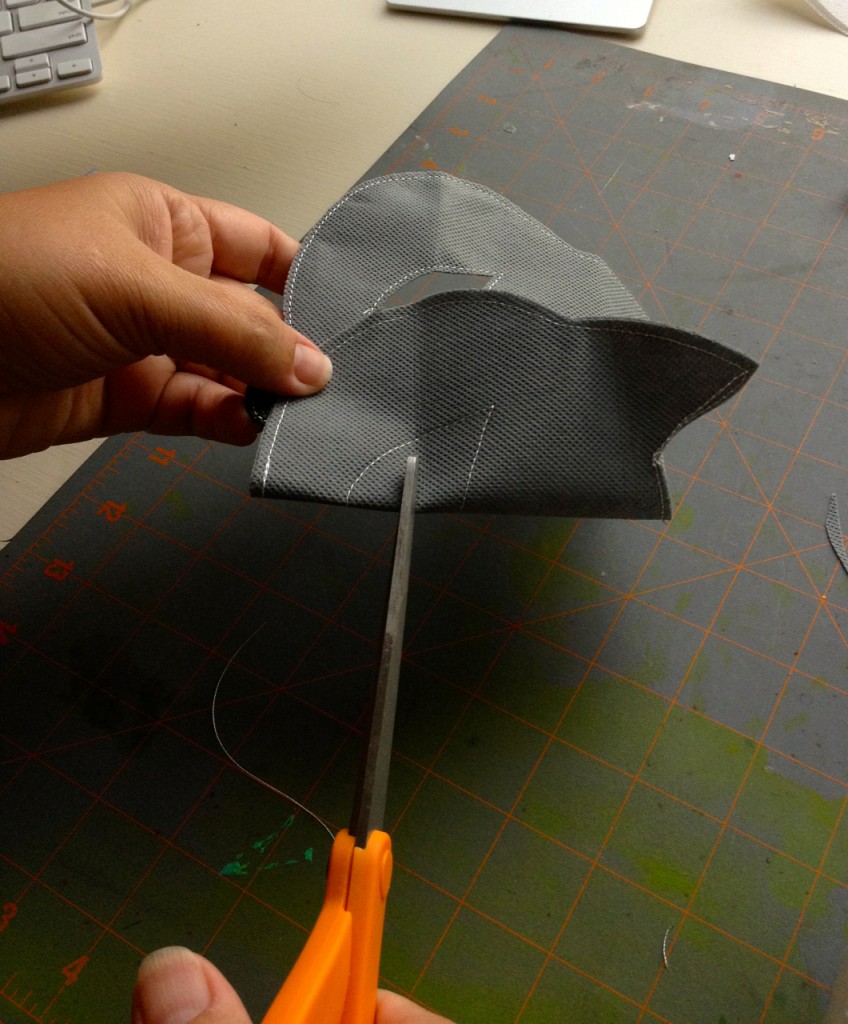 Sew around the edges. Then cut out the opening for the eyes.
I hand drew the wispy eye accents and the white eye brows.  Sew both pieces on.  Cut the openings for the eyes.
Sew around the center of the eyes.  Cut out the white snout and the black nose.  Sew the pieces on the base mask. Then cut white triangular pieces for the insides of the ears.  Sew in place.  If you do not like to sew you would always glue the mask together.
The raccoon mask made from Oly-Fun can be used as a part of a Halloween costume  or a creative play costume that can be used everyday.  The raccoon mask is the 3rd mask I have made for my kids  in the past few weeks.  Be ready to see a few more woodland creatures lurking around.
TO ENTER A GIVEAWAY FOR AN ASSORTMENT OF OLYFUN 
Join the blog hop & click on each of the links below, for the Halloween projects you'd like to see in more detail and it'll take you right to that post with additional information and photos on how to create it.
1. Mini Ghost Pumpkin Cakes
2. Easy Halloween Sculpey necklace
3. Owl-ween Party
4. Easy Halloween Cupcake Wrapper Wreath
5. Halloween Polka Dot Pillow
6. Halloween Dinner Party Table Setting
7. Halloween Party Garland
8. Halloween Oreo Truffles
9. Skeleton Hat
10. Fabric Halloween Wreath Tutorial
11. Pumpkin Carving 101
12. Dress It Up Halloween Trick-or-Treat Bags
13. Lips as Red as the Rose (an ICE Resin belt buckle)
14. Easy Halloween Caramel Apple Dippers
15. Raccoon Mask
16. Pumpkin Tea Towels
17. Easy Halloween Window Cling