Creating a  squiggly quilted fat quarter panel is fun and simple. I wanted to make this a "how to make the panel" tutorial and in my following post  you will see where I use this panel for my project.
1. First I pressed my fat quarters and picked two that coordinated. As you can see I used yet MORE of my Robert Kauflin Holiday Flourish Fat Quarter Bundle. On the back side I laid out one of the ivory toned panels face down, then I laid on a scrap of my American Spirit Cotton Batting, and finally I topped that with my second fat quarter. Pictured here is the temporary fabric adhesive I used to hold the layers together. It's not NECESSARY, but let me tell you it sure helps!
2. Even though I used the temp adhesive, I also wanted to be sure and keep the layers where I wanted them so I pinned through all layers just as an added precaution.
3. Starting in the center of the panel,  sew in rounded, squiggly lines. Remove pins as you come to them.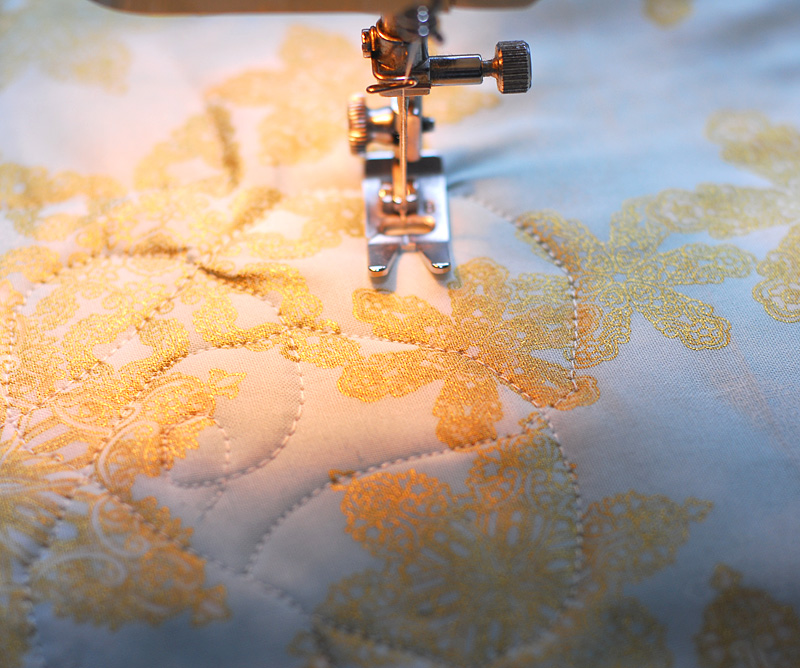 4. You can make the lines as close or as far apart as you'd like. I twisted and turned the panel as the sewing machine was stitching to add to the crazy, random look of my squiggly lines.

5. As you can see my panel has close lines and far lines. It has a definite random look and feel. If you simply can't handle randomness and want to make a few quilted panels, simply draw lines onto your fabric panel an inch or so apart, then pin, then stitch. Either way, you are going to want to make a quilted panel so you can follow along with my upcoming project tutorial!
Keri Lee
This is a great start to a hand made gift – If you are looking for more inspiration click on the links below.
The hosts of the hop are giving away a gift card if you are interested in entering.