Block of the Month 2016
Starry Night is the new 2016 block of the month.

We are so excited to partner with Heather Valentine of The Sewing Loft.  If you are not familiar with the Block of the Month or BOM for short, Block of the month quilts are an exciting and easy way to complete a quilt without spending a lot of time at one sitting.
The 2016 BOM quilt joins the growing trend of the modern quilt movement with classical quilt blocks pieced with modern fabrics and color combinations.  These attributes, along with this fun fabric combination, is what makes the quilt perfectly titled a "Starry Night."
The quilt blocks are based on traditional units that will help build skills as the year progresses. We will start with a simple 9 patch block and work our way up to a larger star with several pieces and building our skills as we go.
Month 2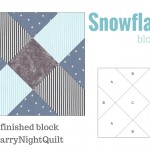 Click here to download Snowflake Block instructions
Month 1
Click here to download 9 patch block instructions