Doesn't it seem that food just tastes better when it's eaten outdoors? Summer means clear skies and warm temps, which presents lots of opportunities to head outdoors to enjoy a picnic under the blue sky! These fresh and inspiring picnic projects will help you make your next outing a little more extra special with handmade items.
Blankets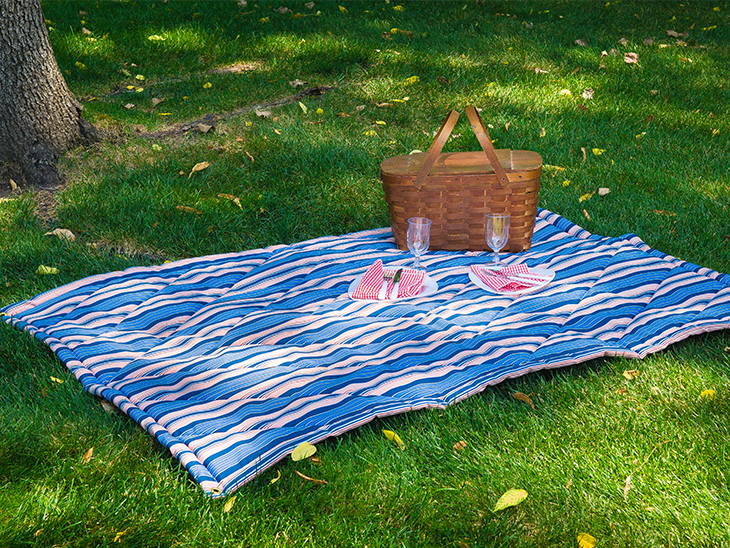 Quilted Picnic Blanket Tutorial
Enjoy a little extra cushioning and comfort with a soft, quilted picnic blanket. As an added bonus, this blanket can be rolled up and stored in your car for loads of other outdoor outings! This quilted blanket will be great for playdates, sporting events, and more. The tutorial gives step by step instructions so you can make your own with your fabric of choice. Fairfield World offers a vast selection of batting so you can find the perfect size and loft for your quilted picnic project.
Waterproof Picnic Blanket Tutorial
Protect your picnic from damp grass with a waterproof picnic blanket! This tutorial uses a vinyl tablecloth as the backing, but those tend to crack and decompose after a while, especially after a few washings. For a truly waterproof blanket that you can wash again and again safely, use Shield Liner Fabric. Shield is a PUL fabric that creates moisture and allergen barrier. Sew a layer of this unique interfacing to the top or inside of your picnic project to create a shield against moisture, grease, pollens, dust mites and dander. Not only will you be protected from moisture, but the food you place on the blanket will be protected as well!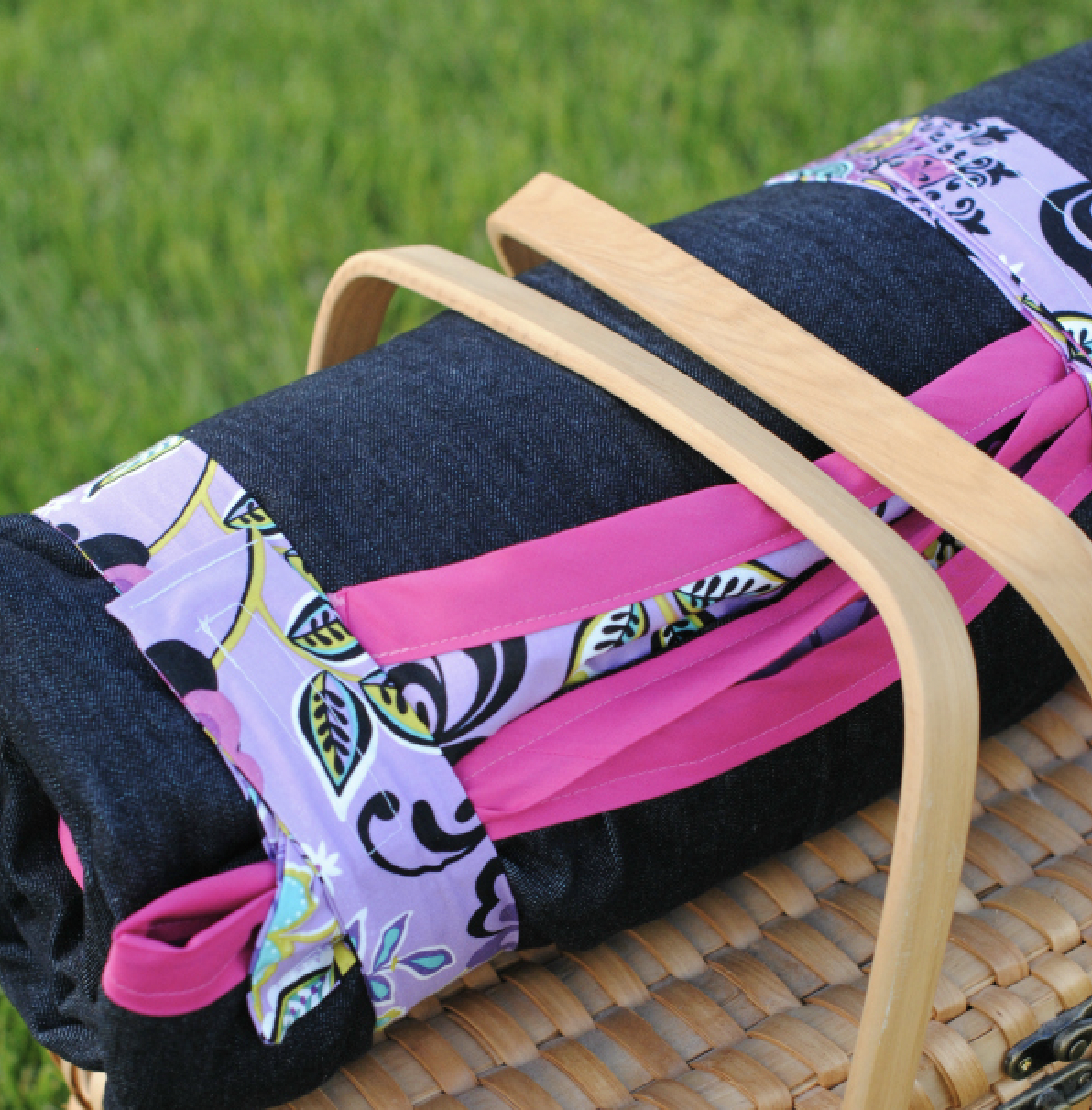 DIY Picnic Blanket with Straps
This picnic blanket project is great because it includes instructions for velcro straps that help hold the rolled up blanket together. You already have enough to tote to the picnic site already, and this tutorial makes carrying everything a little bit easier. Pair your favorite fabric colors or patterns with batting to create a beautiful and easy to carry blanket.
Pillows
Pillows make outdoor spaces more cozy, and a picnic is the coziest outdoor space of them all! Bring a few outdoor pillows to lounge on. You can sit on them if the ground is hard, or use them to lay back and watch the clouds in the sky drift by! A Beautiful Mess shares three ways that you can make your own outdoor pillows using a pillow insert that's made especially for the outdoors: Weather Soft!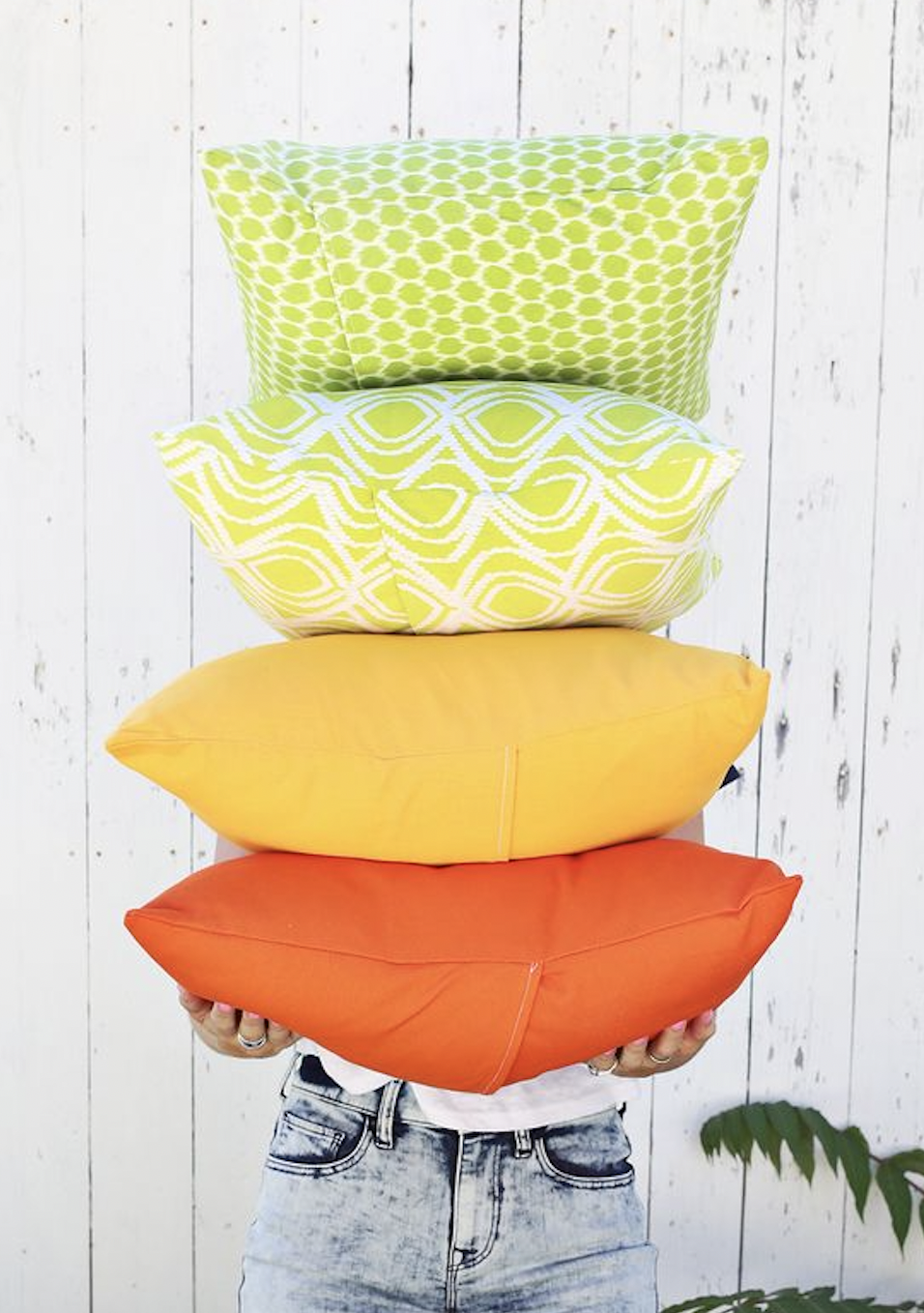 Weather Soft Pillow Inserts have a water repellent shell that keeps the inner 100% polyester fiberfill from becoming saturated. Spills, rain, and water balloon fights won't dampen these pillows at your picnic! These pillow inserts come in a variety of sizes, including 12″ by 18″, as well as 16, 18, and 20 inch squares.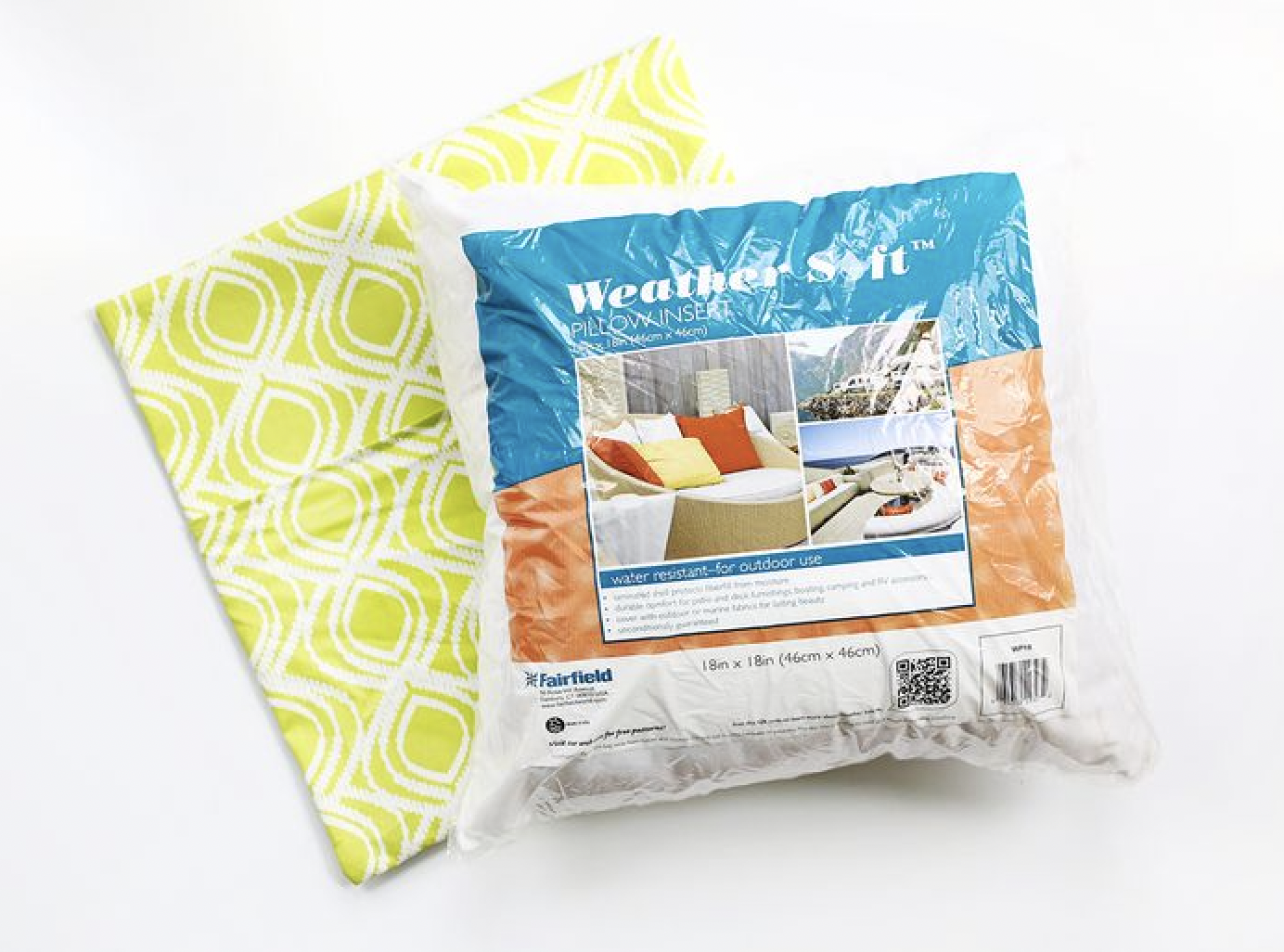 Some other inspiring projects for your picnic pillows are:
Baskets
Turn a Decorative Basket into a Picnic Basket
It's always great when you can repurpose something! Not only do you save money, but you also cut down on waste! This tutorial is great for the DIYers, because it does involve some wood cutting. This project leaves the basket unlined, but if you want to add a liner I recommend adding Solarize Liner Fabric. This insulating barrier fabric creates a thermal barrier to keep food and drink items hot or cold. It's perfect for DIY picnic baskets!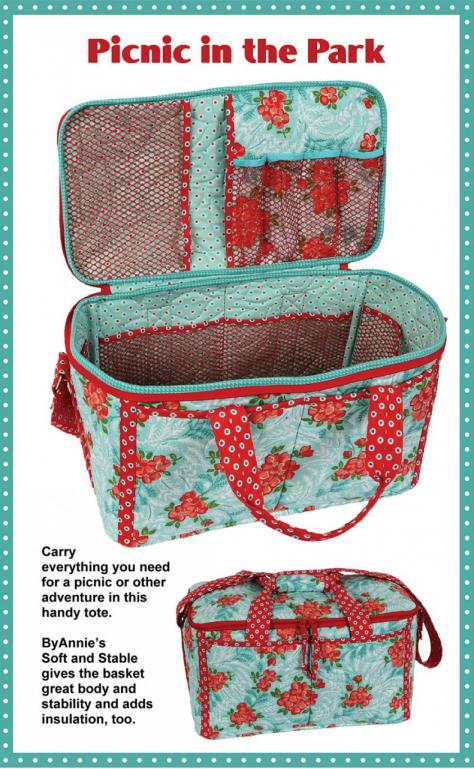 Picnic in the Park Sewing Pattern
This pattern isn't free, but it's one of the best ones I've found! The pattern features multiple interior and exterior pockets so you can keep all your picnic items organized. It also has sturdy handles and a detachable carrying strap to make toting your handmade basket easier.
Here's a unique idea: crochet your picnic basket! The tutorial includes a free pattern for a kid-tested (and approved) basket made with yarn. The tutorial includes suggestions for ways to reinforce the bottom of the basket.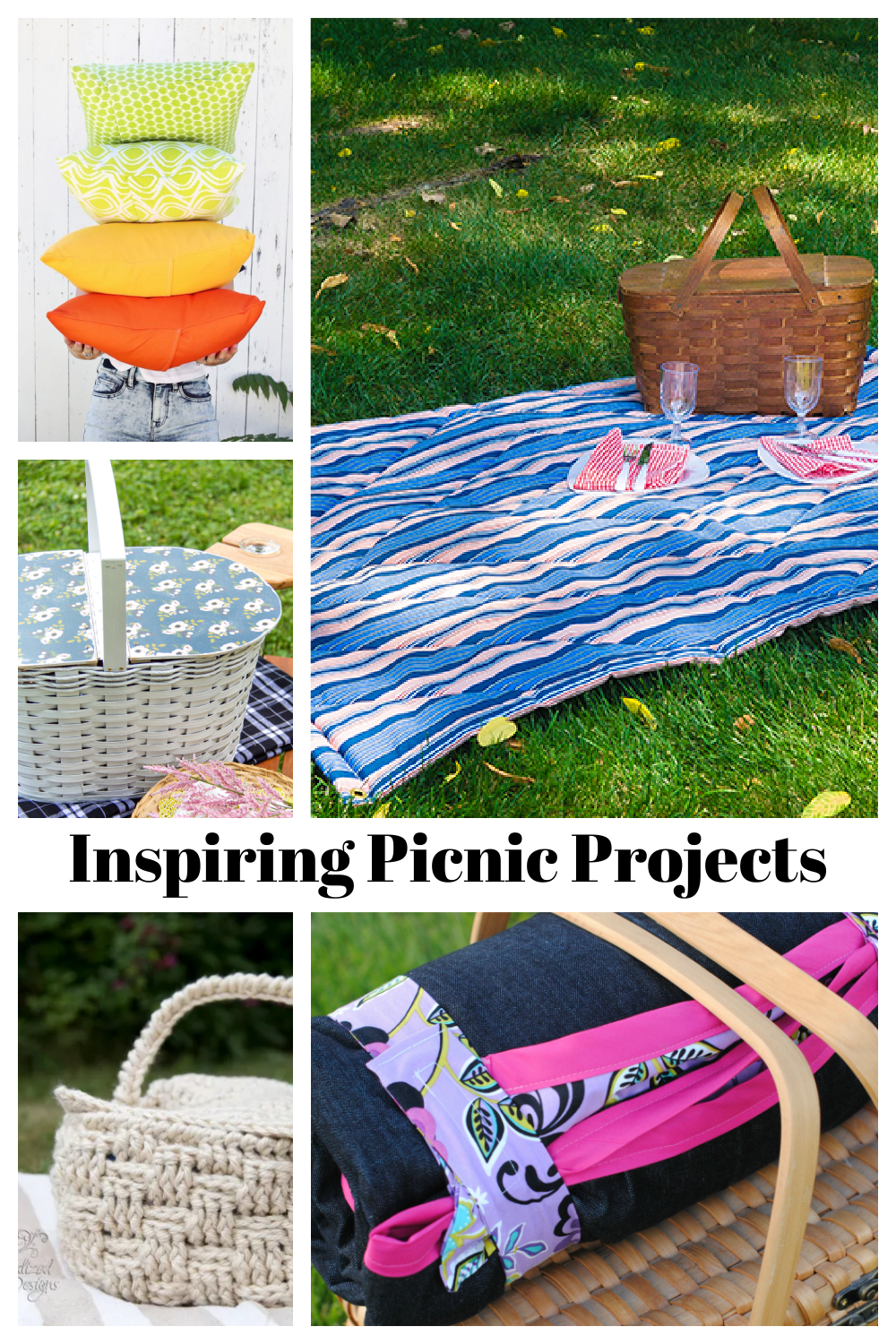 Are you inspired to plan a picnic this summer? We have even more fun outdoor DIY ideas and picnic projects for you in our list of DIYs for outdoor gatherings.