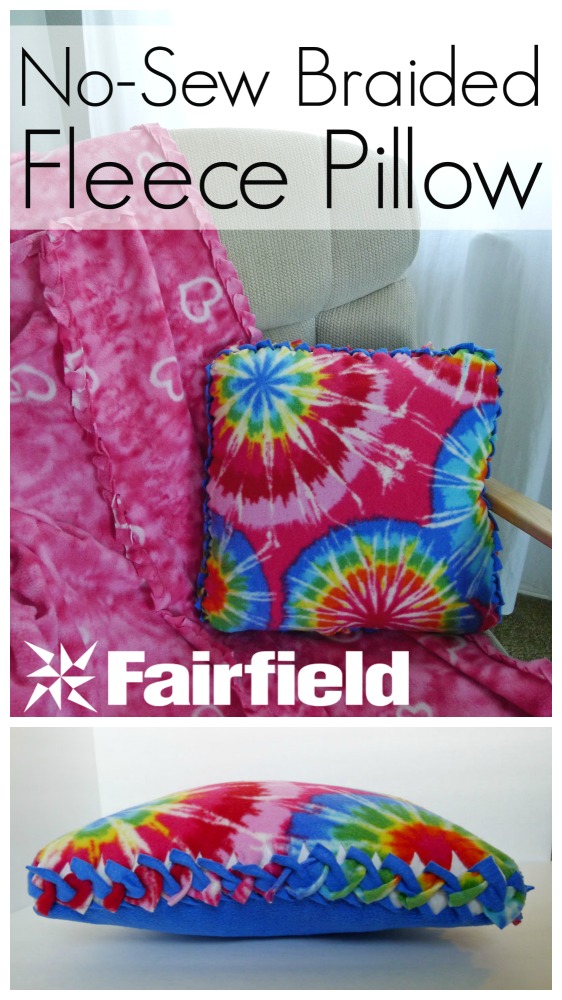 This soft and cozy no-sew fleece pillow is easy to make and best of all, there's no sewing involved.  Plus,  unlike many no-sew fleece projects, there are also no knots that can be lumpy and uncomfortable.  Instead you'll end up with a lovely braided look like this…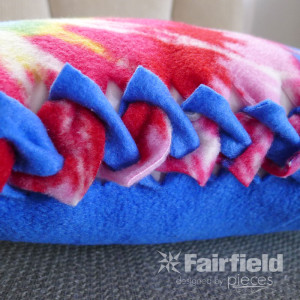 Supplies for No-Sew Braided-Edge Fleece Pillow:
16-in Poly-fil Soft Touch Pillow Insert (or other desired size), 1/2 yard of two colors of coordinating fleece.  I like to choose one bright, busy print, and a matching solid to tone it down.  (1/2 yard of two different fleece fabrics, will actually give you enough fleece to cover 3 pillows. )  If you want the front and back to be the same, you'll just need 1/2 yard of one color of fleece.   If you're using a different size pillow, you'll need to get enough fleece for the size of pillow plus 2 inches.  (Meaning for a 20 inch pillow, you'd need to buy a piece of fleece 22 inches long, etc.  Fleece typically comes 60 inches wide.)
Tools:
Rotary cutter and cutting mat or scissors and tape measure
sharp tipped scissors
a paper clip or large crochet hook
masking tape (optional)
For my 16-inch pillow, I cut out an 18-inch square using my cutting mat and rotary cutter.  (Cut your fleece squares 2 inches bigger in each direction than your pillow.)  You can also use scissors and a tape measure.  If your squares end up a little crooked, you'll be fine…this project is very forgiving.
The masking tape is not really necessary, but I use it to mark two inches in on each side to make cutting the fringe easier.  It's not obvious in the photo, but I cut out my blue square at the same time.  It's directly underneath the tie-dye fleece.
Cut fringe around all four sides that is 1 inch wide and two inches deep.  You'll cut a 2 inch squares out of each corner.  I used the inch markings on my cutting mat, but if you don't have one, you can estimate.  The fringe doesn't need to be perfect.  It is best to cut both layers together, so that the fringe on the front and back of the pillow match.
Next, you need to cut a small slit, about 1/4 inch long in each piece of fringe.  Make sure it's not too close to the end, or it may rip through.  If you're about 1/2 inch from the end, that should  be good.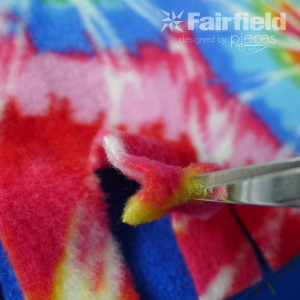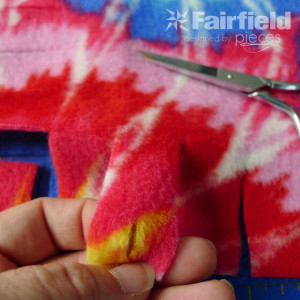 If you have a large crochet hook, you can use that, but since I don't have one, I find it easier to partially unbend a paper clip to use as a hook.
Now you're ready to cover your pillow.  Place one piece of fleece over your pillow and the other piece of fleece underneath.  Make sure the softest side if facing out.
Choose of one of the pieces of fringe in the middle of the bottom piece of fleece.  Stick the paper clip through the slit and catch the matching piece of fringe from the top piece of fleece.  Pull the bottom fringe through the top.
Put the paper clip through the bottom fringe piece that you just pulled through the first, and catch the top fringe piece to the left of the first one.  Pull it through. 
Continue pulling fringe through each piece, alternating each time between the top and bottom, continuing around the corners.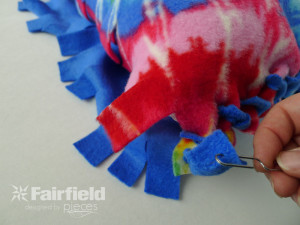 When you get to the last piece of fringe, cut it in half through the slit, giving you two narrower pieces  of fringe.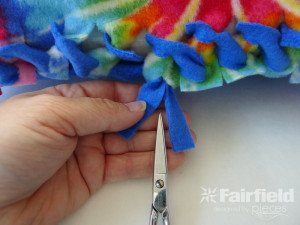 Use these to tie a double knot around the piece of fringe you started with.  Tuck the takes of your knot to the inside of your pillow.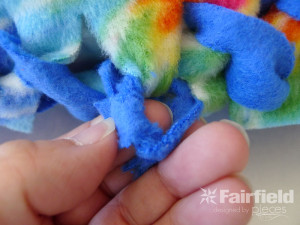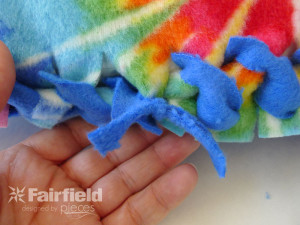 And that's it!  Enjoy your new pillow!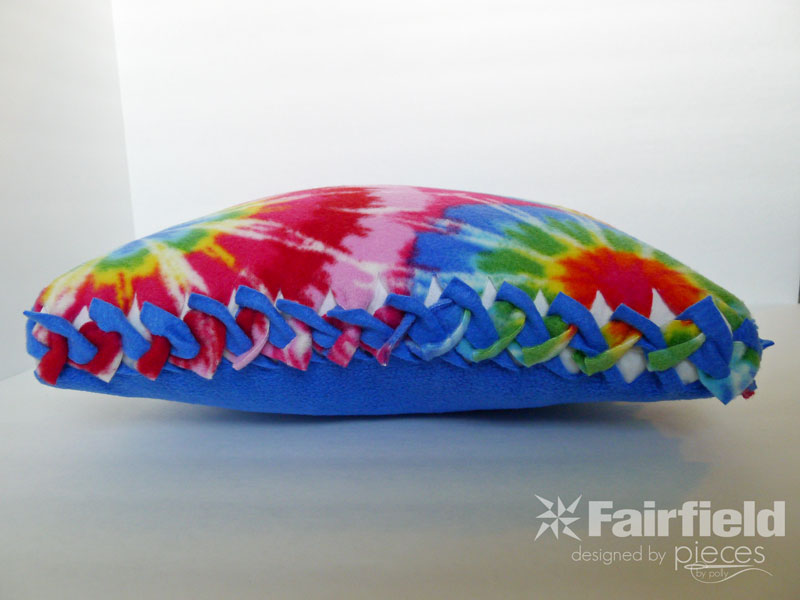 People ask me all the time if this "braided" method holds up.  The pink blanket in this picture was made almost 4 years ago and it's held up really well.
This technique also works great for making single or double-thick fleece blankets.  You can see my tutorials for those by clicking on the images below.
~ Polly from Pieces by Polly.