My friends, this month is for YOU! No matter what level you are at or what kind of projects you make, this month is dedicated to honoring you and your craft.  September is National Sewing Month, a presidentially proclaimed celebration of the importance of home sewing in the United States of America. This month is the perfect time to share ideas, learn something new, and kickstart your next sewing project. Here's some National Sewing Month inspiration to help you fall into the festivities.

This is a quick and easy project that you can make with scraps of fabric and Shield Liner Fabric Craft Pack. This moisture barrier fabric will protect tabletops from spills and water damage. If you're getting a jump start on holiday gift giving, it's the perfect project to start with. Use different patterns or colors on each side of the coaster to create a set that can be used all year long.
Bring the outdoors inside with this festive, colorful pillow. Oly-Fun is a non-fraying fabric, which makes this a great project for new sewists. You could even use a pre-made pillow cover and embellish it with the leaves! This project uses an 18 " Crafter's Choice Pillow, but you can size up or down to create the perfect pillow for your space.
This gorgeous pin tuck & flip table runner adds a splash of color to your table. This project is a little more advanced and geared towards those who have sewing experience. Use Poly-fil® Low-Loft® quilt batting to give this sewing project shape and structure. You could use different colors of fabric on each side so you can flip the runner over and have it out for more than one season.
If you're looking to spruce up the front porch for fall, here's the perfect National Sewing Month Project. Stitch your address onto the front of the pillow to help visitors and delivery people know they've arrived at the right place! This project uses a 16″ pillow insert, but if your pillow will be exposed to the elements you might want to use Weather Soft. This indoor/outdoor pillow has a water repellant shell that keeps the fiberfill from getting wet.
Tis the season for decorating with pumpkins, and when you sew them they'll never decay! These beautiful stuffed plaid pumpkins were crafted with neutral colors, making them the perfect accent for any decorating style. Check out the tutorial to learn a couple of different ways to sew pumpkins. This National Sewing Month inspiration project explains how to make sewn pumpkins using a 12″ round pillow ball, Poly-Fil Fiberfill, and Structure Fusible Interfacing for the leaves.
These beautiful pumpkin placemats would pair perfectly with the falling leaves coaster project listed above! Use colors and patterns that compliment your home decor and personal style. Once again, Shield moisture barrier fabric will protect your surfaces from unexpected spills. You'll also want to use low loft batting with this project to create the quilted effect and to give the placemats structure.
These fun fabric pumpkins are perfect for decorating outdoor spaces with! You can make them in a variety of sizes to create an eye-catching display on your porch or indoors on your mantle. Grab the large box of Poly-Fil and you'll have enough to make a cart full of pumpkins with your neighbors and friends. You could also repurpose old denim and shirts to make fabric pumpkins, and Dark Poly-Fil is the perfect filler for those projects!
September makes me want to get cozy with a book, and you need a tuffet for that! This adorable sewing project is soft and cute, and I think it's a perfect make for National Sewing Month inspiration! You'll also get to put both your sewing and beginner upholstery skills to use with this challenging but rewarding project. The tuffet is easy to assemble when you use Fairfield's all-inclusive Cushion Foam Tuffet Kit.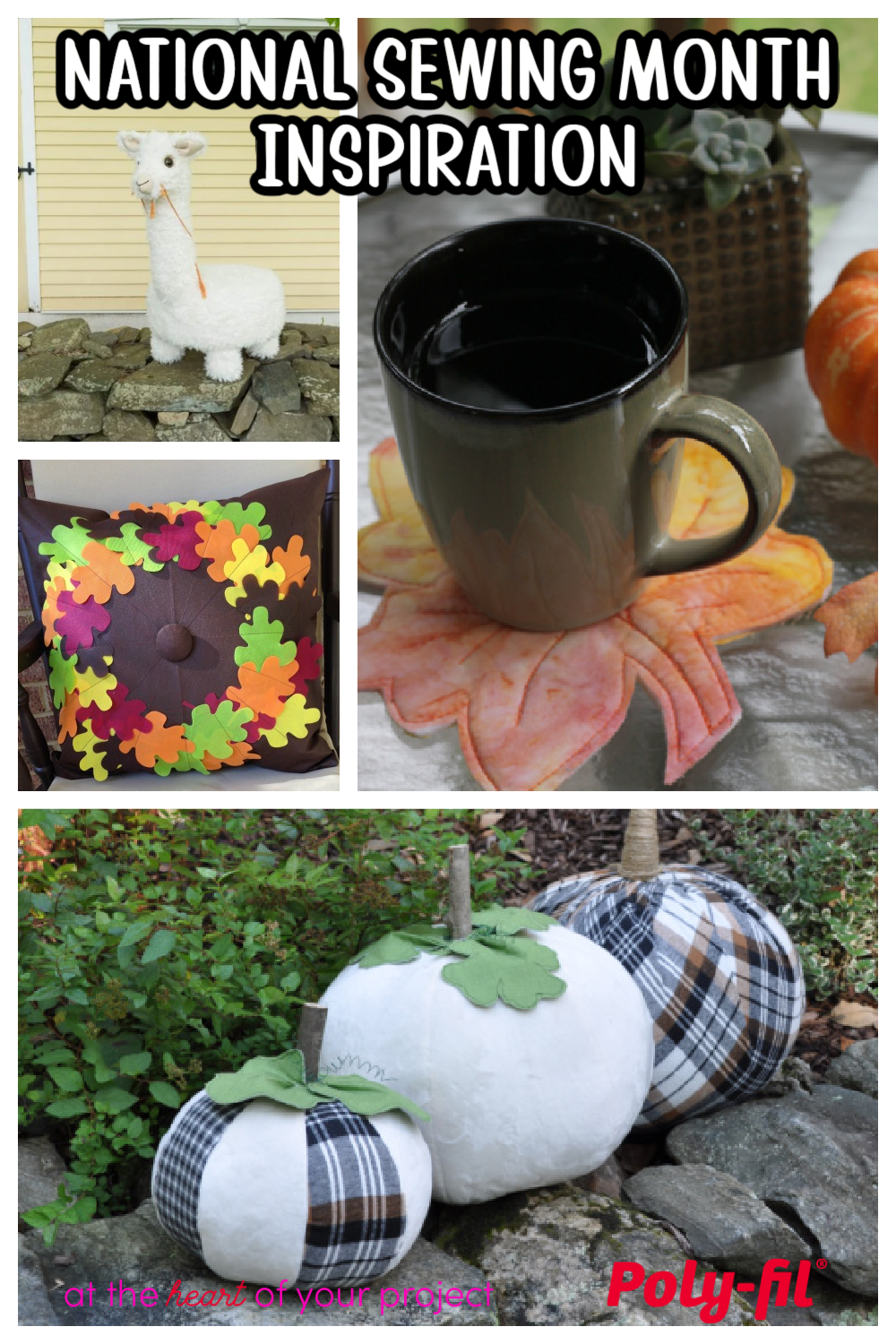 We always love to see how you are using Fairfield World products at the heart of your National Sewing Month projects! Don't forget to tag us on Instagram and Facebook so we can enjoy all the creations you make.