Each month Fairfield World likes to showcase a maker who is a real pro in their field.  This month we are so excited to introduce you to is Samantha Hudson from Snow.  Samantha designs and creates amigurumi, a Japanese style of crochet, meaning 'knitted/crocheted stuffed doll'.  Not sure what that looks like?  Here's a sample of what you can find:
Kawaii, isn't it?  (Kawaii means "cute" in Japanese!)  Snow makes pop culture crocheted figures from TV,  film, and animation characters, to dinosaur dolls – and even potted plants.  These huggable, handmade figures appeal to children & adults alike.  Snow.'s amigurumi are completely washable (and dry-able) and typically range from 3-12 inches. They often do custom requests as well!
The artisan behind Snow, Samantha Hudson explains how she got started with her successful crafting career:
In college, I had a roommate who was a metals major and she showed me how to crochet with metal wire. We eventually moved onto yarn and I began making scarves. Just about 6 years ago, my best friend announced she was pregnant with her first child, and I became interested in amigurumi. At her baby shower, my first amigurumi was an instant hit, and I was immediately asked where I was selling them. At that point I wasn't- and so, along with my first niece, snow. was born.
One of her best selling products is cactus shaped critters.  You can see several examples in the foreground of this picture from a craft show.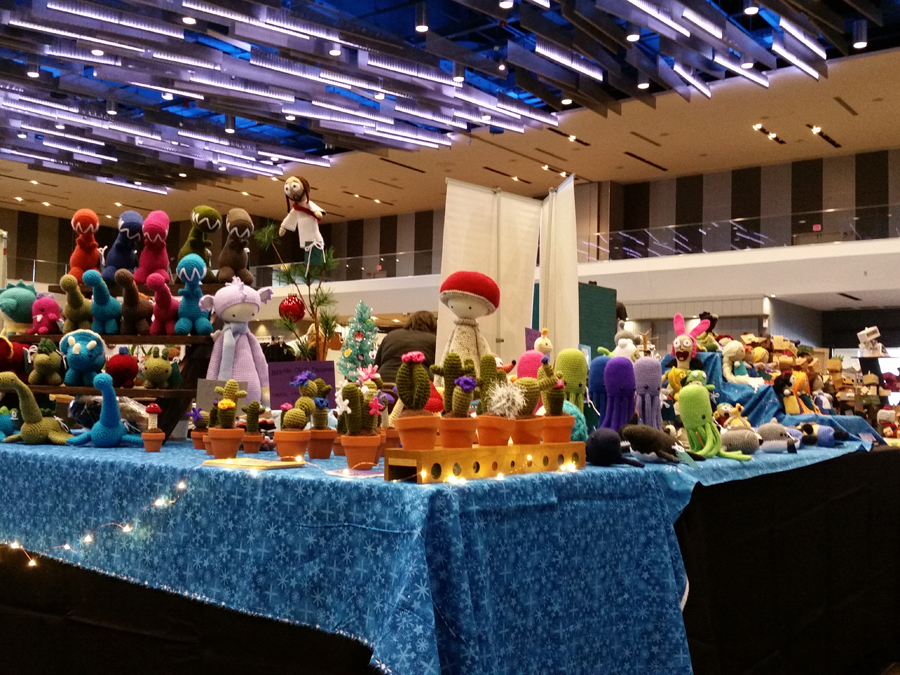 Snow also specializes in pop culture items.  You might recognize these guys!  Click here to see more examples of her work with "nostalgia".
Samantha and her shop also offers scarves, hats, and blankets with their wide selection of adorable amigurumi products.  Be sure to check Snow out on Instagram to keep up with her newest creations!
For more amigurumi knit inspiration, check out our Inspiration page HERE.