Welcome to the ultimate list for last-minute Thanksgiving decor DIYs! With the holiday season upon us, there's no better time to add a festive touch to your home. Whether you're hosting a gathering or simply want to infuse your space with seasonal warmth, these easy and creative do-it-yourself projects are here to save the day. From charming centerpieces to delightful table settings, get ready to transform your home into a cozy haven for gratitude and celebration. Join me as we explore quick, budget-friendly ideas that will elevate your Thanksgiving ambiance in no time!
No Sew Thanksgiving Pillow
This simple project is quick to make but it looks like something you worked all day on! Choose fabrics and designs that match your personal style, and finish the project with your favorite pillow insert. Weather Soft Indoor/Outdoor Pillow Inserts are a smart choice if you have kids, pets, or a lot of guests coming over. These soft, comfortable pillow inserts have a water repellent shell that keeps the inner 100% polyester fiberfill from becoming saturated when they get wet, which makes them virtually spill proof! Spills are a part of large gatherings, and this pillow insert will make clean up after the big event a little bit easier.
This quick and easy project only needs three things: a blank pillow cover, iron-on vinyl, and a pillow insert! You can use die cuts or an electric cutting machine with heat transfer vinyl to craft your own custom iron-on design, otherwise head to your favorite craft supply store to find the perfect vinyl for this no sew pillow project.
Would you believe that this high end pillow started out as a $5 placemat? It's hard to believe that this detailed design was destined for a table top and not to be enjoyed all season long as a decorative piece. Click on the linked tutorial to learn how easy it is to turn a budget friendly placemat into a luxurious looking pillow in no time at all!
I have been crushing on all the gorgeous velvet pumpkins popping up in my favorite home decor stores. This tutorial shows how you can craft a no sew version in any color of velvet that fits your decorating style. The secret to giving this velvet pumpkin just the right amount of fluff is Poly-Fil Fiber Fill. This special blend of 100% polyester fibers creates an extraordinary resilience that maintains its integrity no matter how much use your project gets, and it's available in multiple sizes so you can purchase as much (or as little) as you need for any DIY project.
Create beautiful fabric appliqués to decorate your throw pillows for Thanksgiving! Similar to the first pillow project listed above, use your fabric dies or electric cutting machine to make your appliqués. Instead of sewing them on, turn them into iron on patches by using Stick Double Sided Fusible Interfacing, a fusible web that works like glue. Fuse fabric to stick it to another piece of fabric or to a porous surface such as wood or cardboard. This lightweight, sheer webbing does not add bulk to fabrics joined together.
Here's another twist on the placemat pillow idea, but instead of using the placemat as an appliqué you'll be using the whole pillow case! This is a very quick and simple project, so you can get the whole family involved.
Brighten up your dining room or living room with this colorful Thanksgiving banner bunting. Pair burlap with colorful fabric to create pretty contrast that pops against a blank wall. Oly-Fun Fabric is a great option for this project. The unique non-fraying fabric can be painted, and you can even cut it with dies or a cutting machine!
This cute Thanksgiving banner DIY project comes with a free SVG file, so you can use it with your cutting machine. No cutting machine? Print and trace it like you would with a regular pattern! Again, Oly-Fun Fabric is perfect for DIY banner projects and will save you time since you don't ever have to finish the seams and edges!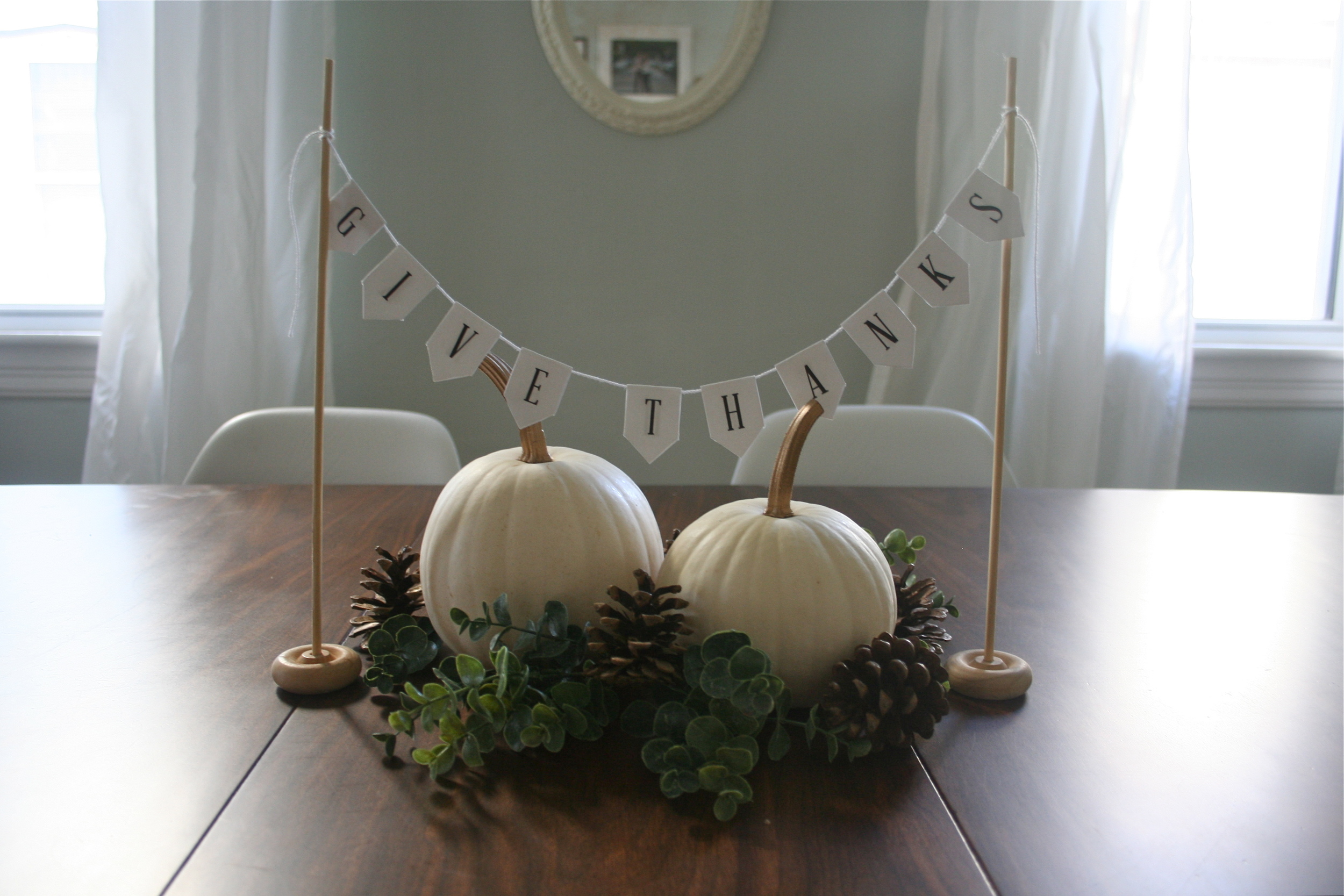 Sometimes simple projects are the best ones, and this centerpiece is a great example of that! You can make your own fabric pumpkins with Poly-Fil if you don't have any pumpkins on hand. Another fun option is to make your leaves using Oly-Fun!
This is another quick and simple Thanksgiving centerpiece idea that you can whip up at the last minute. Use a box (you can even make one with fabric in a pinch), mason jars, candles, and faux foliage to create this nature inspired piece of decor. As mentioned before, Oly-Fun is a super substitute for fabric if you decide to DIY your leaves.
Send the kids outside on a scavenger hunt to find beautiful items in nature that you can use to craft a centerpiece with! If it's too cold to head outdoors, scrounge your fabric scrap bin to make your own fabric pumpkins and leaves with!
These pretty, painted place setting pockets will make it easy to set the table! Not only do they keep everything together, they look great, too! This project calls for burlap, but you can use Oly-Fun, as well, like I did with this nature inspired place setting.
The clever shortcut with this no-sew bunting project is the use of pre-cut letters! Instead of cutting them yourself, grab cardboard or wood letters at the craft store. While you're there, grab a few colors of Oly-Fun Fabric to use when you make the bunting!
This adorable fabric pumpkin is perfect for mantlescapes, centerpieces, and coffee table decorating! These cute fabric pumpkins are filled with foam beads like Poly-Fil® Poly Beads. These resilient polystyrene foam beads fill the pumpkins just enough without making them too heavy.
Use Oly-Fun Fabric to create a keepsake Thanksgiving table runner that everyone at the table can leave a mark on! Leave markers on the table runner and invite family and friends to add a message of gratitude. Roll it up after the feast and enjoy looking back on it in years to come!
As the Thanksgiving festivities draw near, we hope these last-minute DIY decor ideas have inspired you to infuse your home with warmth, charm, and a touch of creativity. Remember, the essence of this holiday lies in gratitude and togetherness, so whether your decorations are elaborate or simple, the most important thing is the spirit they evoke. Embrace the beauty of imperfection and revel in the joy of crafting something special. Wishing you a wonderful holiday filled with warmth, laughter, and an abundance of gratitude. Happy Thanksgiving!