One of the most exciting things I get to do is instill in my children the love of crafting. My second son, Coleton LOVES to build things. His latest kick has been using wooden craft sticks to build simple sailboats. His first attempt he used a dinner napkin for the material on his sail….well needless to say one drop of water and that sail was ruined. Then it hit me – Oly*Fun!!! Oly*Fun's water resistant properties are the PERFECT FINISHING TOUCH for Coleton's awesome sailboat crafts! And because Oly*Fun comes in so many fun colors he even got a bit creative and made a decorative sail for this boat. We took photos all along the way so that he could teach other kids his age how to create one of these simple sailboats themselves.
1. First off gather your supplies for the simple sailboat craft:
Oly*Fun in three colors, Snow White, Blueberry & Sky Blue
4×4″ Styro Foam Cube 
Wooden Craft Sticks
Tool: Scissors and a Knife
Begin by assembling the shape of the boat. Coleton refers to these as "the bones" of the boat. Use hot melt glue to secure the sticks together.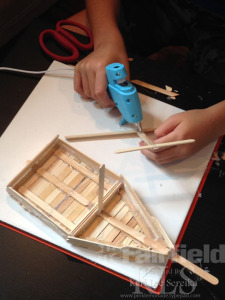 Once the design of the boat is complete on the bottom edge, build up the edges, then create a mast to hold your sail.
Using the mast as your guide, cut the mail sail using Snow White Oly*fun. Cut other shapes from the blues to make a design on the sail. Glue to the mast.
Use the sharp knife to cut the cube of StyroFoam into slabs the thickness of the sides you built up on the edges of the boat bottom.

Fill in all the areas of the boat to provide both adequate and even buoyancy.
Use a slab of StyroFoam to shape the "v" part of the hull so that it fits in the nose of the boat. Simply rub the foam pieces against one another until the shape is just right.
Cover the foam filled boat with the last layer of wooden craft sticks, creating the deck of the boat.
Install the mast with attached sail to complete the project!
I hope you love Coleton's project. If you have a child who makes a simple sailboat, please share a link with us,  I know both Cole and I would LOVE to see it!
Live Life Creatively~
Keri Lee