Houston Texas is the home of the International Quilt Market and Quilt Festival, two of our favorite weeks of the year.  Week one is set up and Quilt Market and week two is Quilt Festival and tear down.
During Quilt Festival there is an amazing display of quilts hosted by the  International Quilt Association.  The pieces on display are a "Judged Show" of members' work. Quilts: A World of Beauty is held at International Quilt Festival/Houston every fall. In 2016, a total of $96,750 in non-purchase cash prizes were awarded to winners, with travel/hotel prizes going to the top eight winners.  If you would like to learn more about the IQA or see all of the winning quilts please visit  the Quilts website.
The photo collage below show the just a few of the winning quilts on display.  The images are courtesy of the International Quilt Association and to view all of the quilts that won a prize please visit their website. To see these masterful creations in person is amazing.  The pictures really do not do them justice.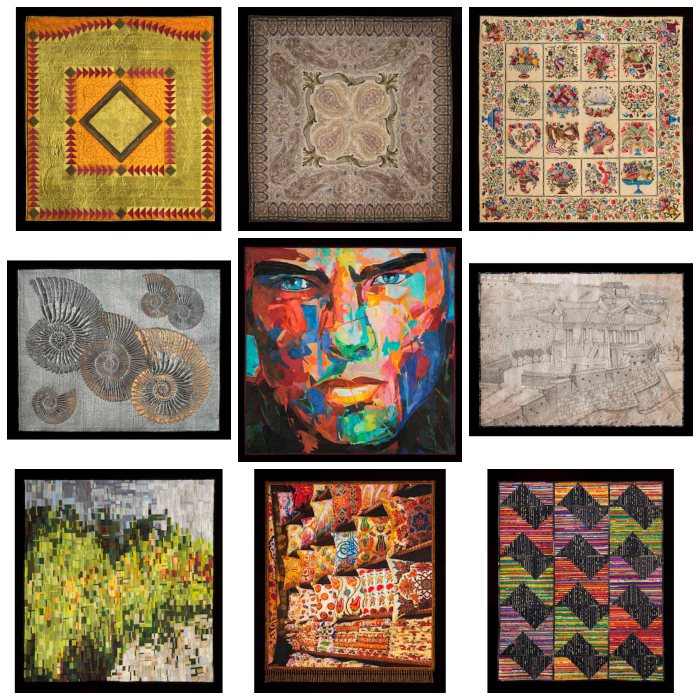 Houston Quilt Market is equally as exciting and as visually stimulating as Quilt Festival.  Quilt Market has the latest releases of fabric, books, patterns and tools.  It is filled with Business Seminars, Take & Teach and Schoolhouse Sessions that inspired and educate.  In the image below our Master Maker Lorine Mason is demonstrating how to use Stiffen a new product released at the 2015 Quilt Market.


Our HOT items at Quilt Market this year are the Bench Pillow and the Tuffet Kit. The bench pillow measures 16″ x 38″. The rectangular pillow form provides lumbar support for bench seats, porch swings, love seats and more. Non-woven cover with finished knife edges. Filled with our fabulous Poly-Fil brand fiberfill.
Master Maker Erica Dietz of 5 Little Monsters  created a Star Wars inspired pillow cover using iron on words. 
Checker Distributers has a line of pillow covers created by KimberBell that are available in your local quilt  and fabric shops. They have patterns for sale for each month and season.  Ask your local shop to order them for you.

Our Tuffet Kit was seriously one of the hottest items at Quilt Market.  Tuffets were on display in so many booths.  I am not sure we captured photos of them all there were so many.  These are a few of the highlights showing how versatile the tuffet is.   Leather, faux fur and fabric was used as well as the tuffet only and the tuffet kit with includes a wood base and pre-drilled holes.