Fall brings crisper temps, pumpkin spice, hay rides, and Halloween! What's not to love about this time of year? Autumn also is host to National Sewing Month, giving you yet one more reason to head to your sewing machine and start making. I recently shared several beautiful and easy to make fall themed projects, and now I'd like to add some Halloween sewing and quilting projects to your list of things to make. You'll want to stock up on supplies and get started now, since October will be here before you know it!
Halloween Decor to Make
This adorable and not at all scary Halloween bag is an easy to make project. Customize the bag with the child's name so that no one's candy & goodies get misplaced.
This no sew project would be great for groups to make. You can use a die cutting machine with Oly-Fun fabric to create all the pieces, set them out, and have a fabric pumpkin decorating party. Fill the hanging plush pumpkins with Poly-Fil Fiber Fill and then decorate outside with them! What a fun way to welcome visitors to any place.
This spooky cute piece of decor will make a big impression on visitors! You could adapt the idea to decorate a classroom door, too. Beth made her project using Oly-Fun Fabric, but you could also repurpose leftover batting to make this project.
This adorable Halloween sewing project is the perfect addition to any door! You could even add it to a wreath or mantle. Makeable Crafts created the pattern and shares all the details in her tutorial. Poly-Fil gives this project the perfect amount of fullness and support to create a piece everyone will be talking about!
Halloween & Fall Quilt Projects
This quilt is a fun way to put all those adorable novelty prints to good use. If you start today you'll have it done by Halloween! This project is sure to become a prized heirloom that is enjoyed every fall. Noire Cotton Blend Batting is specially designed for dark colored projects, making it a great option for Halloween quilts like this one.
This design reminds me of pixels and old school computer games! The grinning pumpkin looks like something you might have seen on an arcade screen. When you put all the pieces together you end up with a friendly jack o'lantern quilt that you can use to keep warm while you wait on the porch for trick or treaters.
Showcase lots of Halloween prints with this crazy, colorful quilt design! The fun thing with these kinds of quilts is that there is always something new and different to enjoy when you look at it. Kids will love the "search and find" aspect of a quilt that's made with a medley of prints and shapes.
This stunning quilt is so groovy that I'd keep it out all year long…not just for Halloween! The colorful pumpkins made of scraps, the fun pinwheel designs, and the mischievous black cats combine to create a unique and entertaining quilt design.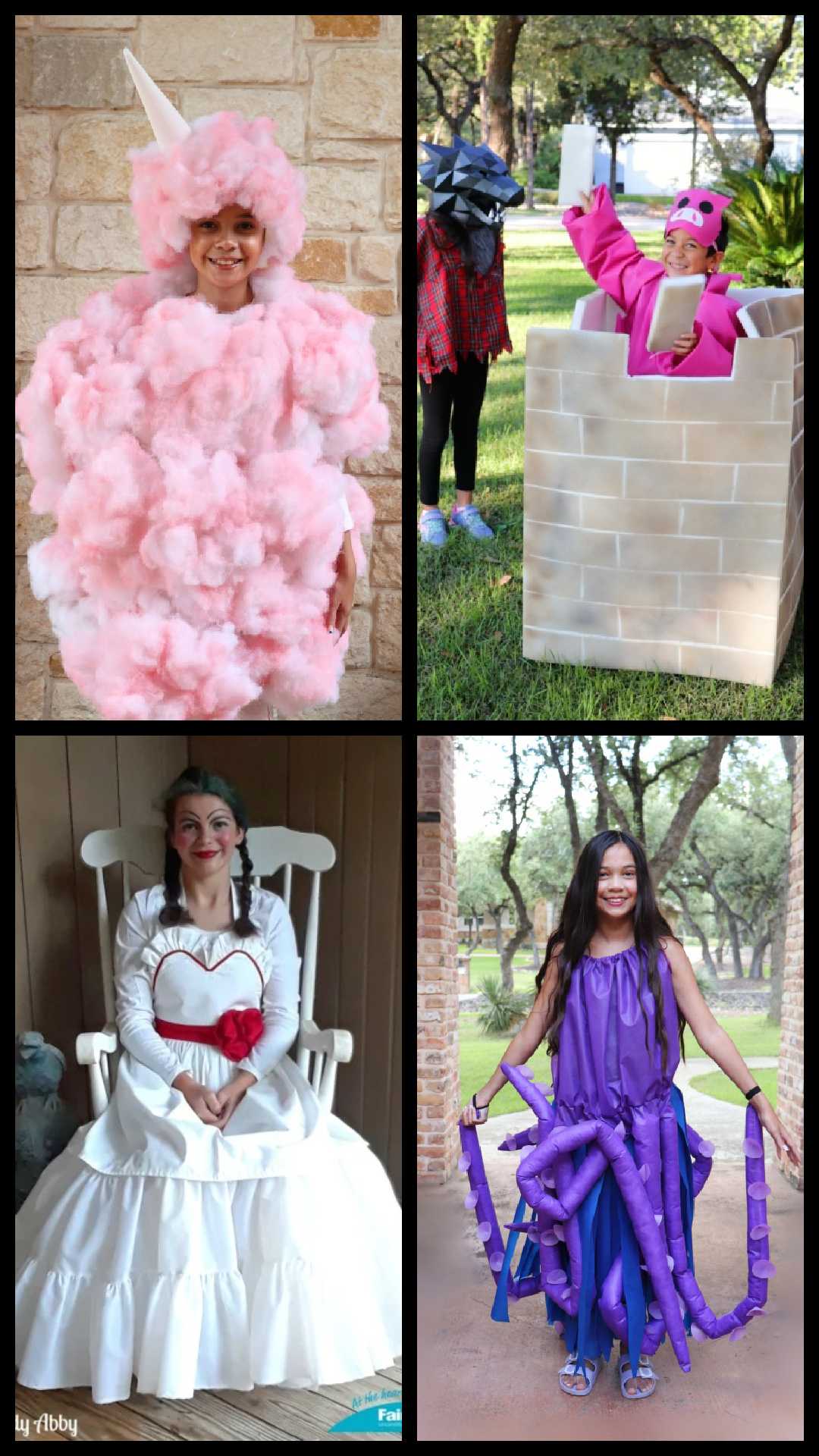 DIY Halloween Costumes
This is hands down the SWEETEST costume you can make! What's not to love about a giant, fluffy cotton candy cone? I used a large box of Poly-Fil Fiber Fill to make this project, and I share my tips on what to do (and what NOT to do) in this tutorial.
This is another personal favorite, and my daughter just LOVED this costume. Made with Oly-Fun fabric and filled with Poly-Fil, this is a tween girl twist on an octopus costume. It flows like a dress so she can glide around on the waves as she trick or treats.
Three Little Pigs Brick House Costume DIY
Have you ever tried using foam as part of your costume making? Light weight, easy to cut, and paintable, rolls of Fairfield World's Project Foam are great for creative DIYers. I used it to make the wall for this clever little piggy, and he was able to walk comfortably in it.
Annabelle Doll Sweetheart Apron Halloween Costume
Looking to cause a fright? This Annabelle Doll costume is perfect for scaring others! This apron used Fairfield World Structure, Stabilize, and Smooth fusible interfacings, combined with cotton fabrics and threads. You can also adapt the project to create flowing aprons for other more kid friendly costumes, like Mother Hubbard or even Mrs. Claus!
If you enjoyed these Halloween sewing and quilting projects, you'll LOVE all the other projects waiting to be explored on the Fairfield World Site. Take a peek at our catalog of project ideas to find inspiration and step by step tutorials for your next make!