Catch-all baskets like this one are essential around my house. There are only four of us, but with two young boys, the mess is amplified. Whipping up this foam basket didn't take a lot of time, and it is great for using all around the house. I love that I can use whatever fabric I want to match the decor of the room the basket will go in. And with nice soft sides, I don't have to worry about the basket getting destroyed as the boys run though the house, drop it down the stairs, or any of the other damaging scenarios that involve two young boys!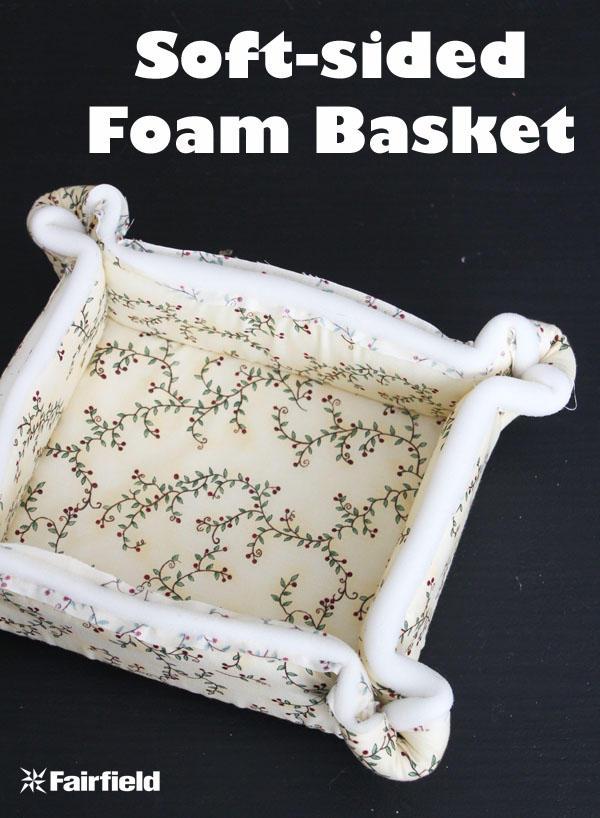 This basket doesn't take a lot to make, either. I used:
Fairfield Foamology 1″ thick foam
Fabric – 1/2 yard per basket
Rotary cutter and ruler
Thermoweb Spray n Bond Basting Spray
Marking Pencil
Sewing Machine with free motion foot
Needle and thread
Buttons (optional)
I cut the fabric slightly larger than the foam squares. Then I sprayed the foam with the basting spray, and secured the fabric to the foam – on both the front and the back.
Then I measured and marked my sides. I marked 3.5″ in on all four sides.
This next part was tricky – until I figured out what I was doing. I first tried using a walking foot, but broke a couple needles in the process! I switched to the free-motion foot, and it worked perfectly. I guided the foam under the foot, stitching along the lines.
I then stitched right along the edge, on all four sides, and trimmed away any extra fabric.
I folded in the corners, and tacked them together securely with a needle and thread.
You can leave the tacking stitches like this, but I chose to cover them with buttons, for a decorative look.
You could leave the basket like this, but I felt the corners stuck out too far, so I tucked each one in.
That's it! The basket is complete!
I'll be making several. They are perfect for so many things. As a catch-all on the stairs…
To hold the remotes in the living room…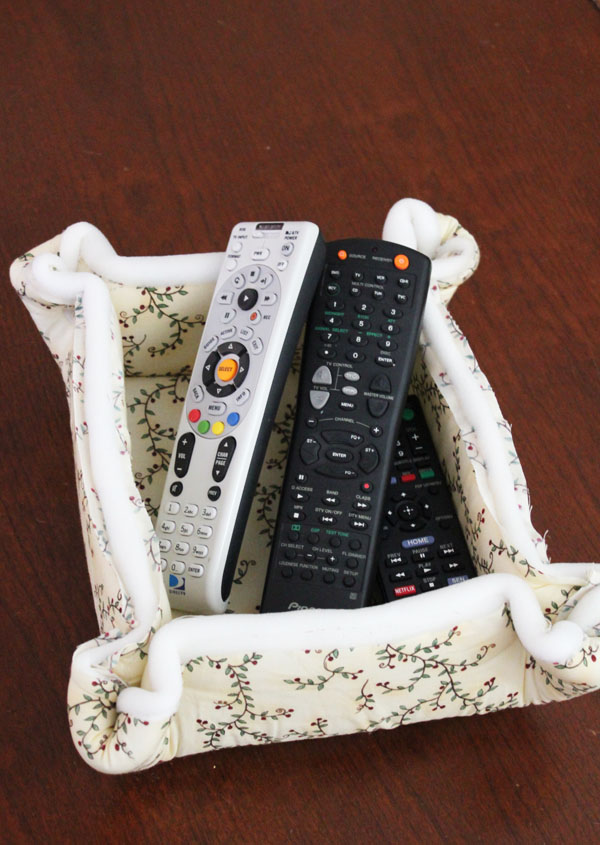 Where would you use this cute little basket?