These Flip-Flop Blocks are a fast and easy quilt block to make.  The pattern uses strip piecing, so there aren't a lot of pieces to deal with.  I used my blocks to make a quilted pillow, but you could easily make more blocks and use them to make a fun quilt.  You can vary the size depending on the size of quilt or pillow you want, and it's a great choice if you're working with large-scale prints.  It's also a great pattern to use when you want to highlight outstanding fabric and let the prints speak for themselves.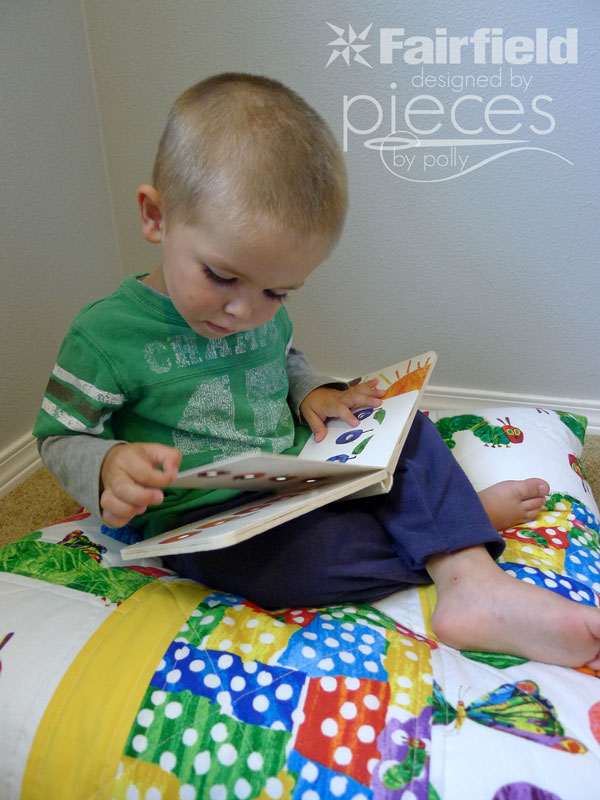 The pictures on two of these Eric Carle prints are so large that I didn't want to cut them up into small pieces because the illustrations would have become unrecognizable.  I had three fabrics I wanted to use, and I wanted some solids (or near solids) to tone down the busy prints and give some contrast, so these are the fabrics I chose:
Very Hungry Caterpillar Green Grass, Large Very Hungry Caterpillars, Red Kona Cotton, Very Hungry Caterpillar Dots, Canary Kona Cotton.
Supplies Needed to make 12 9-3/4-inch easy quilt block:
1/4-yard of 3 different cotton quilting fabrics, preferably with medium-to-large scale prints
1/8-yard of 3 solids or nearly solid cotton quilting fabrics (or scraps) to coordinate and contrast with prints (To make 2 3/4 inch width of fabric strips
3/4 yard cotton quilting fabric for backing
45×60 American Spirit Cotton Batting
rotary cutter and cutting mat
Sewing machine and typical sewing supplies
Instructions:
I prefer NOT to prewash my quilting fabrics.
Cut 7 1/2 inch strips, the width of your fabric from each of your three main prints.
Cut 2-3/4 inch width-of fabric strip from each of your solids.
You should end up with three wide strips and three solid strips.
Pair each print up with one of the solids.
Stitch the strips together with a 1/4 inch seam.
Iron your seams open.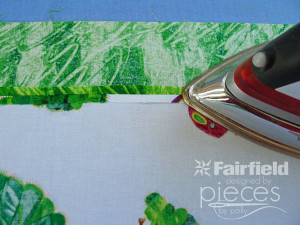 Repeat for all three fabric sets.  You should now have three width-of-fabric strips that each have a print and a solid.  The best prints for this pattern wouldn't have an up or down to them.  The prints I used did, so I sewed two of the strips on top of the pattern and one of the strips on the bottom.
Now it's time to cut our blocks.  You can stack up your strips and cut your blocks all at once, or you can do them one at a time.  Start by trimming the salvages off the end and trimming so the ends are even.
Cut and trim blocks to be 9 3/4 inches on each side.
Now it's time to lay out your blocks.  Alternate the directions of the blocks, so your solid strips go different directions.  (This is the "flip-flop" part of the pattern.)  I used 9 blocks to make a 26-in pillow, so I have 3 blocks left over.
Sew all the blocks together using 1/4 inch seam.  I was making a 26-inch quilted pillow, so I trimmed the whole thing down to 27-inches square.  Then layer it with your quilt batting and backing fabric.  You can see my tutorial for Fairfield here for putting together your quilted pillow.
Happy Sewing!
~ Polly from Pieces by Polly.
See what I'm doing day-to-day on Facebook and Instagram