Easy Oly*Fun Harry Potter Costume w/ No-Sew Option by Polly from Pieces by Polly, and I'm back guest blogging for Fairfield with another Happy Harry Potter post today as part of the Happy Harry Potter Series at Raegun Ramblings.  Lots of bloggers will be sharing new Harry Potter themed projects everyday for the next week and a half at Raegun Ramblings, so you'll want to be sure to check back.

Oly*Fun is perfect for throwing together Halloween Costumes because it's so versatile, and these wizard robes are so simple…There's just two seams and you're done.  You'll have your child's Harry Potter costume done in no time.  Plus, if you're really not into sewing, you could even get away with gluing with a low-temp glue gun (high temp will melt Oly*Fun) instead of sewing.  You can use it like any other fabric, but since it doesn't fray, you save a TON of time with no need to hem, and you can make this Harry Potter Robe in 10 minutes…or maybe less.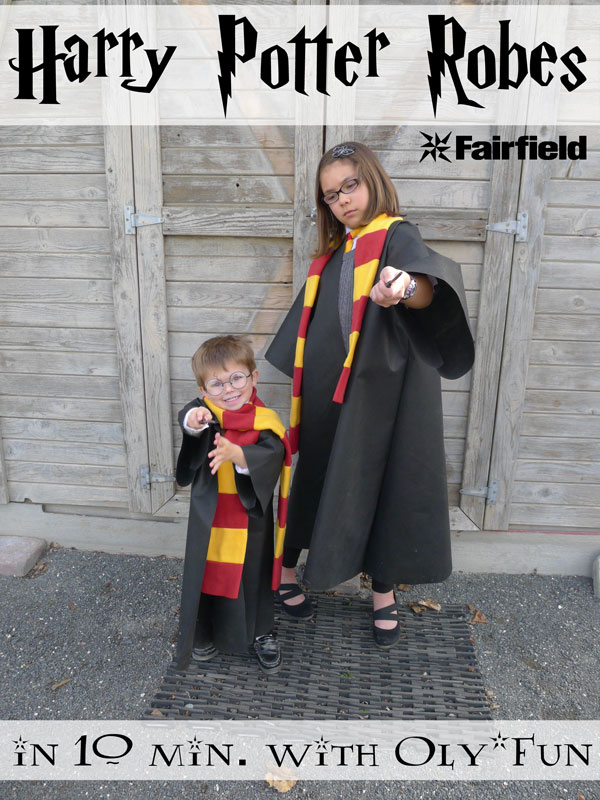 Plus Oly*Fun is easy to purchase by the yard at many major retailers including Joanns, Hobby Lobby, and Wal-Marts that have a fabric section.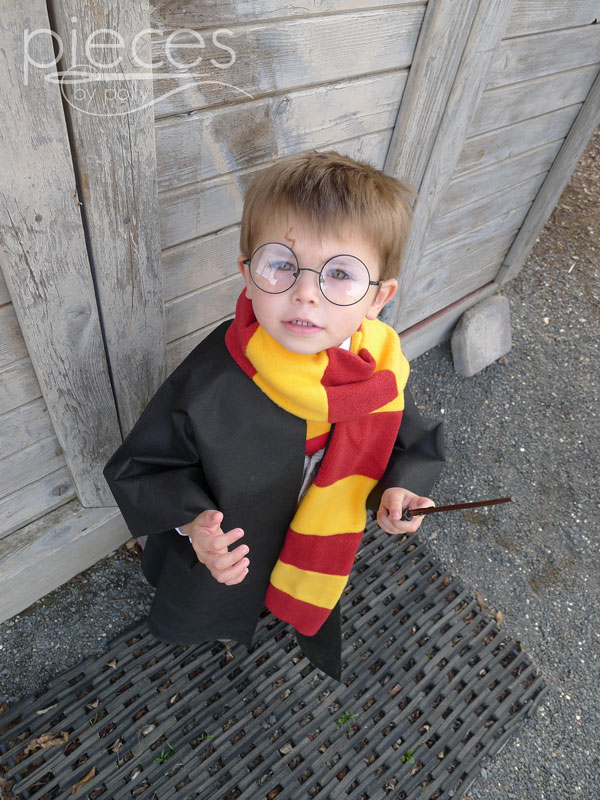 Materials Easy Oly*Fun Harry Potter Costume w/ No-Sew Option
1-2 Yards Oly-Fun™ Material in Jet Black (See instructions below for measuring your child.)  When you purchase your Oly-Fun™ Material avoiding folding it as much as possible to avoid creases.  If your fabric does get creases, iron with your iron on the LOWEST SETTING.  Even on the lowest setting you'll want to test it on an scrap first to make sure your iron isn't too hot.
Scissors
Black  Thread and Sewing Machine (if you're using the Sewing Option
Low-Temp Glue Gun and glue sticks (only needed if you're using the No-Sew Option)
Instructions:
Measure your child from shoulders to ankle.
If this is 30″ or less, then measure them from wrist to wrist with their arms sticking out straight.  Purchase this amount of Oly-Fun™ Material.
If this is MORE than 30″, double the shoulder-to-ankle measurement and purchase this amount of Oly-Fun™ Material.
Assuming your child measurement was 30″ or less, you'll lay your Oly-Fun™ Material on the floor keeping the center fold as it came off the bolt.  Fold your fabric in half, Have your child lay down with their spine over the center fold you just made.  Leaving LOTS of extra space, cut out the robe shape around your child as shown in the picture.  You want the sleeve to end a bit beyond their wrist.
Unfold the center fold.  Cut up the center of the TOP layer.  Cut a half circle out at the neck.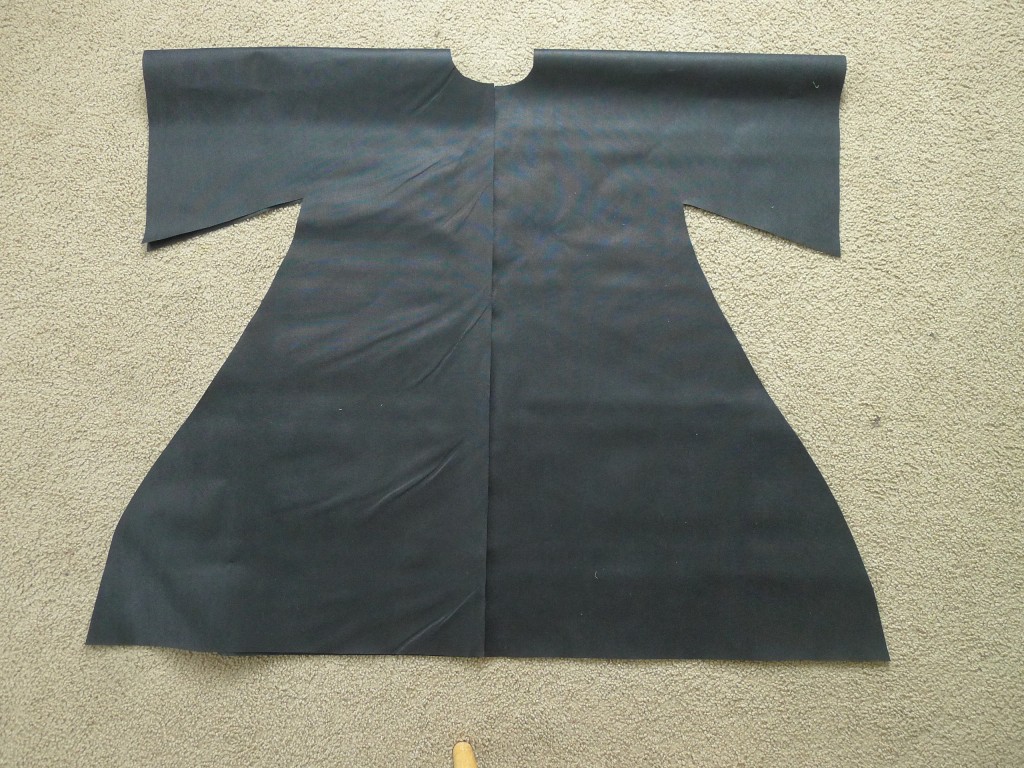 Sew with a 1/2 inch seam sewing the front to the back under each arm and down the side.  Be sure to back-stitch at the ends to secure stitching.  If you're using the new sew option, you'll use a LOW-temp glue gun instead of sewing.  IMPORTANT: Make a small snip in the seam allowance at each arm pit.  If you're using the glue method, DO NOT glue the very corner under the arm or it will bunch up funny.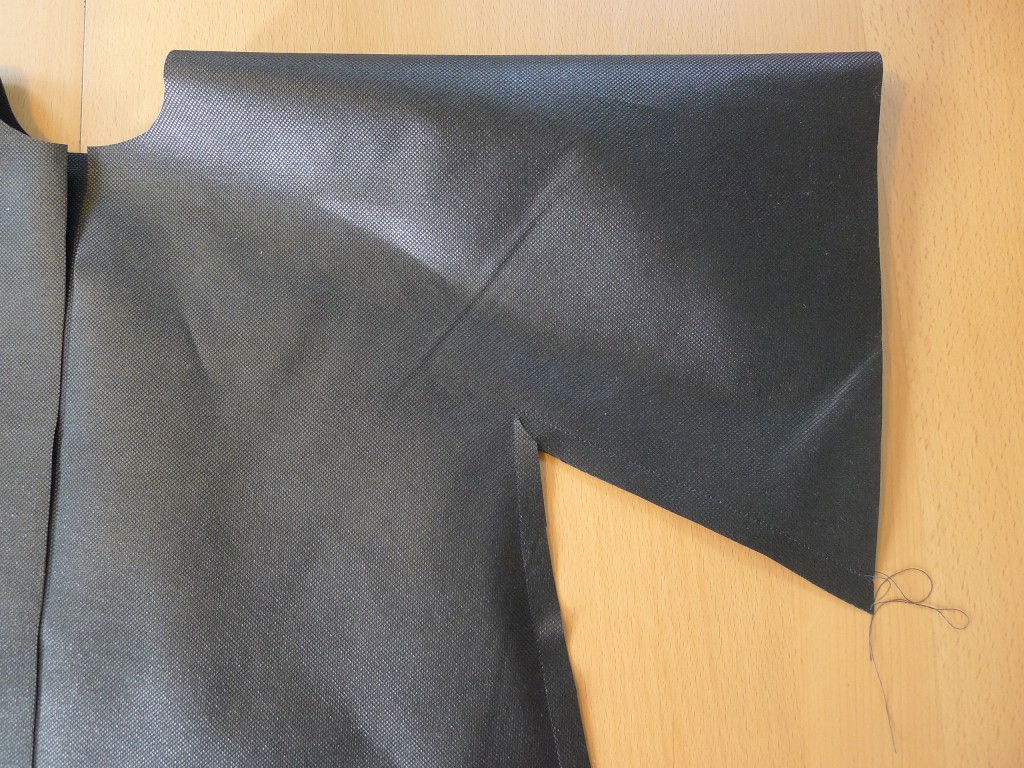 Turn your robe right side out and put on your little Hogwarts Student.  If you need to make any adjustments, you can trim the arms or robes shorter.  If you trim through a seam, just make sure to go back and back-stitch there so your seams don't come undone.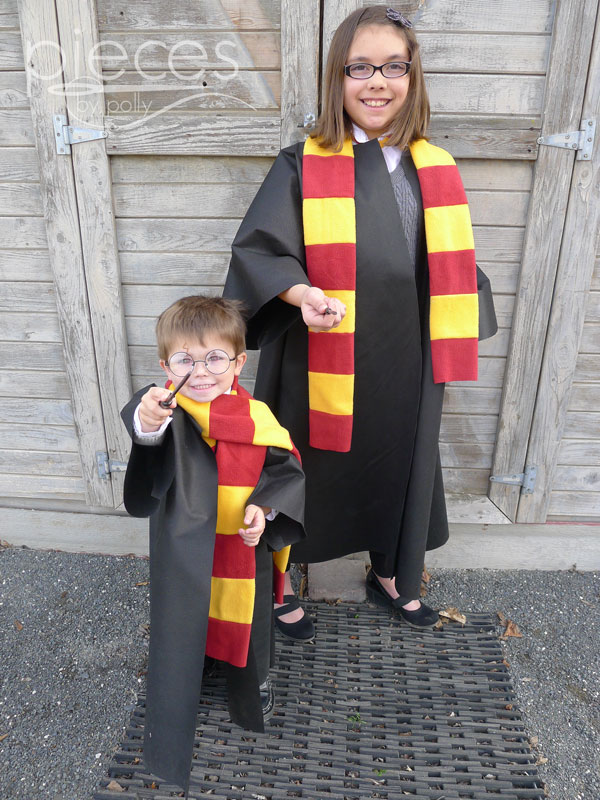 To keep things simple, we skipped making a crest for the robe, but you can complete your costume with a white button up shirt, black pants and tie.  A wand is a must, and you can find my tutorial for making your own Harry Potter wand here.  You could use some fancy make-up for the scar…but I used a washable brown marker.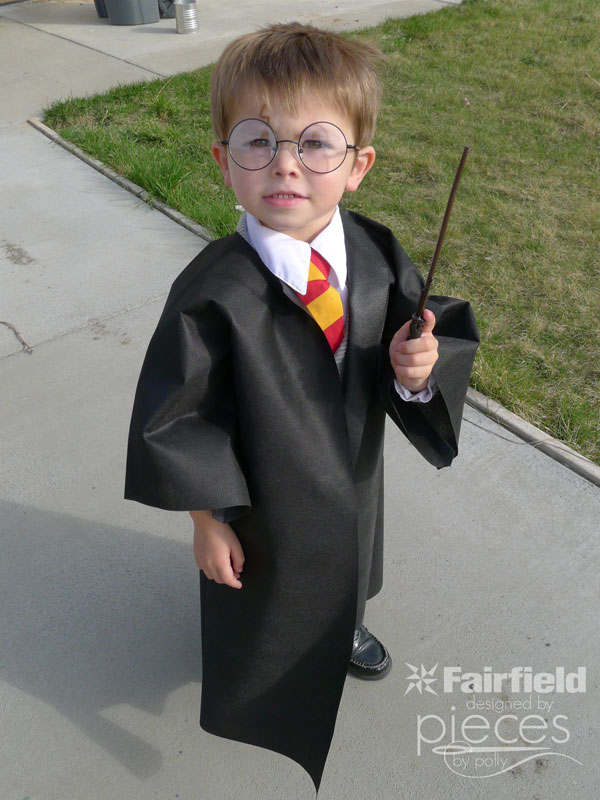 Or if you can skip the tie and pair the robe with a scarf in your favorite Hogwarts House colors, it will also keep your little one warm on Halloween.  You can find my easy Harry Potter Fleece Scarf tutorial here or I also sell them in my shop.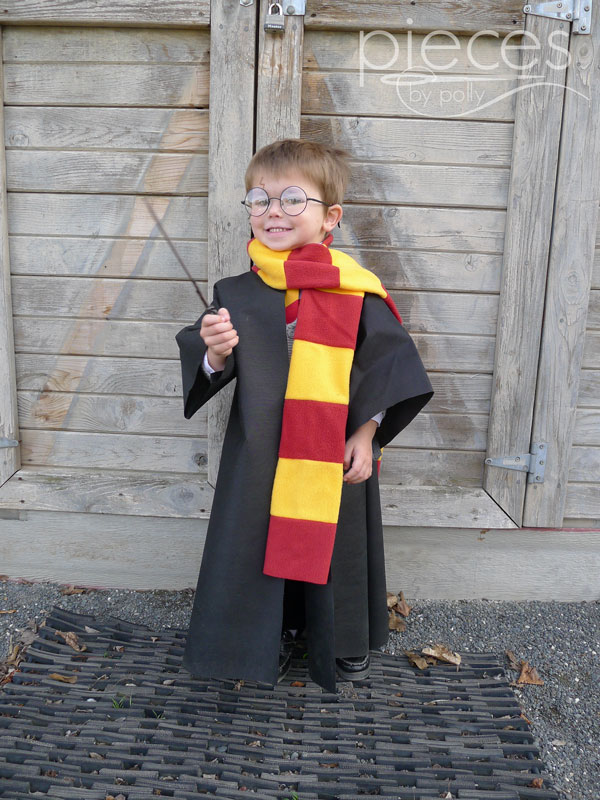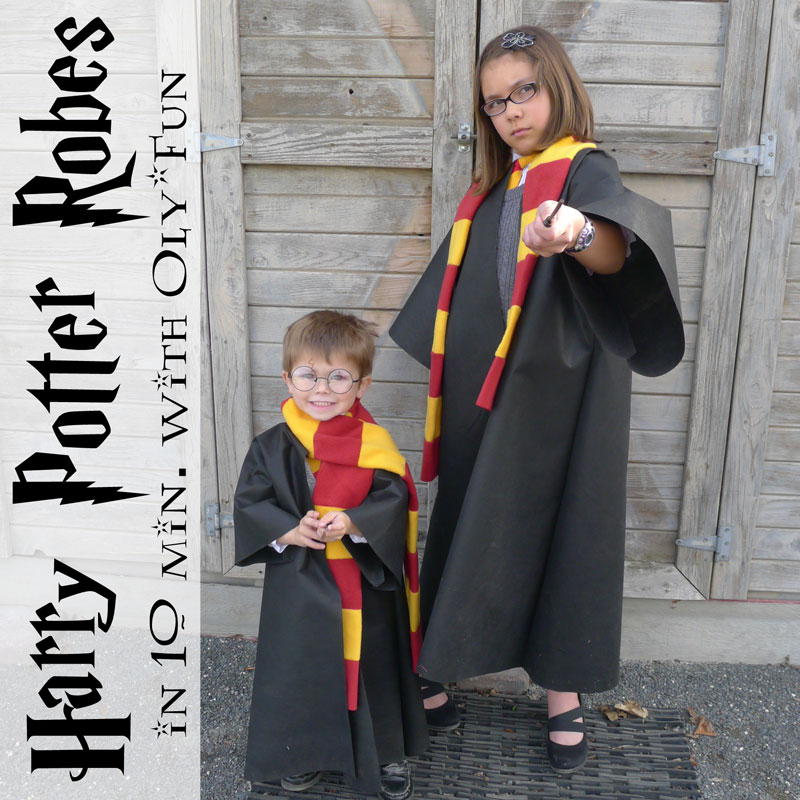 And if you're interested in more Harry Potter DIY's, then you may want to check out the Harry Potter page with links to all of my Harry Potter DIY projects.
And finally, be sure to enter the Happy Harry Potter Giveaway.  There are lots of fun ways to enter.
Prizes include: