Dynamic Quilting Designs Done The Simple Way
Hi It's me, Charisma, your friendly longarm quilter with simple tips on getting your quilts quilted and out of the UFO bin. (Not that I don't have many of those myself…but we shouldn't talk about that right now.) The fear of "ruining" a quilt with bad quilting is at the top of every newbie quilter's list …well heck, even seasoned quilters have this issue sometimes. Especially, if it's a quilt top you are really invested in and love.
But I am here to show that with 5 very simple designs you can combine them together and create  custom quilting on any quilt top. I went through the quilting terms a few months ago.
5 Dynamic Quilting Designs made simple:
The 5 easiest designs that I mastered when I first started quilting.  The designs were quilted onto this little table runner for you. I chose 2 very light fabrics to showcase the designs for you and I will go through them with you.
5 Dynamic Quilting Designs
stipple= Probably the first design that many people start with. Stipple is described as puzzle pieces or dog bones. You are never to cross a line.
Loops- This is the second design in line that people learn after stippling.
Swirls- This gets a little more difficult but adds so much texture to any type of quilt.
L's and E's= Elongated loops …you can create so much with changing the sizes or not with L's & E's.
Leaves= I can't imagine longarm quilting without learning the leaf design. I add leaves to so many quilts it's really a must learn.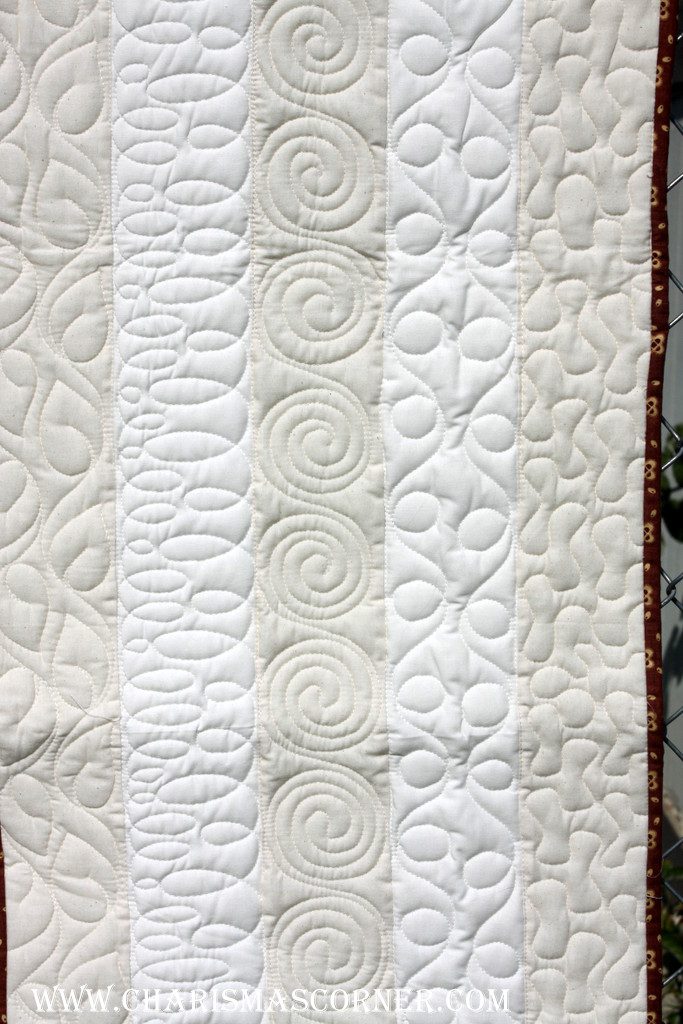 Mastering Dynamic Quilting Designs:
I always say that when you master these 5 designs you can master any design. But with these 5 designs you can start a longarm business because you are ready. If you ask any famous quilter how they got started, they will tell you they felt comfortable taking in quilts after they mastered just a handful of designs.
These 5 designs were applied to a quilt top I had on hand. It's a scrappy quilt and I used 2 layers of batting to showcase the quilting a bit more. I used a layer of Fairfield Soft & Toasty and a layer of Wool batting. The nice thing about Fairfield's wool batting is that it is all washable and dryable. No fear of it shrinking on you after you have quilted. It's all processed and ready for use.
In the outer border I used L's and E's to create a feather in the border. You don't have to just use them in a straight line or in a small area. The L's can be used to create lots of different designs, a wreath, the inside of a flower or flower petals the possibilities are endless. You can see that I also used them in the green circles around each peach center.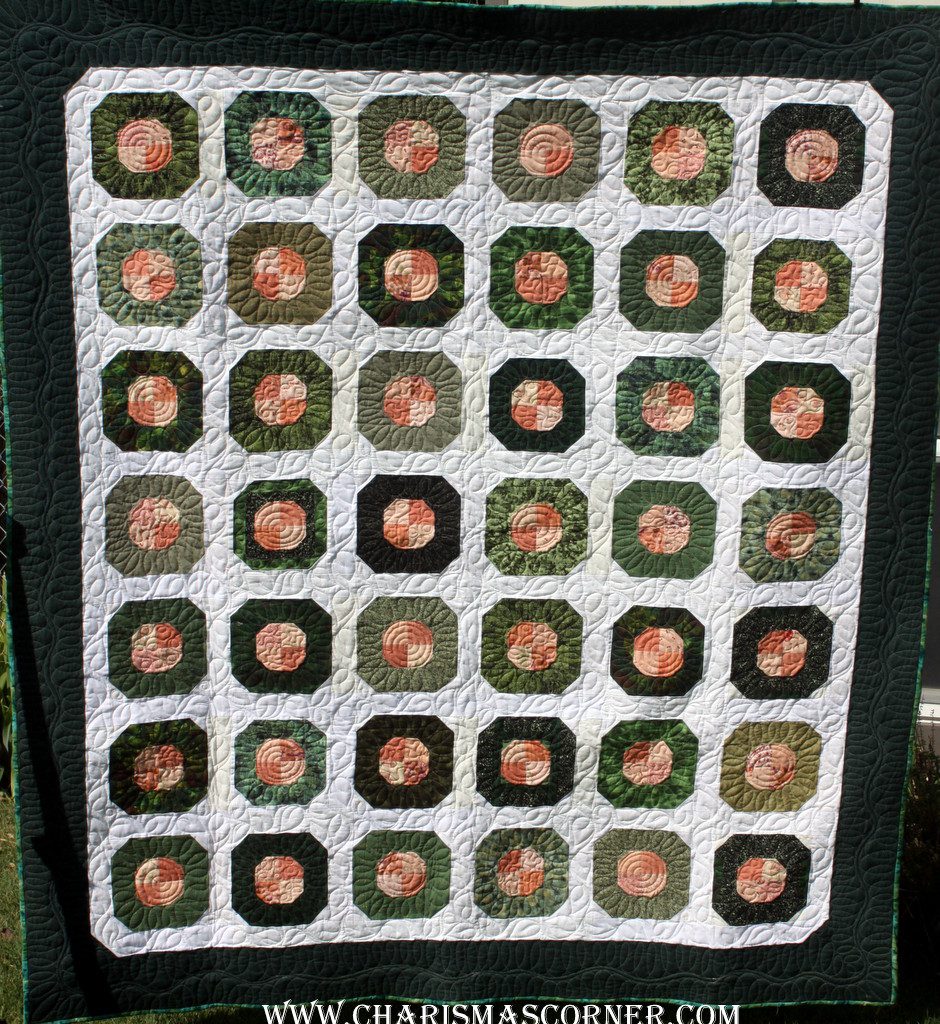 A closer look at the Quilting Designs:
You can see that I used Stipple, Loops and Swirls in the center of each block as a filler. It provides variety and texture. not every block is the same which gives it appeal.
The next example-I did add a few extra designs to this next one but it does use all 5 of these designs as well.  It's an appliqué quilt and very fun. I also used 2 layers of batting in this quilt Fairfield's Soft & Toasty and a layer of Fairfield wool. If you look at the small red border you can see the leaves quilted in a straight line all around the quilt. You can also see them in the outer border attached to vines and flowers. You can also see the leaves in the background of the strawberry bucket. It's a very versatile design.
You can see a variation of swirls surrounding the tulips.
I used L's to frame the heart & flower block. There is random loops in the background of the topiary tree & above the ducks.
The stipple design makes an appearance in the puppy block & the middle block of the bottom row with the birds and flowers.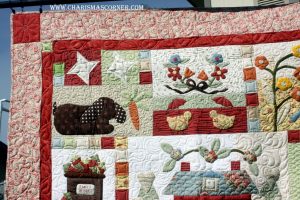 All 5 of those simple designs make up the majority of the quilting on this appliqué quilt and it is custom quilted. I don't feel like I have "ruined" my quilt top and I am happy with the end result.
Don't fear..simple designs create dynamic results if used in the right way. Get out a quilt top and mix and match some simple designs! I promise you will feel better about your quilting…..and you will get some of those quilt tops turned into quilts!
Please don't hesitate to ask any questions I am always here to help you on your way.
Charisma