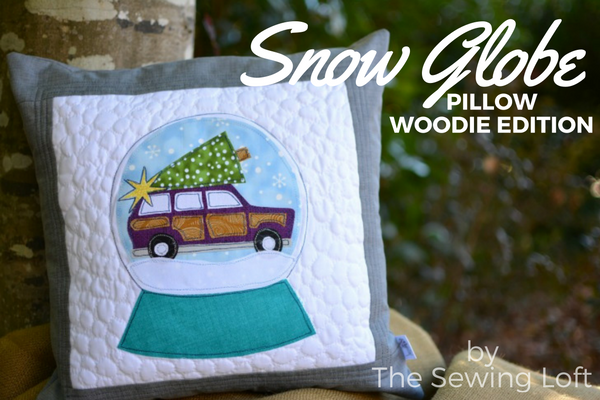 Make a Christmas pillow appliqué featuring a snow globe with your favorite Christmas image on the inside.  You can use the woody wagon pattern or any pattern you chose. The technique is the same and just the patterns are different. Use your pillows and throws to create an inviting holiday home.  Make your own Christmas decor that features festive designs perfect for the season.  Follow this tutorial to make the cutest DIY Christmas pillows out there!
Appliqué is a great way to use up small bits and pieces from your fabric stash.  The tutorial below shows you how to create the pillow cover and you add the appliqué.  The template for the Free Snow Globe Only  You can add any design into the center of the snow globe or you can purchase the design Heather used in hers.  

Supplies for Christmas pillow appliqué:
12″ square base fabric
assorted fabric scraps
sewing machine | basic sewing tools
optional piping/trim | zipper closure
Instructions for Christmas pillow appliqué:
For the  pillow, Heather used her Snow Globe Trek Pattern but any quilt block or applique design can be used. After your finished 12″ center block is finished, it's time to attach the border. She centered the appliqué  block on a piece of batting and stitched the border all around.
Cut fabrics as follows:
center panel 12″ square
cut 2  rectangles 3″ x 12″
cut 2 rectangles 3″ x 16″
*cutting instructions is for pillow front only. Additional fabric is required for the back of pillow. This will be determined by your total yardage.
Prepwork:
Prep and cut out the appliqué design pieces with Stick double sided fusible interfacing, positioned them and ironed in place on the center square. Center and layer the design on a layer of batting and then change out to the free motion presser foot.
Follow the directions to make the pillow on her site The Sewing Loft