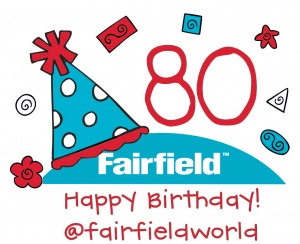 This year Fairfield Processing Celebrates 80 years in business and to celebrate, we are hosting  80 Days of Poly-fil® Projects!
This campaign will feature 80 days of projects created by Designers, Bloggers, hobbyists, and DIYers using Poly-fil brand fiber or one of our other Poly-fil Brand Products.
You can join in Fairfield Celebrating 80 Years too by sharing your Poly-fil® projects on social media. Be sure to tag us on Facebook with @fairfieldworld and use hashtags #fairfield80, #polyfil, #poly-fil, #FFWcelebration when sharing your projects.
Check back here weekly to see a round-up of the projects featured during each week of the campaign.
A bit of Fairfield history
Founded in 1940, the business was mainly processing natural fibers for hats and clothing. Over time, as haberdashery needs changed Fairfield was one of the first to test early innovations in revolutionary polymer materials. This resulted in a highly resilient, fluffy fiber, called Poly-Fil® that was quickly recognized as a superior soft-toy stuffing. In the 1960's, the product gained national distribution and became a market leader and top performer.
In the 1980's a quilting revival and soaring demand created a market opportunity for expansion. New products such as polyester quilt batting and pillows to polyester foam were developed for consumers' needs.
To this day, Fairfield products and brands continue to lead the marketplace by providing solutions for consumers' evolving interests and demands with innovations in technical materials and processing. We now provide contract manufacturing services, enabling us to provide the filling in some of your favorite brand name household items, furnishings and toys.