National Dog Day was founded by an animal welfare advocate to honor and raise awareness of the role dogs play in our society. Whether they are family pets or service animals, dogs provide comfort, companionship, and safety to millions of people. This year National Dog Day falls on August 26th. We invite you to celebrate all breeds of dogs with these fun projects! Even if you don't don't own a dog you can make something to donate to a dog shelter or rescue.
Dog Bed DIYs
Dog beds can be very expensive, but you can save money by making your own! You don't even need a sewing machine for most of the projects I'm sharing here. I LOVE to upcycle, and I have crafted several unique dog beds by pairing discarded/thrifted items with Fairfield World fillers and foams! This is my latest project which both of my dogs absolutely love! I salvaged the drawers from a broken dresser and added Cushion Foam, Cushion Wrap, and Poly-Fil Fiber Fill to create a cozy dog bed.
Turn a Suitcase into A No-Sew DIY Dog Bed
When you do it yourself, you can make items that match your personality, like I did with this no sew suitcase pet bed. My family loves to travel, so it made sense to recycle an out of date suitcase into a unique dog bed! This would make a great National Dog Day project, and you can choose colors and fabric that match your dog's personality.
I made this elegant dog bed for our "princess" dog who loves to cuddle. It's large and tall enough that my kids can lounge on it with her! Pair a sturdy coffee table with a headboard to create the frame first. Next, create a bed fit for a queen by making a "mattress" with Project Foam , Cotton Batting, and Poly-Fil Premium Fiber Fill.
Dog Accessories to Make
Dress up your dog for National Dog Day with a cute collar that slips over their dog collar! While this collar and tie sewing project were originally made for a Halloween costume, you can easily change the colors or fabrics to make it fit any occasion. Your sweet canine friend will look dapper with this handmade ensemble!
Cooling Bandana Sewing Project
August is still brutally hot in many places, and this year is proving to be hotter than usual! Help your pooch stay cooler on walks with a cooling bandana. This handmade bandana is filled with polyacrylamide crystals (water storing crystals) which you soak in water to activate. The crystal filled bandana will help keep your dog nice and cool! We All Sew has the complete tutorial with supply list and pattern.
Admittedly, this project is more for dog owners than dogs themselves, but maybe your furry friend likes pillows, too! I'm making a few of these pet pillows so my recent high school graduate can "take" our dogs to his dorm with him. My tutorial teaches you how to edit images to turn them into cute pillows that feature your favorite dogs.
National Dog Day Toy Tutorials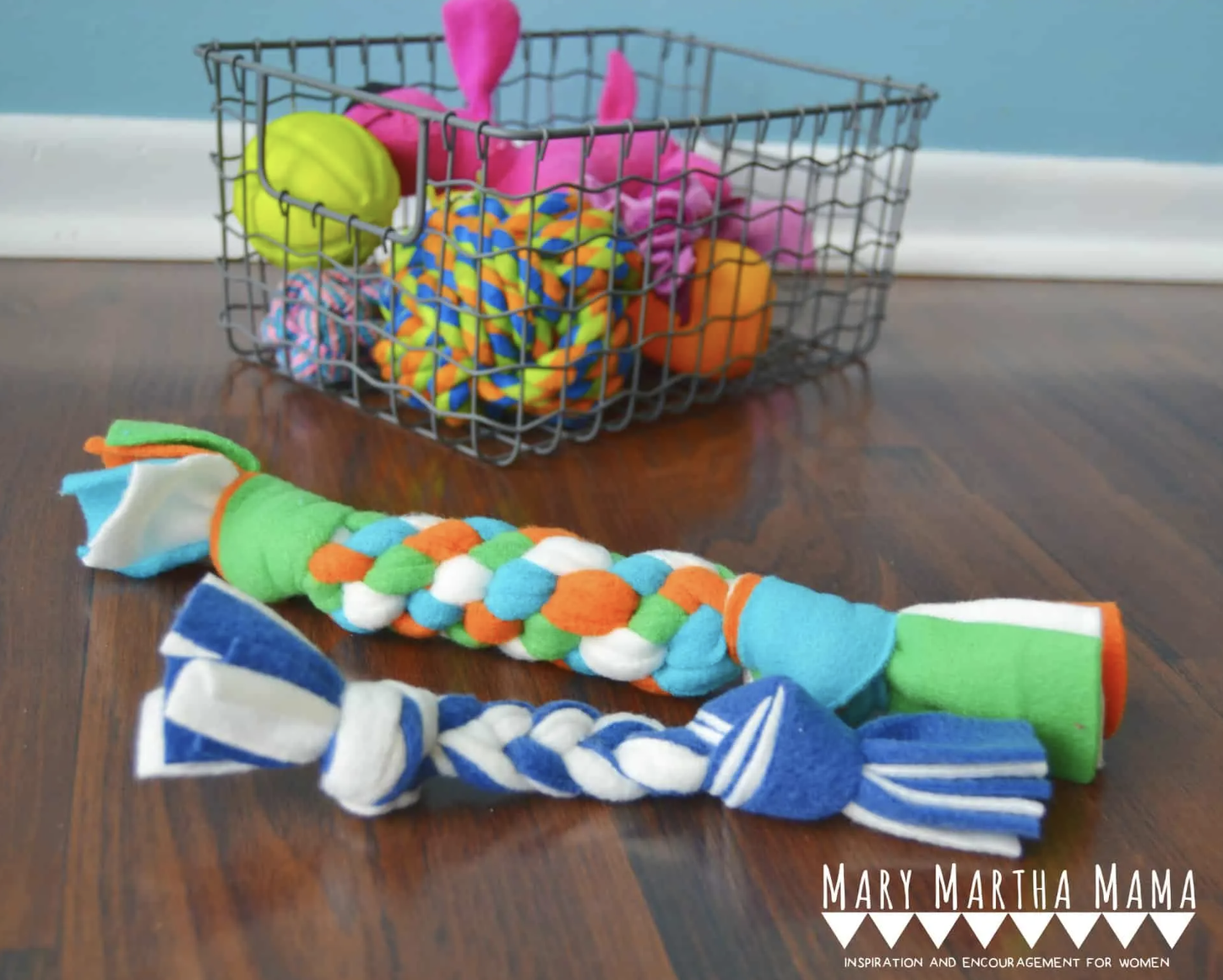 National Dog Day is the perfect opportunity to treat your furry companion to some new toys and a fun game of fetch! This tutorial teaches two ways to braid felt fabric strips so you can create durable playtime toys. When the rope toy mysteriously disappears (and they always do!) you can just make another one!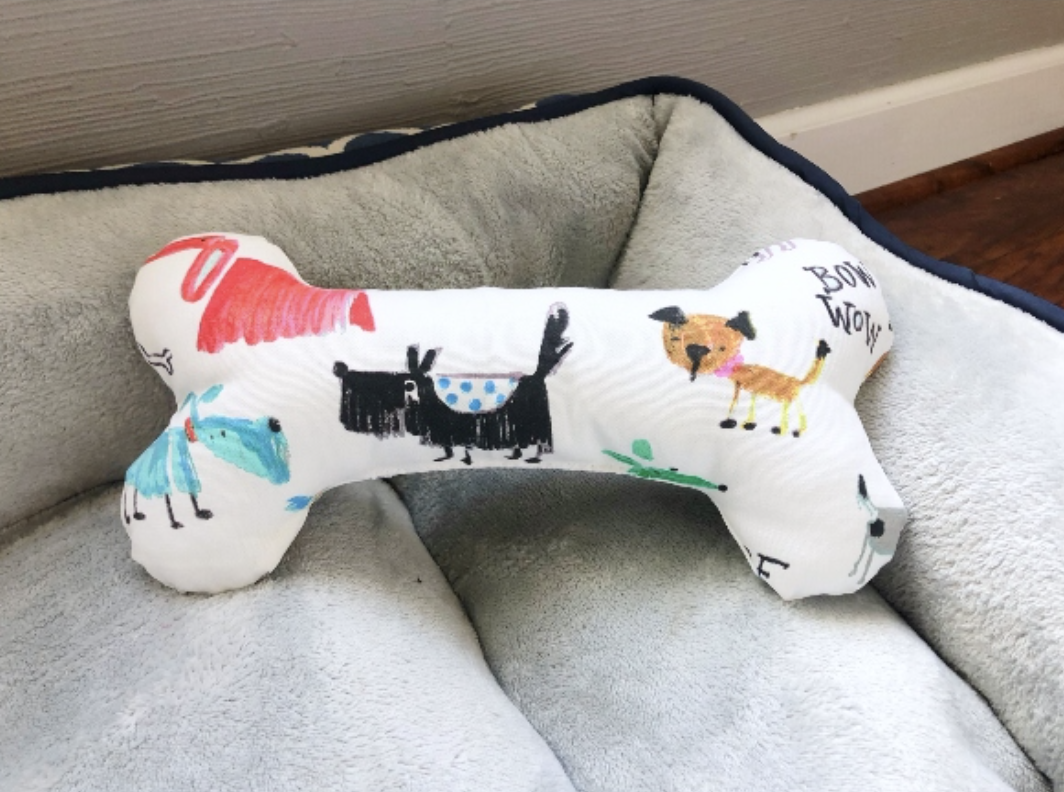 Soft Dog Bone Pattern & Tutorial
Some dogs love to have something soft and cuddly to snuggle or play with. This soft dog bone pattern is perfect for those pooches! Use sturdy canvas or upholstery fabric with Poly-Fil Fiber Fill to make a few of these cute bones for National Dog Day.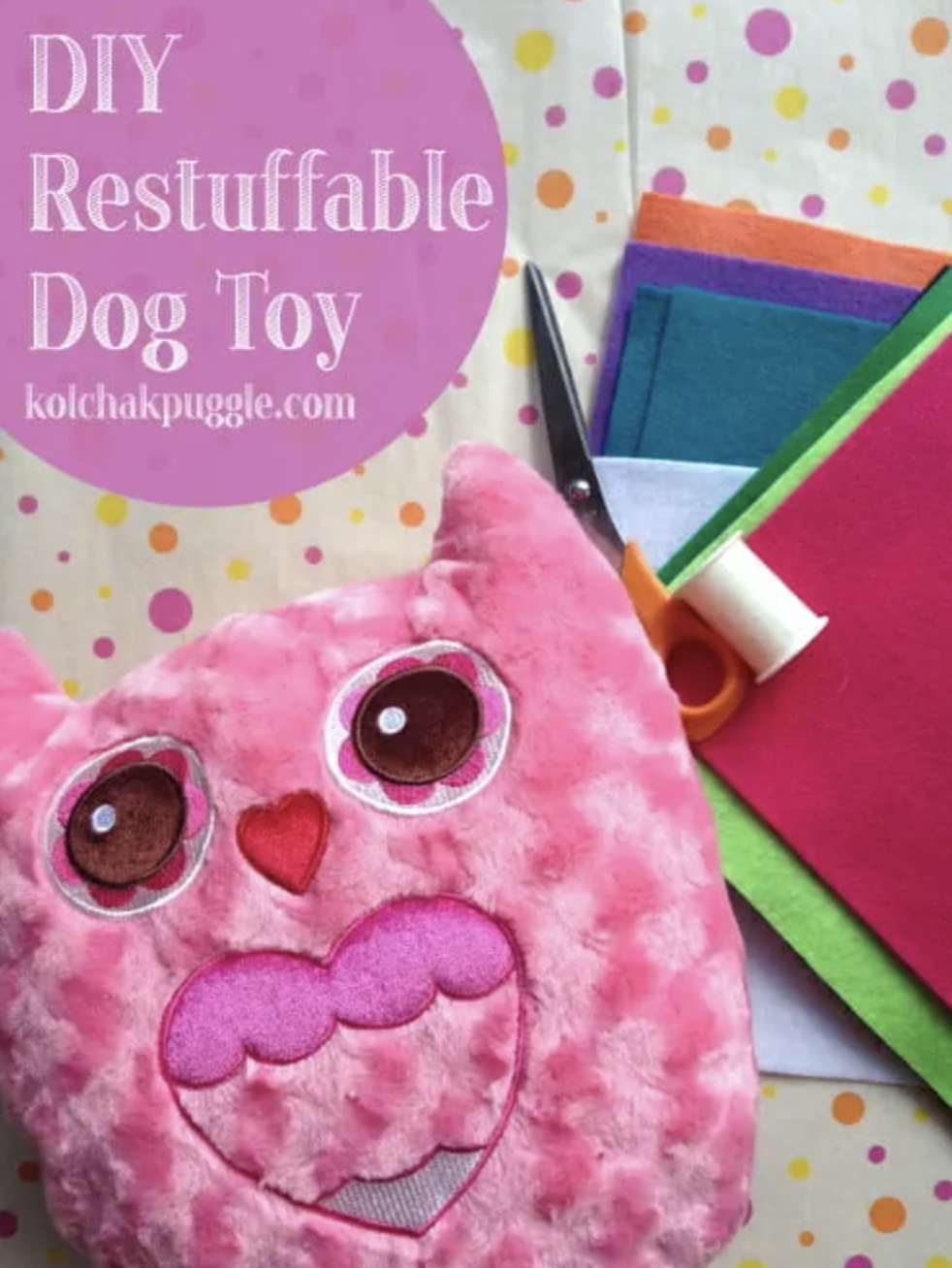 Dogs love stuffed animals and plush toys, but some dogs (like one of mine!) destroy them almost immediately! Many dogs enjoy "gutting" stuffed toys, which creates a mess and gets expensive. This tutorial shows you how to make a DIY Dog that your dog can safely unstuff over and over. You can stash bust with this project, or use colorful Oly-Fun fabric for the reusable filler!
Homemade Dog Treats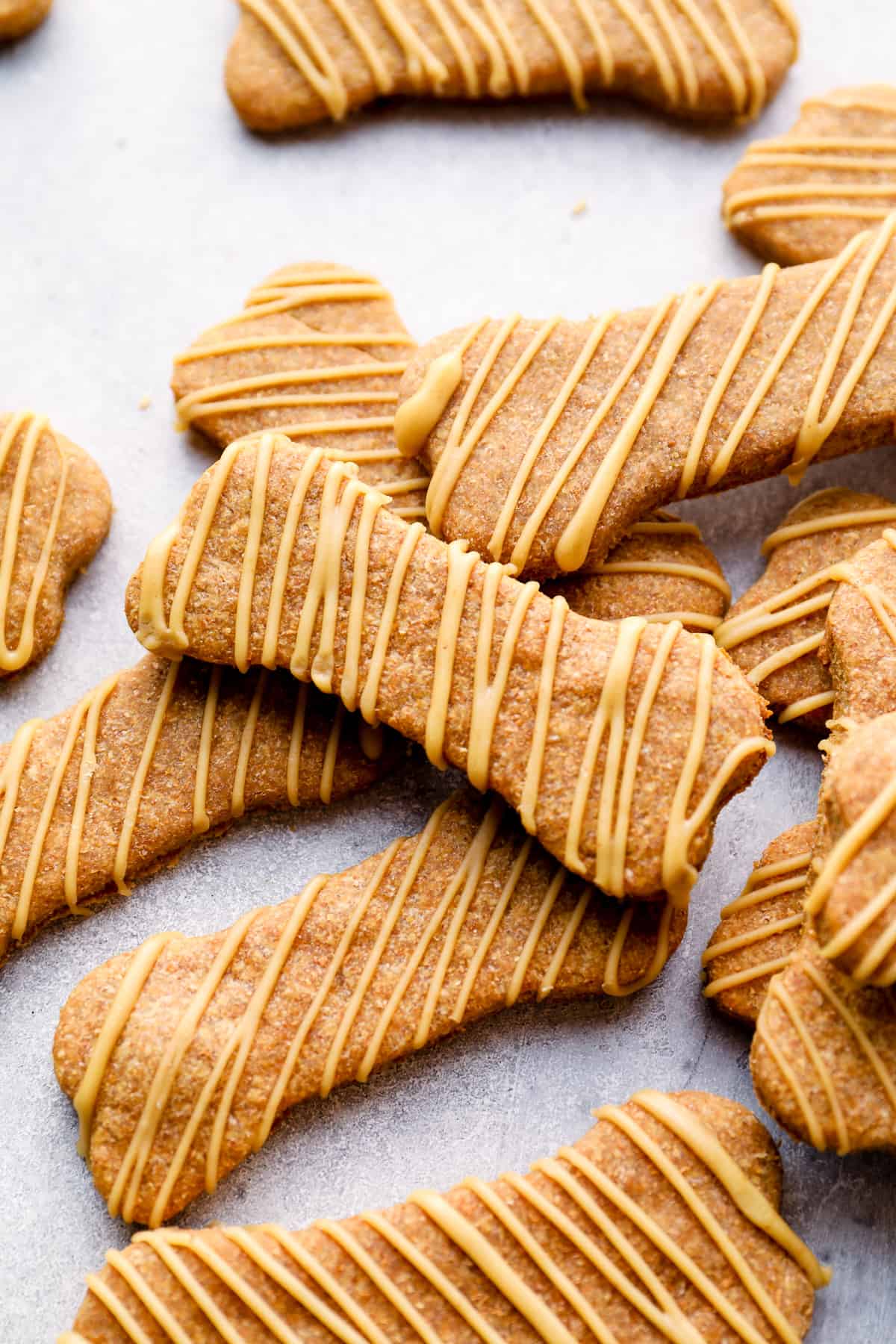 This recipe is perfect for dogs that looooove peanut butter! Mix together a few ingredients and use a cute cookie cutter to create the dog treats. Handmade dog treats are often better for your pets, since they won't have any preservatives or dyes in them.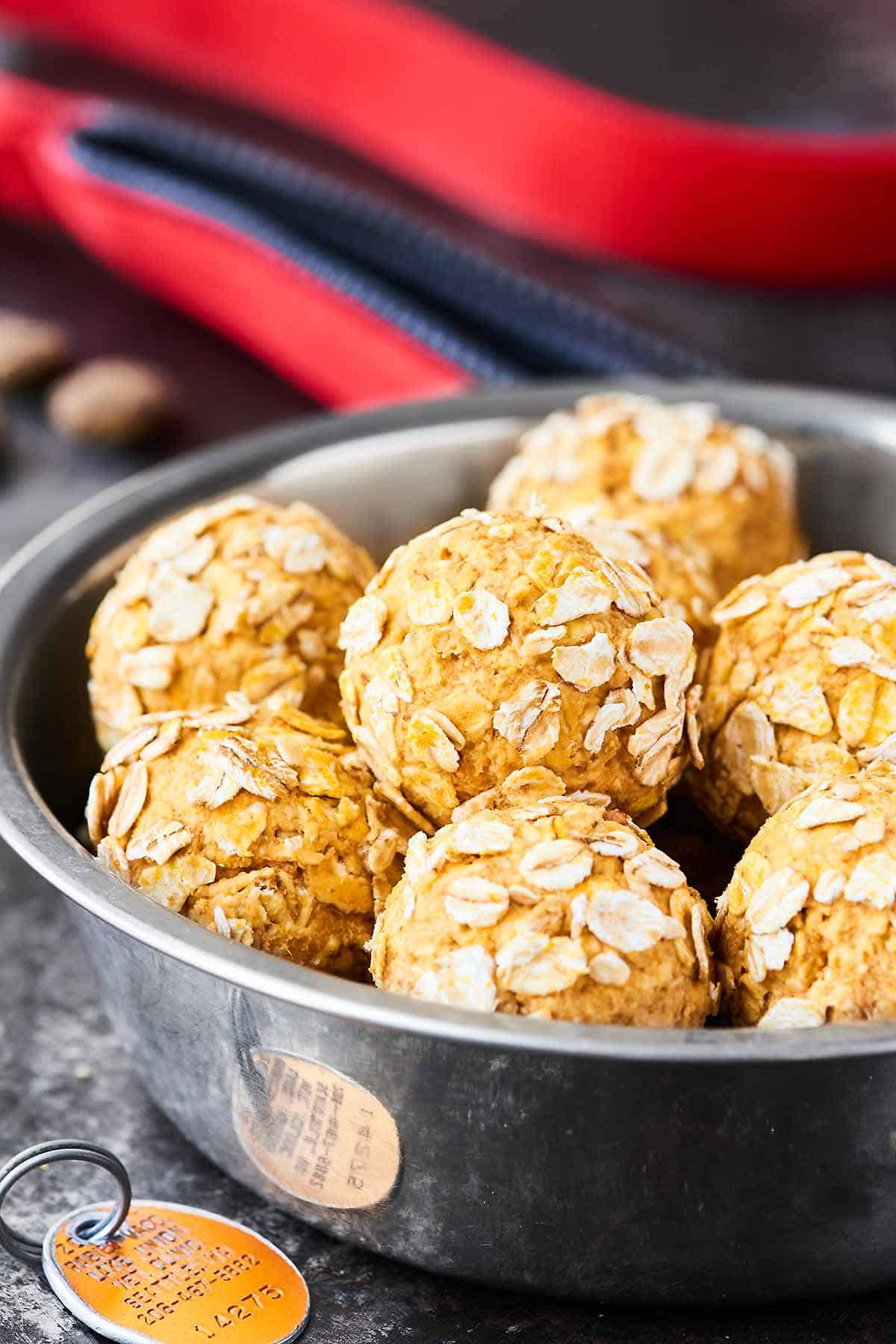 These mouth watering dog treats are packed with pumpkin, peanut butter, and just a touch of bacon. This recipe is for the dog owner who is looking for treats that are healthy, organic, and made with high quality ingredients. Make a big batch on National Dog Day and refrigerate or freeze the rest for later!
These dog treats are truly easy to make because they only have THREE ingredients! You just need banana, peanut butter, and oats to make these cute dog cookie treats. They're so affordable and easy to make that you'll be able to make enough to donate to doggy friends or foster and rescue friends!
Man's best friend deserves to be spoiled on National Dog Day and every day! These fun handmade projects will help you celebrate your pet, which they deserve!