Summer is flying by, and many students will be heading back to school in the next few weeks! Help your favorite student or teacher get ready to head back to the classroom by making something handmade that they will cherish! These back to school projects made with Poly-Fil are both cute and helpful.
Treat the teacher to a sweet apple that will never rot! Or make a bunch to decorate your own classroom with. You can crochet apples in a variety of colors to fill a basket to use for activities, too. They would make a great tool for teaching kids how to count, add, and subtract! The tutorial has detailed instructions with a supply list that includes Fairfield World's Poly-Fil Fiber Fill.
Instead of a nap mat, treat your toddler or preschooler to an adorable and soft avocado shaped mat! They will actually look forward to quiet time thanks to this cute and cozy mat made with Poly-Fil® Premium Fiber Fill. Fairfield World's unique process explodes the special blend of 100% polyester fibers to create a soft yet resilient fiber that maintains its integrity through countless launderings (and kid's mats will need lots of laundering!)
Protect your kids tech when they head back to school with this colorful laptop sleeve project. You can use any fabric you like for this project, and you can opt to use different colors and patterns for the outside and the liner fabric. Batting will provide the cushioning and protection this project requires. Poly-Fil Low-Loft® Batting is favored by both machine and hand quilters because it is easy to sew through and dries quickly when washed. This low loft batting will keep your laptop protected without adding any bulk.
This great project comes from a teacher who wanted to replicate an idea she had seen online but couldn't find in stores. She shares how she used felt to create this colorful and soft pillow to decorate her classroom with when school started in the fall. Use Poly-Fil Fiber Fill to craft cozy, fluffy pillows for the classroom.
Teachers can welcome their students back to school by greeting them at the door with this colorful handmade pillow wreath! This adorable project tutorial includes instructions for making the itty bitty pencil shaped pillows. After you sew all the pillows, fluff them up by filling them with Poly-Fil Fiber Fill. When the wreath is completed, add the teacher's name on a chalkboard and hang it in the center of the wreath.
Next on our list of awesome back to school projects is this fun book pocket pillow tutorial! This special pillow will help any student keep their books and other supplies close at hand, thanks to the handy pocket sewn onto the pillow. Use a Poly-Fil® Premier™ Pillow Insert with fabric to make your own. The easy to follow tutorial has all the steps you need to follow to make this great back to school sewing project!
This adorable giant pencil pillow would brighten any classroom! The tutorial includes a pattern along with photo instructions for the different stitches. This awesome blog post also links to a tutorial for a crochet sheet of paper blanket, so you could make both to create an awesome gift for a new teacher! A Crafty Concept finishes her crochet pencil pillow project with Poly-Fil Fiber Fill to make it full and soft.
Here's a cute, quick project that is perfect for back to school! Crochet sweet little apples that have happy, smiling faces. Instead of a keychain you could also use this to accent a zipper pull on a backpack. Some backpacks have so many zippers that little ones will be helped by having a cute tag like this apple to identify the main zipper. A 2 ounce bag of Quick Craft Poly-Fil® Fiber Fill is perfect for smaller crafts like this one.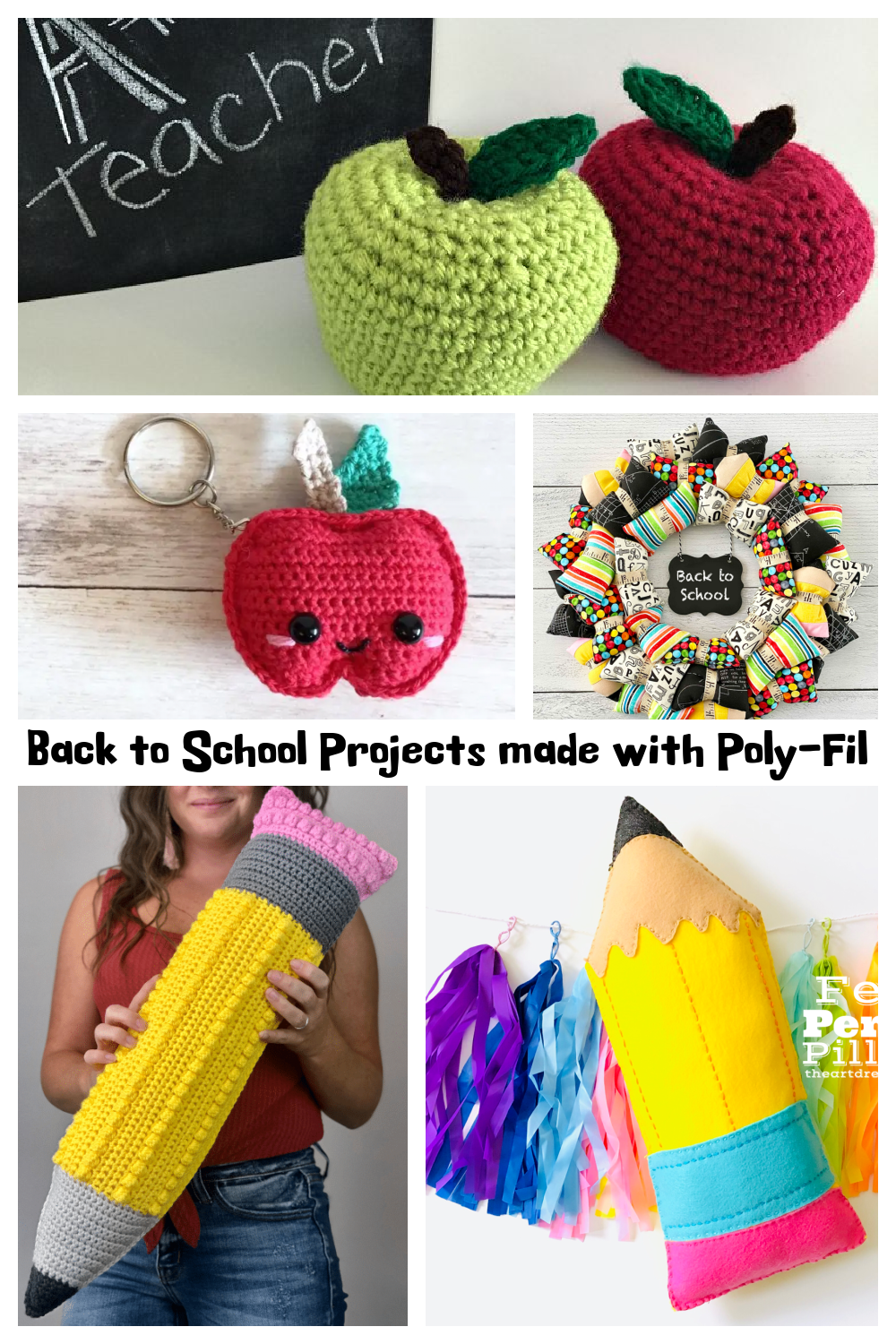 Which of these back to school projects are you planning to start on first? For more great fall project ideas, check out our list of fall crafts for every maker