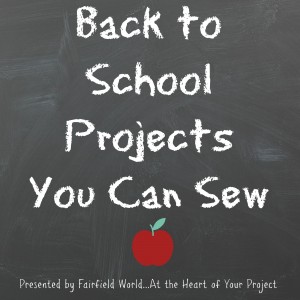 Back to School Projects You Can Sew -School will be starting before you know it, and you know well that if you're going to make things for the kids in your life to use, you have to get started early!  Fairfield World Products are perfect for lots of back to school sewing projects.  Here are three popular products for you to check out,  along with back to school projects that you can use them in.
Every kid, no matter what age, is going to need some kind of pack to carry all their school supplies in.  Fairfield World's line of Batting products work great with quilted back pack and messenger bag projects.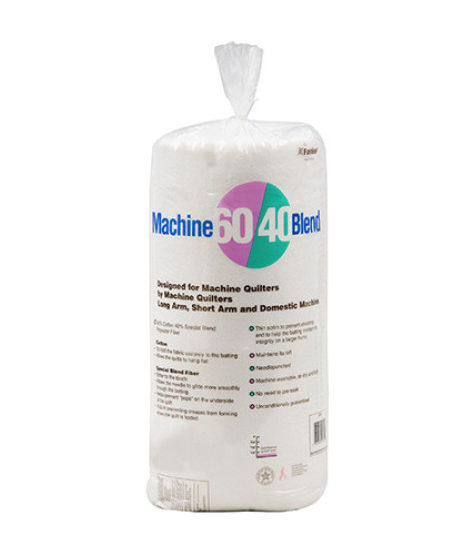 Machine 60/40 Blend® quilt batting was designed for machine quilters, by machine quilters. The unique qualities of this 60% cotton and 40% special blend polyester make it the perfect batting for long arm, short arm and domestic machine quilting. The cotton holds fabric securely to the batting and allows the quilt to hang flat. The polyester blend allows the needle to glide through the batting, preventing "pops" on the underside of the quilt and helps to prevent creasing when the quilt is folded. A thin scrim gives this batting added strength for machine quilting. It will retain its softness even when densely quilted, making it the machine quilter's favorite. Weight: 4 oz. / sq. yd.
Designed for machine quilters, by machine quilters.
60% cotton and 40% special blend polyester
Perfect batting for long arm, short arm and domestic
Here's a list of back pack and messenger bag tutorials you may want to try out this school year:
Chevron Backpack by Trash to Couture
Fish Backpack from Tried and True
Owl Back Pack by Moda Bake Shop
Messenger Bag from Cargo Pants by Noodlehead
Circle Bags by Me Sew Crazy
Nothing But a Hound Dog Backpack by Melly Sews
Retro Rucksack Backpack by Gesehen
Embroidered Messenger Bag by Celebrate Creativity
The other must have item for many students is a lunch box!  Fairfield World's Solarize is perfect for creating lunch boxes.  This unique insulator will help keep cold items cold and hot items hot.

Solarize, an insulating thermal barrier fabric, is a unique insulating fabric that creates a thermal barrier keeping things hot or cold. Works with shiny side in or out – you choose.
Convenient pre-packaged material in a small 3/4 (22″ wide) yard size. Perfect for small projects or just to try.
Solarize container wraps, draperies, outdoor accessories, and automotive projects. Heat it up by solarizing inside pillows, fabric scarves, mittens, jackets, hats, and blankets for added extra warmth. Keep it cool by solarizing the inside of can cozies.
Sew-in
50% polyester + 50% aluminum
Instructions and tips for use included.
Check out these lunch box tutorials for inspiration:
Insulated & Laminated Lunch Tote by Sew 4 Home
Square Bottomed Hobo Lunchbag by Sewing Notions
Mushroom or Owl Lunch Sack by Lemon Squeezy Home
Tote Bag Style Lunchbox by The Long Thread
Chalkboard Cloth Lunch Bag by Facci Designs
Last but not least, another important back to school item is a pencil case or a supply case.  This is a great project for new crafters to begin with!  Fairfield World's product, Stiffen, is the perfect item to use to give your hand sewn pencil case the right about of support.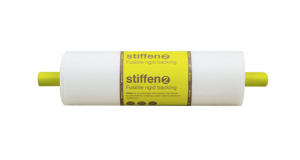 Stiffen 2 is an extremely stiff material that bonds to other fabrics creating a rigid material similar to cardboard
Studio size roll for big projects or frequent use. Material comes neatly rolled on a sturdy tube with helpful instructions wound in to the entire roll.
This double-sided fusible rigid backing, is perfect for making totes, bags, purses, table top décor, boxes, costumes, hats and any projects needing stiff backing.
2-sided fusible rigid backing
100% polyester material with fusible coating
Check out these pencil and supply case tutorials:
Easy Pencil Case by Crazy Little Projects
Knotted Pencil Case by See Kate Sew
Patchwork Pencil Case by Spoonful of Sugar
Felt Pencil Case by Martha Stewart Crafts
Zippered Pouch by Noodlehead
Pencil Bag by Gwenny Penny
Shark Pencil Case by Patchwork Posse
Have fun crafting and creating as you sew your way back to school!