We're so excited to announce the 2015 Fairfield Block of the month. the 2015 Baby Sampler Block of the Month. The quilt has 12 blocks that come together to make a fun quilt for any baby or young child. This quilt is great for a beginning quilter – over the course of the first 9 months, you'll learn a different quilting or sewing technique – raw-edged applique, dresden plate, zipper, buttonhole, half-square triangles, ruffles, curves, paper piecing, and prairie points. The last three months we'll talk about putting the quilt together, quilting, and binding.
Several of the blocks have more than one option so that you can customize the quilt. You can choose to applique a butterfly or a car, make a heart or a ship from half-square triangles, and add buttons to the centers of flowers, mud puddles, or clouds.
Each month, we'll also share a project you can make using that month's block. This way, if you want to learn the technique of the month to make a project, without committing to the entire quilt. If you plan on making the entire quilt as well as the extra projects, you'll need more fabric than is listed below.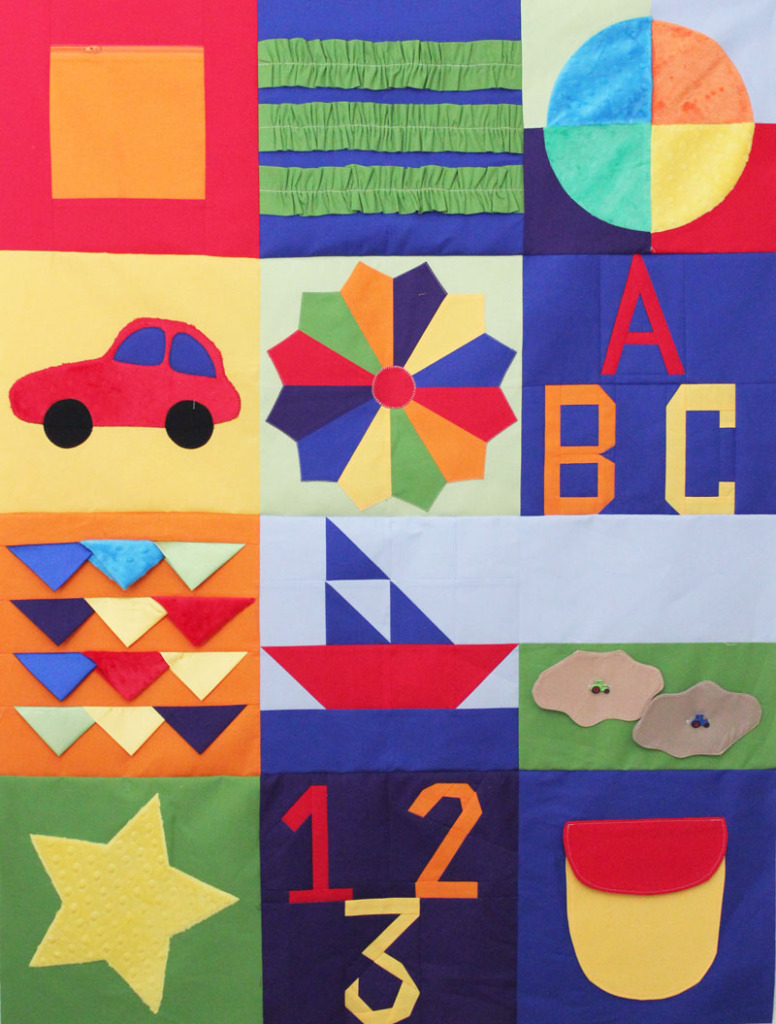 Fairfield 2015 Baby Sampler Block of the Month – solids 36″x48″
Fabric requirements:
3/4 yard – Robert Kaufman Kona Red
3/4 yard – Robert Kaufman Kona Orange
1 yard – Robert Kaufman Kona Corn Yellow
1/2 yard – Robert Kaufman Kona Green Tea
1 yard dark – Robert Kaufman Kona Grass Green
1/2 yard – Robert Kaufman Kona Blue Bell
1 1/4 yard – Robert Kaufman Kona Deep Blue
3/4 yard – Robtert Kaufman Kona Purple
1/8 yard brown (or scraps)
1/8 yard black (or scraps)
Optional: one cuddle cake (10″ squares of Shannon Cuddle Fabric)
1/2 yard fabric for binding
2 yards fabric for backing
For Optional sashing and borders, (not shown in above photo – will bring the size of the quilt to 54″x68″) add:
1 1/4 yards fabric for sashing and inner border
1 1/2 yards fabric for outer border
We've made a second version of the quilt, using the fun florals in the Lulu Rose line from Westminster fabrics.
Fairfield 2015 Baby Sampler Block of the Month – florals 54″x68″
For this version of the quilt, you'll need the following yardages from the Lulu Rose line:
3/4 yard – PWTW093 White
1 1/4 yard – PWTW094 Red
1/2 yard – PWTW096 Red
1/2 yard – PWTW096 Pink
1/2 yard – PWTW095 Red
1/2 yard – PWTW092 Pink
1 yard – PWTW098 Pink
1/2 yard – PWTW096 Sky
1/2 yard – PWTW097 Sky
3/4 yard – PWTW098 Sky
1/2 yard – PWTW097 Pink
2 yards – PWTW093 Pink
1/2 yard – PWTW097 White
3/4 yard – PWTW098 Red
1/2 yard – PWTW095 Pink
1/2 yard – PWTW092 Sky
1/2 yard -PWTW094 Pink
1/2 yard – PWTW094 Sky
3/4 yard – PWTW092 White
1/2 yard – PWTW093 Sky
1/2 yard – PWTW095 Sky