If you sew I'm sure you've had a moment or two where you walk through a retail store and look at an expensive something or other and say "I can make that!".  I feel like this with most throw pillows and I've rounded up 20 today to show you that are moderately to very expensive in top retailers that you can for sure hack at home yourself! Sewing these babies would be fun and with Fairfield's pillow inserts it couldn't be easier.  If you wanted a more custom shape you can always fill your pillow cover with poly-fil.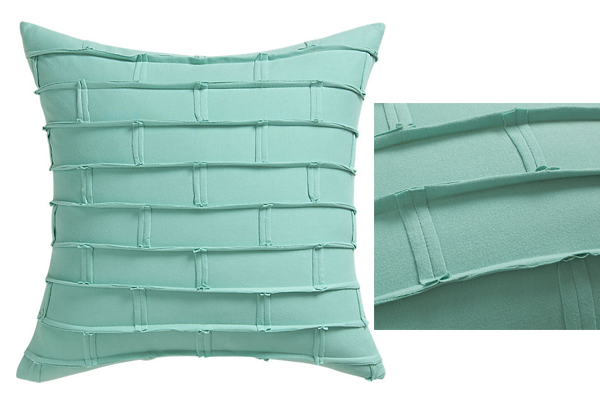 I love this first one, If you look closely its basically the reverse side of quilted rectangles! I love the cool texture and and look it makes- super unique! You can totally do this!
This pillow is  folded over pleats, so simple and pretty!
This one is fun, it looks a lot like pin tucking.  You can see a tutorial for pin tucking HERE.
I'm totally in love with this one.  Its wool felt so those rounded squares won't fray and all you'd have to do is cut them out and sew them on in a fun random pattern.  Modern and cool.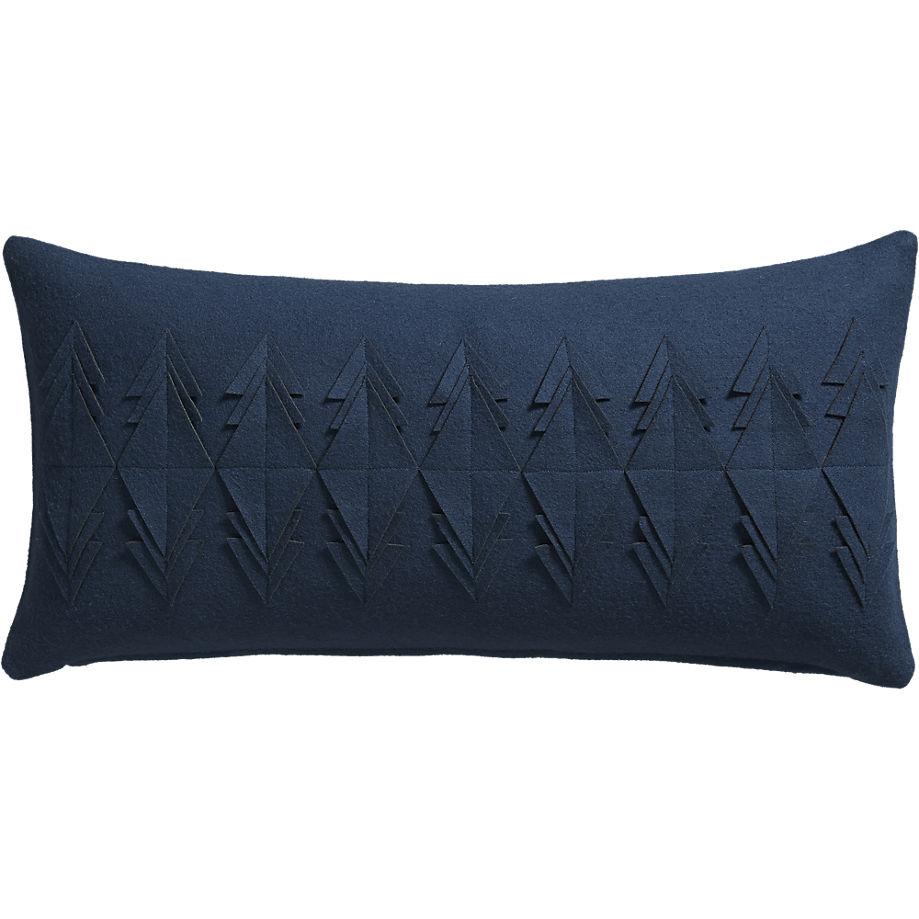 Here is another cool wool felt pillow.  This time diamond and triangle cut outs on a long rectangle pillow.  Super cool in the navy too.
This gorgeous embroidery would fall under the very difficult category in mind, regardless I'm sure some of you fabulous sewers out there could recreate this with ease.  Isn't it gorgeous?
This is a fun take on quilting.  Just using a solid color make your print or design with your quilting marks.  You can use Fairfield worlds awesome quilt batting and then design your own geometric quilt pattern.  HERE is a great tutorial on geometric quilting.
I'm not afraid of a good ruffle and this pillow is just full of them! If you need help trying to figure out how to sew ruffles look at THIS post.
I love this lavender fabric flower pillow, so pretty! I can totally see it on a fancy sitting room chaise or in a master bedroom.  There are like a million tutorials on fabric flowers- just pinterest search it and you'll find endless links or just check THIS one out.
Fabric flowers are clearly a favorite flourish for throw pillows, I thought this cream pillow was super unique and if you look closely its really just felt circles and then felt strips folded in half.  Again, this it totally something you can do yourself instead of paying an arm and a leg!
How pretty are these blooms? Chocolate is nice but I can see this in bright pink on a little girls bed.  HERE is another great tutorial to get you started whipping up pretty flowers for your fancy pillow.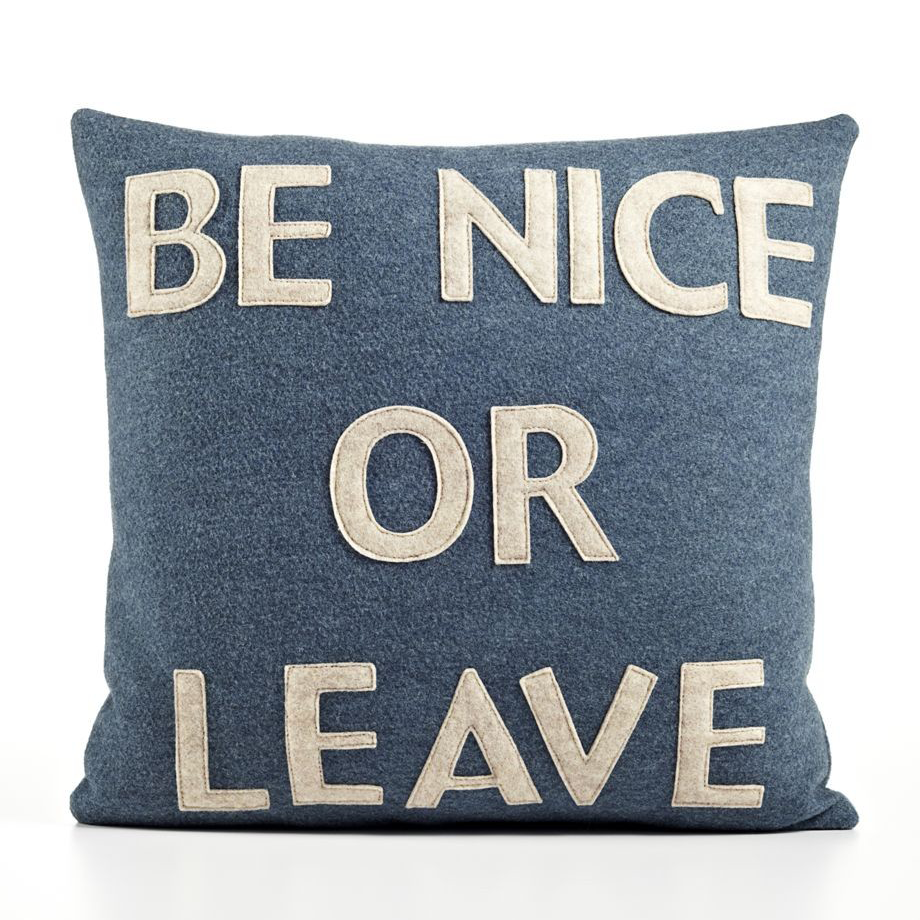 I'm all about a fun quote or the perfect name on a pillow- this one totally belongs in my house. Be nice or get out! I love it.  You could use a craft cutter to cut out those letters or just use a stencil and carefully cut.  If it were me I would apply Fairfield's stick interfacing to the letters and then cut them out so that you could just iron them on to the pillow and then add the stitching for a nice detail and to help secure.
Ok I mean how cute and easy is this one? Cut a strip, a very long strip, of fabric to probably an inch or little less and then stitch it on to your pillow cover in a spiral.  I love how it looks like a seashell.
I'm totally in love with these fun dog pillows and to think you could make a pillow with your very own best friend on it, well know if that doesn't make you happy I don't know what will! 🙂 You could print right on fabric like THIS tutorial teaches you or you could use inkjet photo transfer paper.  Either way you've got some photos to start taking!
We've been seeing awesome gifts made out of recycled sweaters for a few years now and it just hasn't gone out of style, probably because those pillows look so soft and comfy I want to go make one right now.  You could use a sweater you've grown out of or just run to the thrift store and grab one.  Either way you've got a cozy pillow coming right up.
What girl doesn't love a big bow? My 2 year old is obsessed with Minnie Mouse and her bows and she would adore this darling pillow.  HERE is a great tutorial on how to sew a big bow.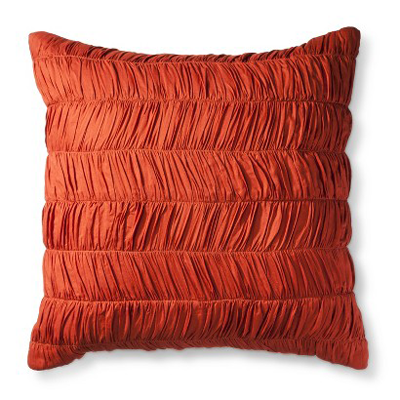 Rushing looks so rich and luxurious, right? I love this pillow and I love how beautiful the texture is.  HERE is a great tutorial on how to get this look.
Embroidery is gorgeous, and although it may take you some time the look in the end is always worth it. If you have a sewing machine that does embroidery well then you are all set, just pop in your initial and make a border and you've got a anthropology look-a-like for so much less.
Embroidery with embelishments is always fun, I love this wreath with the appliquéd leaves and pom balls it just gives a fresh happy feeling.
Speaking of happy I couldn't resist giving you this last embroidery inspiration.  Whats your favorite word? Put it on a pillow! Whip out a hoop some thread and a needle and go to town, its winter, what else do you have to do? 😉